Whether you take your romance with tears or laughs, fall offers up some interesting couplings. Richard Gere and Diane Lane reteam for the weepy, "Nights of Rodanthe," while Seth Rogen and Elizabeth Banks create sparks in "Zach and Miri Make a Porno." Even little Michael Cera gets a chance for love in "Nick and Nora's Infinite Playlist." Need a date movie? These may be your best bets.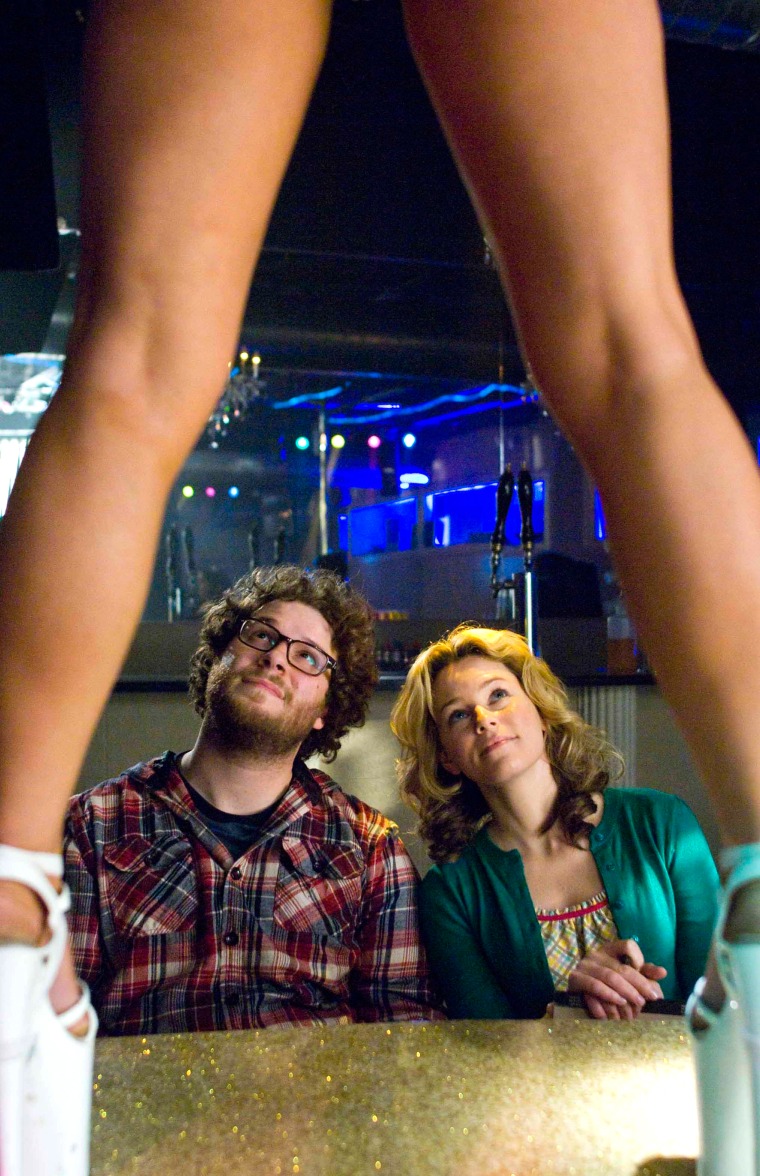 "Nick and Nora's Infinite Playlist" Starring: Michael Cera, Kat Dennings, Rafi Gavron, Aaron YooDirector: Peter SollettStory: Nick (Cera) is indie musician nursing a broken heart; Nora (Dennings) is a neurotic New York teen who wants to prove she's not alone for the evening. The two strike up an unlikely romance as they make their way through New York's underground music scene to find a legendary band's secret show. One to watch? Looks promising. Based on the popular teen book by Rachel Cohn and David Levithan, the film looks to play to Cera's strengths (though Cinematical worries that he's getting to be typecast). Cera told Entertainment Weekly that the film is "just about that feeling you get when you meet someone you like one night, and how you run the risk of easily losing touch with them forever."Web site: http://www.sonypictures.com/movies/nickandnorah/ Release date:  Oct. 3
"Nights in Rodanthe"
Starring: Richard Gere, Diane Lane, Scott Glenn, James Franco, Christopher MeloniDirector: George C. WolfeStory: Based on the best-selling Nicholas Sparks' ("The Notebook") novel, this film tells the story of Adrienne Willis (Lane), who, frustrated with her marriage, tends a friend's inn for the weekend. The only guest is Dr. Paul Flanner (Gere), who faces a crisis of his own. The two find solace in each other and begin a weekend-long life-changing romance. One to watch? Maybe. Gere and Lane ("Unfaithful") have proven that they have on-screen chemistry. Lane told Entertainment Weekly "It's a tender story about valuing your time (in) life." This plot has a "Bridges of Madison County" feel, and let's face it, it won't be subtle (Sparks just isn't), but for those who want a good cry and a touch of romance, this feels like a pretty safe bet. Web site: http://nightsinrodanthe.warnerbros.com/ Release date:  Sept. 26
"My Best Friend's Girl"
Starring:  Dane Cook, Kate Hudson, Jason Biggs, Alec Baldwin, Lizzy CaplanDirector:  Howard DeutchStory: When Dustin (Biggs) wants to convince his girlfriend Alexis (Hudson) that he's the one, he gets his obnoxious best friend Tank (Cook), to take Alexis out to show her how a not-so-nice guy would treat her. But, she falls for Tank. And worse, Tank falls for Alexis. One to watch? Not likely. You really just have to look at Deutch's track record ("The Whole Ten Yards," "Grumpier Old Men," "The Replacements," "Family Affair") to be scared away from any film with his name attached. Cook ("Good Luck Chuck") has yet to prove himself as an actor. He recently went after the studio for the movie's poster on his MySpace blog, writing, "It looks like I'm wearing Maybelline Water Shine Diamonds Liquid Lipstick. My character's name is now Winter Solstice and I'm a hooker with a heart of gold. Jason is my floral carrying pimp, while Kate is my first trick!" He did add the movie "is the best/funniest film I've done yet." But considering his resume that's not saying much.Web site: http://www.mybestfriendsgirlmovie.com/ Release date:  Sept. 19
"Ghost Town"
Starring: Ricky Gervais, Greg Kinnear, Kristen Wiig, Tea Leoni, Billy CampbellDirector: David KoeppStory: Bertram Pincus (Gervais) is an unfriendly man, who during a routine surgery, dies for 7 minutes. When he wakes up, he can see dead people, and they want his help. Frank Herlihy (Kinnear) is a ghost who wants Bertram to stop his wife's (Leoni's) impending marriage to the wrong man. One to watch? An iffy proposition. Gervais ("The Office," "Extras") is too smart and funny for this kind of formula Hollywood comedy. Vulture summed up the trailer best when they called it "eye-searingly terrible." In an interview with the BBC, Gervais said, "If you want a bumbling putz who's socially awkward, I'm you're man." He also jokingly told them, "I've decided this will be the last film I do that I'm not in charge ... All I do is wait around, act a bit and sleep."  Well, let's hope next time, he is the one in charge of writing it (Koepp and John Kamps wrote "Ghost Town"), because chances are Gervais will have a more original idea. Web site: http://www.ghosttownmovie.com  Release date:  Sept. 19
Note: Dates are subject to change.