Serena Williams' calm under pressure extends beyond the tennis court.
Williams says in an HBO documentary "Being Serena" that her father told her only an hour before her wedding in November that he would not be walking her down the aisle.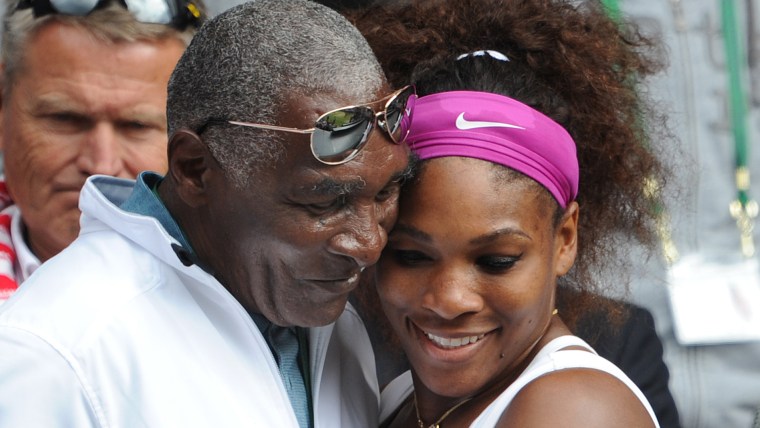 Richard Williams, 76, who coached Serena and her sister, Venus, when they were young tennis prodigies, got last-minute jitters when it came to the big day.
"He was in New Orleans, he had a suit, and I know he was really excited," Serena said in the third episode of the five-part documentary, which aired on Wednesday night.
"But then he wrote me and said, 'Serena, I don't want you to be mad at me, but I just can't walk you down the aisle. I'm not myself anymore. I'm just too nervous.'"
While a moment like that might throw many brides into a tailspin, Williams took it calmly and moved forward with her wedding to Reddit co-founder Alexis Ohanian.
"Daddy, it's OK, if you don't want to come to the wedding at all, that's OK, too," she said she told him. "I'm not going to be upset with you about it, so I don't want you to be upset about it."
The last-minute change of plans is similar to what Meghan Markle is going through as she prepares to marry Prince Harry on Saturday. She confirmed on Thursday that her father will not be attending the wedding and pleaded for him to get "the space he needs to focus on his health."
Williams was also more concerned for her father's well-being than worried about how it would look if he didn't walk her down the aisle.
"If he doesn't want to be up there in front of a lot of people, I completely understand,'' she said. "Look, when we first came on the scene, there were a lot of people who didn't get him. I don't think a lot of them wanted to get him. I don't think a lot of him could have anyway.
Our family knows what we have. We just want each other to be happy. That's what matters. I don't think anything could ever change that."
The HBO documentary follows Williams through her journey of having baby daughter Alexis with Ohanian, her post-birth complications, her wedding, and her ongoing comeback to tennis.
Follow TODAY.com writer Scott Stump on Twitter.