There's been no word on a sequel to "Junior," but Arnold Schwarzenegger may be giving birth to "Triplets" before the end of the year.
The actor and former California governor indicated that a sequel to his 1988 hit "Twins" with Danny DeVito could begin filming as early as this fall.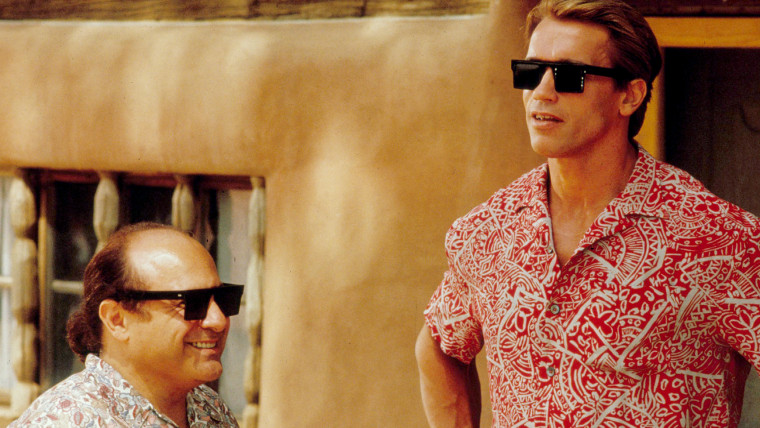 The long-in-the-works film, called "Triplets," reportedly includes Eddie Murphy as a third brother to mismatched duo Schwarzenegger, 69, and DeVito, 72.
"So Danny and Eddie Murphy and I — we believed in it 100 percent,'' Schwarzenegger told Yahoo Movies. "And then (director) Ivan (Reitman) believed in it 100 percent. So they're writing it, and now everyone is enthusiastic about it.
"It will probably be done in the next month or two, and then hopefully we shoot it by this fall. It's really exciting."
RELATED: Arnold Schwarzenegger shuts down troll who criticized the Special Olympics
Featuring the tag line, "Only a mother can tell the apart," the original movie featured the muscle-bound Schwarzenegger as Julius Benedict, who goes in search of his diminutive brother, Vincent, (DeVito) after growing up separately as a result of a lab experiment.
The sequel hopes to include Murphy as a third brother who was part of the same experiment.
"Danny and I always ran around with the idea of Triplets, and that Eddie Murphy should be the triplet, because he is so different than we are — as much as Danny was different from me,'' Schwarzenegger said. "When you saw Danny and I together, and you said that only the mother could tell us apart, people laughed. You didn't really have to say much else.
"The same is also true with the idea of having Eddie Murphy be a part of the new picture. It's called Triplets, and people go, wait a minute, how did this black guy get into the picture here? The way it's explained in the movie is really funny — what happened with that experiment, and how many people's sperm were used, and the things we didn't know and only find out about when our mother passes away."
Schwarzenegger, 69, has been trying to do "Triplets" for two decades, but it only recently gained traction.
RELATED: Arnold Schwarzenegger meets Pope Francis in Vatican City
As for fans of another 1980s hit starring Schwarzenegger, he won't be killing any human-hunting space aliens any time soon in the reboot of "The Predator."
"They asked me, and I read it, and I didn't like it — whatever they offered,'' he told Yahoo. "So I'm not going to do that, no. Except if there's a chance that they rewrite it, or make it a more significant role."
Follow TODAY.com writer Scott Stump on Twitter.