Tom McMeekin and Nancy Gambell's epic love story is more than 60 years in the making.
The newly engaged couple's romantic proposal went viral on TikTok last month.
The lovebirds, both 78, first met 63 years ago in high school in Quincy, California. But their whirlwind romance started after spark flew when they reconnected before their 60th high school reunion.
"She was a drop dead gorgeous cheerleader. And so I admired her from a distance," McMeekin told TODAY.
When they were younger, they went on one or two dates, but McMeekin said he later went abroad for six months and fell in love with his first wife, whom he was married to for 30 years.
Flash forward several decades and the pair crossed paths once again at their 50th high school reunion. However, their romantic timing was off once again.
"We were each preoccupied with another relationship," Gambell said.
McMeekin and Gambell have been married a combined seven times over the last six decades.
They connected again this past June when McMeekin, who lives in Florida, told Gambell that he'd booked his ticket to California for their high school reunion. She then suggested that they get together.
"And then we called. We talked for hours, hours every day. From June 10 until now, we fell in love again," he said.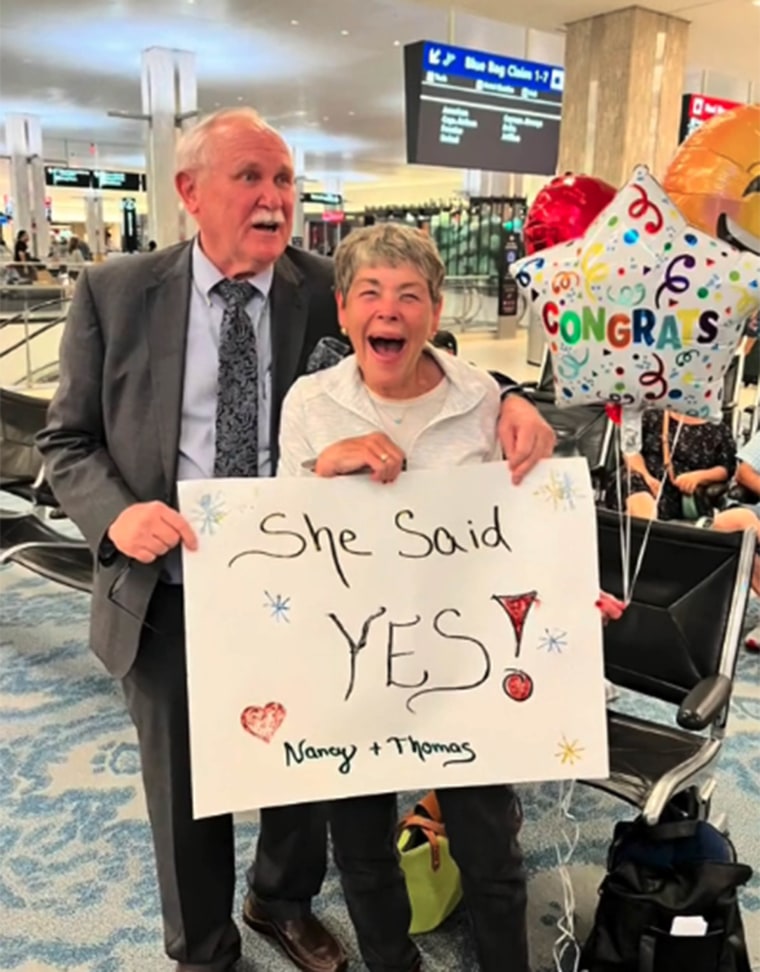 After a few weeks, McMeekin was ready to propose and he invited his new love to visit him in Florida.
"I couldn't wait. I surprised her. She arrived at the airport and she didn't know what was happening," he said.
"And I dropped down on two knees and I read my proposal. We're both crying. And then I said, 'Will you marry me?' And she said 'Yes.'"
While recalling the romantic moment, Gambell says her reaction was "shock."
"Expecting to find this kind of love, anytime, is kind of hard to imagine, but especially in this last few chapters that we have," she said.
Their love story was also proof that it's never too late to find love, they said.
"I did want something like this to happen," Gambell said. "And I think part of why it happened was because I asked for it to happen. I asked the universe."
While speaking with Hoda Kotb and Jenna Bush Hager, McMeekin explained why the timing was so right for them to reconnect.
"All the prior relationships and marriages have taught me lessons and, for four years, I was searching for something and happiness is to love and be loved and that's what I hoped for," he said.
McMeekin said the two planned to get married in October at Gambell's home in California.