In a career in public service that spans over 40 years, U.S. Sen. Arlen Specter (R-Pa.) has fought many battles in and out of the halls of government. In 2005, Specter was diagnosed with cancer. Together with Frank J. Scaturro, Specter recalls his triumphs and medical scares in one of the most honest and revealing political memoirs in years with "Never Give In: Battling Cancer in the Senate." Here's an excerpt:
Chapter 1
Does stress cause cancer? A November 2005 New York Times article considered the connection between stress and cancer an open question but noted "a tenuous connection between stress, the immune system and cancer with a surprising new insight that is changing the direction of research: it now appears that cancer cells make proteins that actually tell the immune system to let them alone and even to help them grow." Women reportedly seemed convinced that stress caused their breast cancer while the "male ego" caused men to view stress as a "sign of weakness" better kept inside. I do not believe in keeping such concerns bottled up, but I also do not believe a challenge should be avoided because it is stressful.
One of my congressional colleagues, former Representative Billy Tauzin, who filled a vacant seat in the House of Representatives in 1980, the same year I was elected to the Senate, is sure that stress and tension caused his cancer. In the summer of 2003, Tauzin relates, he took excessive quantities of Motrin, which caused a bleeding ulcer and inflamed his immune system. He explained his situation to me, saying that stress creates the inflammation of the immune system, which then impedes it from functioning. When the immune system is, in effect, worn out, cancer sets in. He said the bleeding ulcer was diagnosed in December 2003, and a rare intestinal cancer was diagnosed in March 2004. That February he had an operation that removed portions of his stomach, intestines, and pancreas; the cancer had come within a half centimeter of his pancreas. Had the cancer invaded that organ, it most likely would have been fatal, since pancreatic cancer is virtually incurable. Tauzin noted that the operation took out twelve lymph nodes, three of which had dead cancer cells, which indicated that the immune system had successfully fought off some of the cancer attack. His operation, conducted at a very prestigious hospital, did not remove all the cancer, and when he then went to the MD Anderson Cancer Center at the University of Texas, he was told he had a 5 percent chance to survive. He was prescribed a drug known as Avastin, which was off label, meaning it was not designed for his kind of cancer. Miraculously, as he put it, the Avastin normalized his situation and eliminated the need for another operation.
After his treatment, the congressman was advised by his doctor that he would have to give up his seat in Congress if he was to have any chance of beating the cancer. Following that advice, he did not run for reelection in 2004.
When I met him for lunch in February 2007, he was robust and healthy and working for Pharmaceutical Research and Manufacturers of America (PhRMA). He said he had selected that job because he could help the pharmaceutical industry develop drugs to save other people's lives. Tauzin said that he was diagnosed with a bleeding ulcer in the intestines at the same time that Representative John Dingell, his predecessor as chairman of the Energy and Commerce Committee, who later became chairman after the Democrats gained control in 2006, was diagnosed with a bleeding ulcer in his stomach. Tauzin asserted that beyond any question, both illnesses were the result of stress. After Tauzin had the operation, he was treated with massive doses of chemotherapy. He said his capacity to endure the chemotherapy was considered very surprising by the doctors.
He then disregarded his doctors' advice: He was counseled against exercise, but he drove a tractor or bulldozer on his Louisiana ranch in his effort to regain his physical strength after losing forty-five pounds in his fight with cancer. He undertook that course because he felt that he could beat the cancer only if he regained his strength and stopped losing muscle. He recounted his "fear" every time he would take a CT scan: When he started to feel good, he thought the good cells were returning and was worried that maybe the bad cells were returning as well. When he took a CT scan and got a favorable report, he characterized himself as being euphoric. On one occasion, the doctor was otherwise engaged and took an hour and a half to tell him the favorable results, during which time he was very worried, thinking that the news would be bad. He was much relieved to find the news was good and expressed surprise that the doctor would keep him waiting so long before giving him the news, leading to additional stress. This resembled several of my own experiences with insensitive doctors. During our lunch, however, the former congressman was in his characteristic jovial mood, his health challenge largely behind him and a promising future still ahead.
My own story began in 2004, which promised to be an eventful — and stressful — year. The people of Pennsylvania had never elected anyone to a fifth term in the Senate, and the approaching election promised to add to a list of political challenges I had faced during my public career. With the challenges invariably came excitement, but not always success. Apart from my days in the Air Force (1951–53), my government service dated all the way back to 1959, when I served as an assistant district attorney in Philadelphia. From there, I was elected as district attorney, a Republican in a heavily Democratic city, though not before participating in a dark chapter of history, serving as a member of the staff of the Warren Commission that investigated the assassination of President John F. Kennedy.
In 1967, while serving as district attorney, I ran for mayor of Philadelphia and narrowly lost. Six years later, in 1973, within weeks after the Saturday Night Massacre that cast a cloud over Republican candidates everywhere, I found myself unseated as district attorney in a devastating loss that many thought marked my political demise. Those who would have bet against me for the next five years would have ended up ahead. I made an unsuccessful run for the U.S. Senate in 1976 and for governor in 1978.
But the tide turned in 1980 when I won my first term to the Senate. The three reelection campaigns that followed were successful, but always with an effort — particularly my 1992 general election campaign against Lynn Yeakel. She capitalized on the controversy surrounding my questioning of Professor Anita Hill during the Supreme Court nomination hearings for Clarence Thomas the year before, and polled less than three percentage points behind me. It had been said that I alienated the entire electorate, half by voting against Judge Robert Bork, whose Supreme Court nomination was defeated in 1987 after I led the Judiciary Committee questioning, and the other half by questioning Hill and voting to confirm Thomas. It may be that a senator cannot do his job without angering everyone sometime.
Surviving so many potentially career-ending challenges left me confident I could win tough battles. Nowadays, getting renominated by one's party is usually not a tremendous struggle for senators, and incumbents routinely win primary election contests. To be sure, there have been and will continue to be exceptions. In 2002, Representative John Sununu defeated incumbent Bob Smith of New Hampshire in that state's Republican primary, but Smith had alienated many Republicans by bolting the party to run for president, only to return to it soon after. In 2006, incumbent Joe Lieberman of Connecticut would be defeated in a bitter Democratic primary based on his  support for the war in Iraq.
In 2004, I was the only sitting senator to face a primary. In retrospect, after the Hodgkin's diagnosis, I wonder if the stressful, intense primary campaign caused or contributed to the cancer. The reelection campaign was challenging because of my long track record as a centrist Republican in an increasingly polarized environment — one in which power has seemingly shifted to the extreme ideological base of each party, with potentially dire consequences for the elected official who does not meet the criteria of activists on the far ends of the political spectrum. This polarization created a stressful environment for the primary.
This situation was something of a break from the past. Among Republican incumbents, I was perhaps the last of a group of centrists that once included Mark Hatfield and Bob Packwood of Oregon, Bob Stafford of Vermont, Lowell Weicker of Connecticut, Bill Cohen of Maine, John Chafee of Rhode Island, Warren Rudman of New Hampshire, Alan Simpson of Wyoming, Jack Danforth of Missouri, Charles Percy of Illinois, Charles Mathias of Maryland, and my colleague from Pennsylvania, John Heinz. Others had since taken their place — Lincoln Chafee of Rhode Island, Gordon Smith of Oregon, and Maine senators Olympia Snowe and Susan Collins readily come to mind — but there is no doubt the ranks of the centrists have been diminishing. Linc, as we called the younger Chafee, would be defeated in the November 2006 election.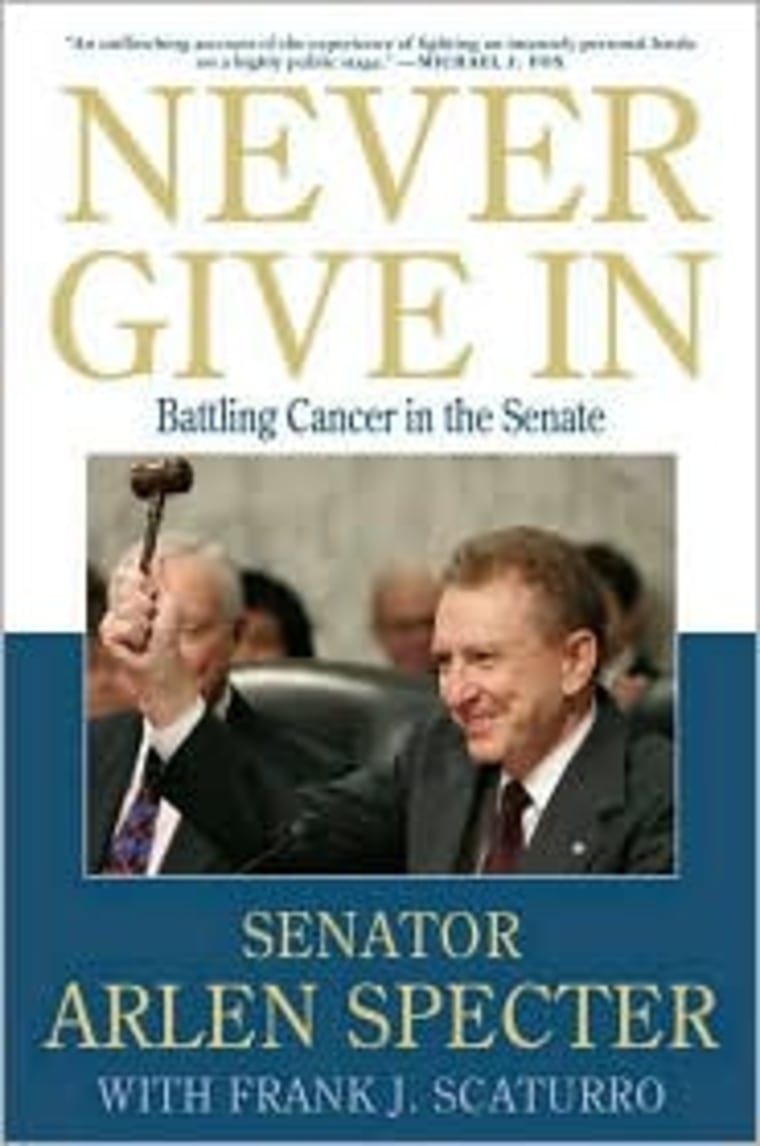 What was true in so much of the country was reflected in Pennsylvania. In April 2004, the Los Angeles Times observed, "Though Pennsylvania has a history of electing centrist Republicans, such as former Governor Tom Ridge and the late Senator John Heinz, that is changing." As a Wall Street Journal column noted, "Republican primaries used to hinge heavily on the four big suburban Philadelphia counties." This had changed as the party's growth occurred "west and north of that region — Lancaster and York and Lehigh Counties." My first Senate victory began with a successful challenge to Harold "Bud" Haabestad, the state Republican chairman and Princeton basketball star who was the choice of the statewide Republican leadership, in the 1980 primary. Nearly a quarter century later, a parallel challenge would be launched, only this time I was the organization's choice.
Like modern races for the presidency, the 2004 primary campaign began well before its official start. A three-term member of the House of Representatives, Patrick J. Toomey of the Lehigh Valley, had first been elected in 1998 with the promise he would limit himself to three terms, many political observers thinking he was planning a Senate run in 2004 from the start. Aware that he could pose a formidable challenge, the only prudent course for me was to prepare for a tough campaign.
Being reasonably certain Toomey was going to run against me, I started my 2004 campaign for reelection on November 6, 2002, the day after he won his third term. Starting at 9:00 a.m., I was on the phone for two full days calling the seventy key Republicans in his district. The results were excellent, with sixty-eight agreeing to support me, one equivocating, and only one negative response. Those numbers later slipped, but I was satisfied I had done my homework in the Lehigh Valley, as I had throughout the state for more than two decades.
In 1980, I was the first statewide candidate to make a point of visiting all sixty-seven counties and publicizing it. I continued the practice by visiting each county once a year, in addition to multiple visits to the metropolitan areas. I found this method indispensable in becoming acquainted with the complex issues of 12 million constituents with diverse interests in agriculture, steel, coal, and timber, not to mention the problems of the cities, veterans, and senior citizens. Once I started, I found campaigning fun despite the hard work involved. That was a good thing, because Representative Toomey would not let me win with anything short of my best efforts.
My position on the Appropriations Committee enabled me to secure significant federal projects throughout Pennsylvania. I had mounted strong campaigns for reelection in 1986, 1992, and 1998, based on my seniority on the committee. From 1998 through 2002, I had visited the Lehigh Valley twenty-eight times and become aware of the need for federal assistance for universities, hospitals, highways, businesses, law enforcement, and other local needs. In 2004, I emphasized I was second in line to become chairman, a position no Pennsylvanian ever had held. Combining this theme with my established independence, my campaign slogan was "Courage. Clout. Conviction." Thirty-five years had not changed my approach much from 1969, when I ran for reelection as district attorney alongside Tom Gola, the city controller candidate, with the slogan, "They're Tougher, They're Younger, and Nobody Owns Them." The only thing that really had changed was the unchangeable: No one can stay young.
Representative Toomey found my record and campaign tailor-made for his contrary approach. His ultraconservative economic philosophy had led him to oppose increases in federal assistance even where it involved projects in his own district that were federally funded elsewhere. This may have contributed to his sluggish record on constituent service, while I prided myself on an approach that once led Senator Heinz quizzically to ask a staffer: "How is it Arlen Specter gets there the day before the flood?" The Wall Street–oriented Club for Growth favored deep tax cuts and deeper cuts in federal spending, a popular platform for a Republican primary. This group, the fifth-largest 527 political organization at the time, made Toomey their poster boy with a highly successful national fund-raising campaign. The Club for Growth was so closely coordinated with Toomey's personal campaign organization that I called it the "club for Toomey," a virtual wholly owned subsidiary of his campaign. Indeed, Toomey would later take over as the group's president and CEO.
My second major campaign theme brought out the greatest impact I would have during another term in the Senate: Because Senator Orrin Hatch had to step down due to term limits, I was in line to become chairman of the Judiciary Committee after serving as a member of that committee for all of my twenty-four years in the Senate. As Pennsylvania's first popularly elected four-term senator, I would become the first senator from my state since 1833 to chair that important committee. This prospect played right into the hands of my primary opposition as it motivated the right to target me.
A fight with the ultra–right wing of the party had been in the making for some time. It was no secret that there were some stark differences between us, but that is not to overlook the natural desire of political leaders, on or off the campaign cycle, to reach out and seek common ground with others. Early on, I met with the founder of the Club for Growth and participated in one of the group's sessions, though it obviously never became an ally. In the spring of 2003, I had lunch in the Senate dining room with Reverend Jerry Falwell, causing The Washington Post to surmise I was posturing in reaction to my primary challenger. The meal was actually a straightforward discussion of our mutual support for Israel and for sexual abstinence programs and our differences on the issue of stem cell research, all of which had been our views for years. Falwell, to my knowledge, remained uninvolved in the primary.
Later that year, however, I did have another lunch — this time with Steve Freind, an outspoken opponent of abortion who ran a primary against me in 1992 — for the principal purpose of expanding support. An endorsement was not forthcoming, but I appreciated Freind's honesty: "If Pat Toomey was pro-abort, I would be with you," he remarked. "You know how important the issue is. I can't be with you."
Indeed, a phalanx of pro-life activists converged upon Pennsylvania to campaign against me, led by Dr. James Dobson, head of the organization Focus on the Family and a worldwide radio program of the same name. Dobson left Colorado Springs, home of his media empire, to travel to conservative Lancaster County to denounce me. These opponents saw a second term by President George W. Bush as the opportunity to confirm new Supreme Court justices to reverse Roe v. Wade, the landmark case that established a woman's right to choose to terminate her pregnancy. Notwithstanding my support for President Bush's reelection and my votes in favor of all his judicial nominees to date, they were concerned that I, as a pro-choice senator, would oppose pro-life nominees to the Supreme Court, which in turn would undercut their three-decade campaign to reverse Roe.
The Toomey camp even recruited Judge Bork. What made my opponent's campaign so unusually potent was its widespread support among Republican primary voters who desperately wanted to reverse Roe and cut taxes along with federal spending. Toomey campaigned as the pro-life alternative to me, though he had initially run for the House as a pro-choice candidate in 1998, when he found himself running against multiple pro-life primary opponents. Toomey also had served as a cochairman of my campaign finance committee in 2001 before he announced against me.
Personally, Toomey was a bright, articulate, well-groomed, youthful candidate (age forty-two on primary day) who was earnest in his delivery if a tad humorless. An Eagle Scout before age fifteen and cum laude graduate of Harvard, he was astutely described by The Philadelphia Inquirer as a "conservative with a moderate demeanor." On a certain level, I could respect his deep devotion to fiscal conservatism in his own backyard, even though I felt it was not in the best interests of Pennsylvania. However, I knew that the issues that made him attractive to Republican primary voters likely would bring him defeat in the general election.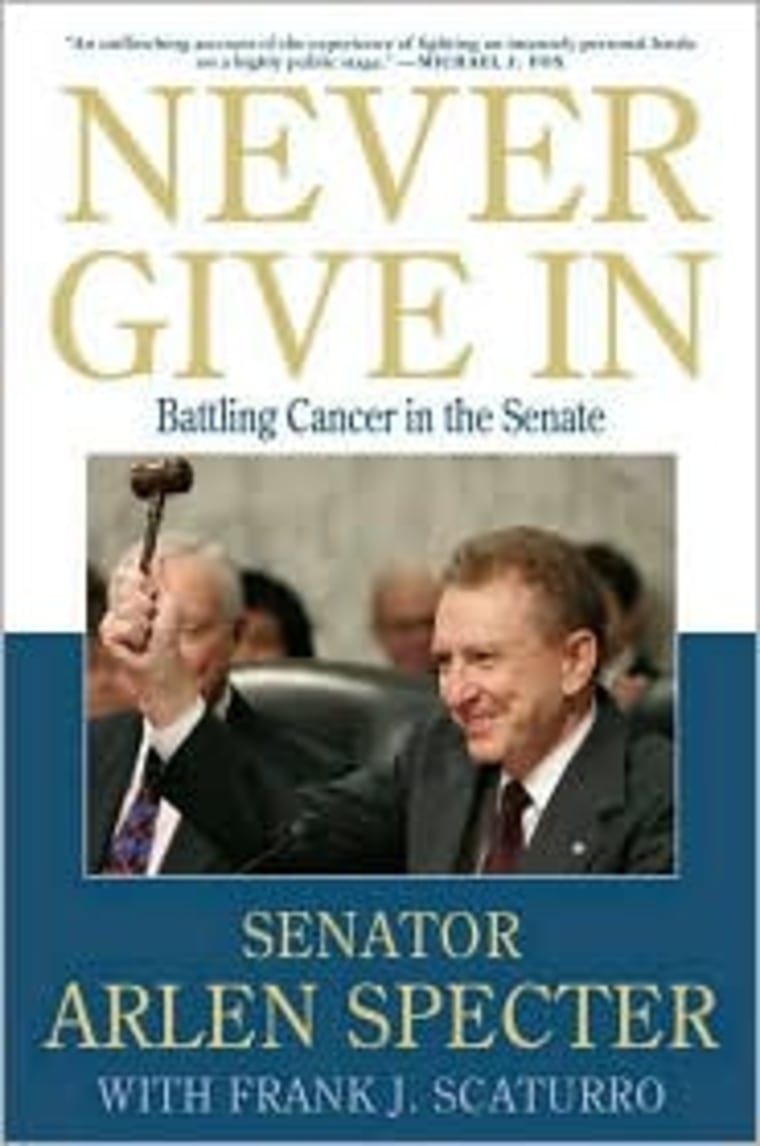 President Bush and Senator Rick Santorum knew this too and backed my candidacy solidly and early. In February 2003, the White House sent a warning shot to Toomey by sending Chief of Staff Andy Card to host a fund-raiser for me in the congressman's home district. The president, Vice-President Dick Cheney, and even First Lady Laura Bush campaigned for me in Pennsylvania, where they would tout such themes as my support for administration initiatives in the war on terror, tax cuts, and judicial nominations. Always gracious about his support, the president would say of me, "He doesn't owe me anything except good government." I had developed a cordial relationship with him during the 2000 campaign and his first three years in office, and got to know him very well in 2004 when I traveled with him on Air Force One.
That year, the president had his own reelection to worry about, and Pennsylvania was an important state in his contest with Senator John Kerry, the Democratic nominee. During his first term and reelection campaign, President Bush visited Pennsylvania more than forty times, and I accompanied him on most of those trips. We discussed at some length the Judiciary Committee chairman's role, and I told the president he was preeminently fair in asking for a commitment from the chairman to conduct prompt hearings on those he nominated for judgeships, and then report the nominations to the floor for up-or-down votes by the full Senate.
The president did not skirt my reputation for independence when he spoke to crowds. He told one audience in Ardmore, Pennsylvania, "Oh, he doesn't do everything you ask him to do all the time" — at which point the audience chuckled — "but when you need him ... when you need him, he's there." George W. Bush has a disarming but wry sense of humor that surfaced when I flew with him to a conference on education and the economy in Harrisburg on February 12, 2004, my seventy-fourth birthday. He acknowledged me to the gathered crowd as Pennsylvania's "senior senator," but added, "I try to downplay the senior part." During a later trip to Scranton, we landed in Air Force One as it was drizzling outside. I was wearing my trench coat and did not expect the president to invite me out onto the airplane steps, but he did. He exited the plane first but spotted my coat as I stood on his right. "Arlen, Arlen," he quipped, "we're going to have to upgrade your wardrobe." I told my son Shanin the story, and he bought me a more presentable raincoat.
Campaigns are full of surprises, and a real highlight on the campaign trail was seeing my old friend, former Senate majority leader Bob Dole, who came in February for an entire day of events in the Lehigh Valley and Scranton areas. During his over twenty-seven years in the Senate, Dole represented Kansas, where I spent my early life. When I moved from Wichita to Russell in 1942 at the age of twelve, Dole, then nineteen, was a big wheel on the University of Kansas basketball team. He was once a much older man, but in these intervening years, I have pretty much caught up with him. He has an extraordinary sense of humor, which, unfortunately, rarely surfaced during his presidential run in 1996. We frequently talked about his experience as Russell's county attorney compared to my work as Philadelphia's district attorney. When he returned home to Russell as a wounded war veteran, both parties wanted him to run on their ticket. Although his family was Democratic, he was not on record for one party or the other. As he tells the story, he checked the registration and found out there were twice as many Republicans in Russell County as Democrats and decided he was a Republican. (In contrast, I had swum upstream, changing my registration to Republican in an overwhelmingly Democratic city.) Dole always liked to emphasize the small town values of integrity, a strong work ethic, and family that life in Russell instilled in its residents. On the trail for me in 2004, he remarked to a reporter regarding my political reputation, "You can't be rigid in your views and get anything done for the people of your state." There is a lot of truth to that, and I believe that is one reason so many elected officials, including the Senate leadership and all but two members of Pennsylvania's delegation to the House (who remained neutral), endorsed my campaign. Much of the party rank and file saw the matter differently, which made it a contest.
The campaign required every bit of energy that had propelled my twenty-four years of constituent travel and Washington service, not to mention a frenetic schedule. My formal, two-day statewide campaign announcement tour began on January 8, 2004, with a squash match at 6:45 a.m., then a 9:00 announcement at the National Constitution Center in Philadelphia, a flight to Harrisburg for an 11:45 news conference at the state capitol, a flight to Pittsburgh for a 2:45 announcement, a flight to Erie for a 5:15 announcement, followed by a flight to State College, where I had dinner and spent the night.
Between campaign events and official events, day after day I often had a dozen or more stops — a phenomenon my campaign manager, Chris Nicholas, called "Specterpalooza." My schedule was filled with meetings with innumerable segments of the population — manufacturing, medical, agricultural, law enforcement, veterans; the list goes on — and media appearances and phone drives in between. There was not a moment to waste, but also not a person to take for granted. I was once reminded I walked up fifteen rows in Veterans Stadium to shake a hand (I wasn't keeping track). Because I want to know what is on everyone's mind, I prefer to deliver short speeches — ten to twelve minutes for a typical group, five minutes for town meetings — before turning to questions from the audience for the bulk of the program. No audience is too small to merit the same attention that goes to the larger ones. The 2004 primary campaign did not break any personal records for small crowds. I recall a campaign event at a Philadelphia home in 1965, when I ran for district attorney, in which only one person showed up to meet Jim Cavanaugh, who ran for city controller, and me. I gave a short speech, and Cavanaugh followed with his own unabridged lengthy talk.
Thanks to technology that many take for granted today, I could conduct media interviews by car or cell phone while riding around the state. As during my non-campaign season, I remained a regular on the Michael Smerconish Morning Show, a news talk radio program based in Philadelphia, and Angelo Cataldi's sports radio show, which has long allowed me the enjoyment of commenting on my local sports teams while making contact with many listeners beyond the news and political show audience. Talk shows like Cataldi's provided a diversion (albeit a politically constructive one) to the political events that saturated my schedule.
The experience of campaigning was the most fun when family members joined me. My wife, Joan, typically accompanied me on my weekend campaign travels. A beautiful, stately woman of tremendous poise, she is a distinguished personage in her own right — a former four-term city councilwoman presently involved in development (fund-raising) for the Constitution Center in Philadelphia. She dresses as if she just stepped out of Vogue, and the crowds love to see her. When she is around, I have someone to speak with between campaign stops, and she always has constructive comments about my speeches.
I was also joined at key events by my son Shanin, his wife Tracey, and their two older daughters, Silvi and Perri. During my announcement tour, Perri, aged eight, amused Joan and me no end at a particular stop in Harrisburg. After observing my routine at the Constitution Center, our first stop, she realized in Harrisburg, our second stop, that I would make another speech after she viewed Joan and me shaking hands. She walked up to the podium, pulled up a chair (which was quite a chore for her), stood on top of it, took the microphone, and delivered a speech. "Vote for Arlen" was her refrain. (I am the only grandparent the girls refer to by first name, at my insistence.) Then she did the same at our next stop, Pittsburgh. After we moved on to Erie, she began a new routine, dancing on the stage as I spoke to the crowd. I preferred the spontaneity of the moment to sticking with the campaign's set program. Everyone found the performance funny, and that was where much of the crowd's attention was directed.
During an August trip to Erie, Silvi, aged ten, accompanied me on the bus with the president, Mrs. Bush, and their two daughters, Jenna and Barbara. Laura Bush, always in touch with children, swapped stories with third-grader Silvi about her experiences teaching the third grade. After the photos of the trip returned, the president inscribed a picture of him with Silvi that now hangs proudly in my outer office. Silvi returned for a photo with the president at the 2006 Christmas ball, then a young lady of almost thirteen. To the extent I could, I have taken my granddaughters to the White House summer picnics and tours, as well as to other political activities, to give them a feel for politics and government.
Our two sons, Shanin and Steve, were involved in my political activities from an early age. A particular moment always comes to mind from when I ran for district attorney in 1965. My press secretary called at 11:00 p.m. the night before the primary, saying that Joan and I should come to the polls promptly at 7:00 a.m. in order to make the early edition of The Philadelphia Bulletin. Joan and I looked at each other wondering what to do with Shanin, seven, and Steve, four, since it was obviously too late to get a 6:30 a.m. babysitter the next day, so we brought the children with us that morning. Since Joan and I were registered Democrats and I was running in the Republican primary, I urged her not to vote for any candidate, because we did not want to be accused of trying to influence the Democratic election. So she voted only on the questions on the ballot. When she was unable to extricate herself from the polling booth, we found that the curtain would not open if the voter did not vote for at least one of the candidates. Steve, who was waiting for her outside the booth, panicked when his mother was trapped inside. When she finally came out, a wonderful, warm family reunion materialized. That brought a big smile to my face, which was hard to do at that stage of my political career. A photo depicting the scene appeared above the fold of the afternoon Bulletin.
My cell phone enabled me to keep in touch with family members who were farther away. My older sisters Hilda and Shirley, along with Hilda's husband Arthur, resided in New Jersey, and my Aunt Rose has lived in Wichita, Kansas, the city of my birth, since before I was born. In fact, Aunt Rose was with her sister, my mother, when she gave birth to me and is responsible for my name. After my parents announced I would be named Abraham after my paternal grandfather, Avram, Aunt Rose said, "you're not going to do that to this poor little baby." She suggested instead the surname of her favorite actor, Richard Arlen. That has not stopped her from continuing to call me by my boyhood nickname, "Boozy Boy." A close family friend had given his son, Danny Greenberg, born sixteen months before me, the nickname "Sonny Boy" after the Al Jolson song of that title, and my father adopted the variation "Boozy Boy" for me. Aunt Rose, in her nineties by 2004, was as spirited as ever and oversaw me with the devotion of a mother. Over the years, I have made it a practice to call my family frequently, as they have always been my biggest cheerleaders. Among their significant contributions, they have traveled tirelessly throughout Pennsylvania campaigning for me.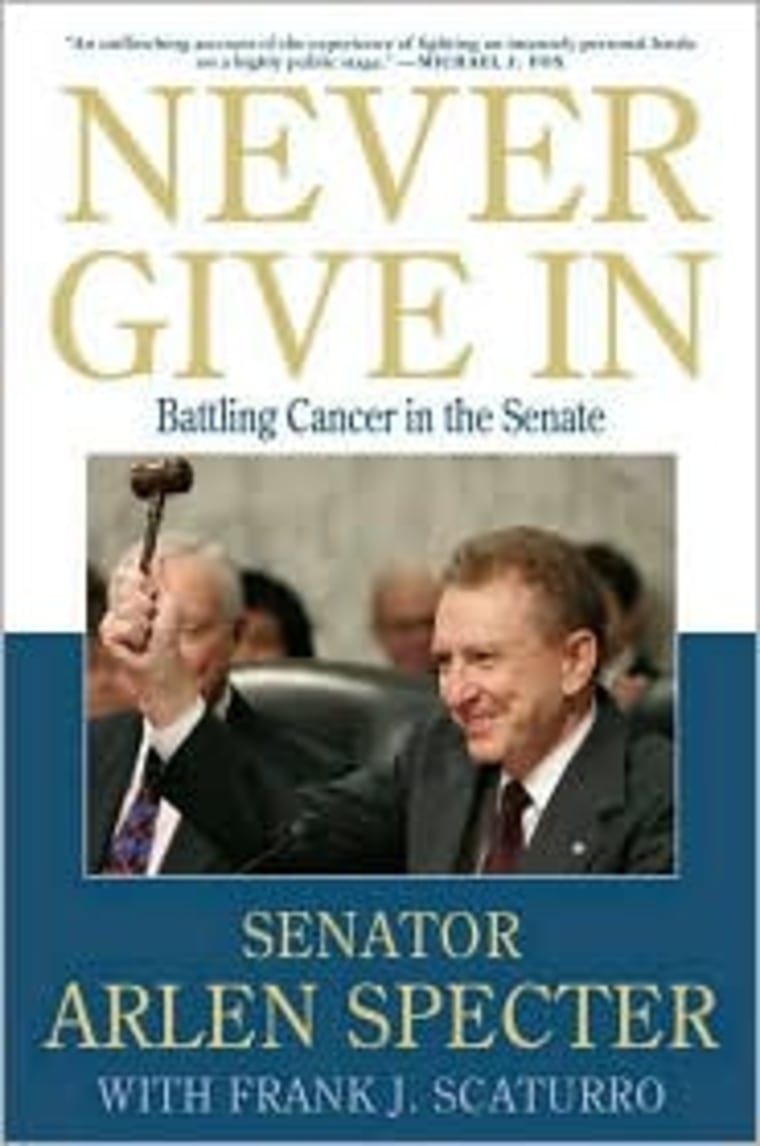 I am fortunate that my campaigns have inspired my entire political household. Between my campaign staff, official staff as volunteers on their own time, and fund-raising staff, I was fortunate to have a devoted and talented group working with me. Sylvia Nolde was an astute and dedicated staffer and adviser since my first year in the Senate, when I inherited her as my scheduler from outgoing Senator Jacob Javits of New York. One day, after being in the Senate for about eight weeks, I called her at 5:52 p.m. saying I would miss the 6:00 p.m. Metroliner. She told me to hurry to the station because she could hold the train for five minutes, a trick she learned from her time with Javits. Meanwhile, Senator Joe Biden of Delaware, elected in 1972, was racing past me to the gate when a conductor, not knowing who he was, shouted: "Slow down, Bud, there's a senator coming." Biden tracked me down on the train, almost irate, to ask me how I found out in eight weeks how to hold the train when he had not made that discovery in eight years. That was the first of many long train rides together. During the 2004 campaign, Sylvia would be a key operative in my campaign organization, Citizens for Arlen Specter.
Todd Averette and Alison Cooper, who had worked on my Senate staff, were in charge of fund-raising. They could accurately be called young veterans, thirty-somethings who personified attentiveness to one's work, and who knew how to maintain a harmonious staff. Alison had started on my staff as a receptionist in 1994 and would finish in 2006 as my chief of staff. Another former staffer in the campaign household was the genial David Urban, who held a number of positions in my office over the years, including chief of staff, and excelled at each of them. Carey Lackman, who served as my chief of staff through the primary — one of the first women to serve in that capacity in the Senate — had been with me for all but two years since 1991.
When the Senate was in session, I spent most weekdays in Washington to conduct Senate business. Mondays and Fridays typically allowed me to spend at least some time in Pennsylvania. Besides constituent casework and my Judiciary Committee membership, my responsibilities entailed chairing the Veterans Affairs Committee and the Appropriations Subcommittee on Labor, Health and Human Services, and Education. The latter assignment entails management of federal spending in a variety of areas, including public health. I had long tried to champion the government's role in exploring the frontiers of medicine in order to save lives, and this mission became closer to my heart as I witnessed Carey Lackman struggle with breast cancer throughout the primary season. Few on the staff had any idea how ill she was, and her work ethic and personal strength did much to conceal it.
Even with this skilled team, the race intensified as primary day approached, and I worried that too many Republicans would not vote out of a lack of awareness of how serious a chance I had of losing. I knew I was in trouble from day one, and unsurprisingly, the race increasingly became a negative one. The Toomey campaign's basic strategy entailed a persistent attack on me as a "liberal."  The National Review provided a forum for my opponent, coming to his aid with a vitriolic September 2003 cover story headline, "The Worst Republican Senator: Why Pennsylvania Should Get Rid of Arlen Specter." In response, my campaign procured a letter from the three former and the current Republican Senate majority leaders — Howard Baker, Bob Dole, Trent Lott, and Bill Frist — calling me "one of the best Senators in promoting Republican values and policies." A Toomey ad charged that "nearly 70 percent of the time," I "voted the same way" as John Kerry: "And that makes Arlen Specter 100 percent too liberal." Those numbers, drawn from votes cast in 2002, omitted to mention that Kerry voted with President Bush 72 percent of the time.
In mid-April 2004, Wall Street Journal columnist Al Hunt ran a column about the campaign entitled, "Down and Nasty in the Keystone State." Hunt remarked about me, "While he has made a legislative mark on important national issues—medical research most notably — he is a prodigious producer of pork and unsurpassed in constituency services." The "pork" charge was a cornerstone of the Toomey campaign. My biggest challenge, in fact, was less my opponent than my own record, which a solid majority of Pennsylvanians approved except for the very-right-wing Republicans. Still, I find one of the best ways as an incumbent to deflect ill-considered criticism is to put the critic in my shoes. I unabashedly defended what I call "bringing home the bacon" and challenged Representative Toomey to share with the public what federal spending in Pennsylvania he would criticize as wasteful. For days, my opponent was unresponsive until his campaign came up with a single expenditure — an $800,000 outhouse in a national park that was finished two years before he was elected to Congress.
Terry Madonna, director of Franklin and Marshall College's Keystone Poll, observed, "Arlen always wins ugly." There was some truth to this, and in more ways than one. A little over a month before the primary election, I tripped on a sidewalk defect and fell flat on my face as I left the Tangerine Restaurant in Philadelphia on a Saturday night. I went to the emergency room of Jefferson Hospital and was visibly bruised, with two shiners and a split lower lip. I was scheduled to appear on national television — CNN's Late Edition with Wolf Blitzer — the next day.
To hell with it, I thought; I may as well go forward on the show in full glory. Blitzer asked me about my injury on the air, and I explained, "Came down hard on my lip, Wolf. I tripped on a defect in the sidewalk and got a little bump, but I'm feeling OK."
The bruises worsened, and by Monday, I had become an absolute mess, but I attended a scheduled farm event in western Pennsylvania with Governor Ed Rendell, which was shown on C-SPAN. I had something to say on Sunday on CNN, on Monday on the farm, and Tuesday on the Senate floor, so I said it notwithstanding my appearance. It would be the same months later when I appeared for my Senate business pallid, skinny, and bald while undergoing a chemotherapy treatment.
Charlie Robbins, my communications director, said I looked as if I had gone ten rounds with Mike Tyson. Roll Call, the Capitol Hill newspaper, reported on my activities that Tuesday: "Senate tongues were wagging big-time on Tuesday night when Specter rose to give a speech on the Senate floor and showed off a busted lip, two black eyes and a scary-looking nose. (This, of course, was not the first occasion that the infamously testy Specter has had his nose out of joint — at least not figuratively.)"
Jokes aside, the race, as feared, tightened as primary day approached. In January 2004, polls had me with a 23-point lead over Toomey, which dropped to a 15-point lead on April 7 and a 5-point lead on April 20, a week before the primary. My opponent's negative surge was apparently the result of his blitz of campaign commercials, which worked enough for him to come out ahead among self-identified conservatives by April 20 — a reversal of my previous lead among conservatives. Realizing the margin would be razor-thin, I pressed for every last vote I could get. Toomey was doing an effective job of reaching out to the base, and many were surprised to hear how close the contest was.
Of course, the only poll that counted was the actual primary election, which occurred on April 27. It was a day fraught with suspense. At the time I voted that morning in Philadelphia, voter turnout appeared to be low in the southeastern part of the state, which fed my team's longstanding anxiety over the effects of little turnout. Several campaign staffers went to pray for victory at the Convent of Divine Love, the home of cloistered nuns known as the "pink sisters," who invite prayers in times of difficulty.
That evening, the campaign camped out at the Bellevue-Stratford Hotel in Philadelphia as the numbers came in. I arrived looking exhausted, according to my staff, but I did not sense more than the usual fatigue of a tough campaign. I went to the ballroom, where numerous cameras and reporters were assembled. I went from camera to camera telling the voters very directly in the live 6:00 p.m. news shows that the election could be decided by a few votes. KYW, Philadelphia's most widely listened-to news radio program, gave me three minutes live shortly after 7:00 p.m. to state my case. My constituents knew how I had served the state for twenty-three years, I said, and if they wanted me to continue, please come to the polls and demonstrate their support.
After the polls closed, several hundred supporters gathered in the ballroom. A smaller group of about seventeen people occupied a computer-filled war room off to the side, where returns were being tracked. There Joan, Shanin, Tracey, Shanin's friend and law partner Tom Kline, and Tom's wife, Paula, joined several campaign and Senate staffers around a large table, where everyone was mulling over numbers as they came in. The experience was an emotional roller coaster. At one point, a 95,000-vote error from Bucks County gave me a reported 59 to 41 percent edge. The jump startled several of us. What happened? Tel Aviv must have come in, joked my campaign treasurer, Steve Harmelin. Once the error was discovered, the margin shrank to 51 to 49 percent, then further to a fifty-fifty statistical tie. There was great concern over the last returns to be reported, which would come from rural conservative areas that were thought to be leaning toward Toomey. The situation appeared so bleak that several staffers were convinced I had lost. Some even began to formulate their farewells, telling their coworkers it had been nice working together. When three returns came in, however, my team was elated to find I had carried those areas — some in greater numbers than the suburban regions typically considered my areas of strength.
Notwithstanding that pleasant surprise, my lead continued to shrink. I sat next to my pollster, Glen Bolger, who was analyzing the narrowing race, with the total vote yet uncounted. My anxiety, still high, was eased substantially as Bolger told me Toomey would have to get a very high percentage of the outstanding vote in order to overcome my narrow lead. As the lead shrank, so did the number of outstanding, unreported votes. I do not recall Bolger's precise comments, but with a small number of outstanding votes, he said something to the effect that Toomey would have to get 70 percent of the remainder. And then a few minutes later, with the lead even closer but fewer votes outstanding, he said Toomey would have to get something like 80 percent of the remainder. I derived considerable solace as the lead narrowed, because it seemed highly unlikely that Toomey could get enough of the remaining votes to take the lead, which he never did.
Watching the election returns for the tension-filled 2004 primary was vastly different from my narrow loss for mayor in 1967. My pollster at the time, John Bucci, worked for Philadelphia's KYW radio on election night and would take a few sample returns, compare them to previous elections, and make a projection. He did that a few minutes after the polls closed on the mayoral election. At about 8:15 or 8:20, while Joan and I were dressing, preparing to go to election headquarters, Shanin, then ten, walked into the bedroom and said, "Daddy, John Bucci says you lost." It was an abrupt, decisive end to a vigorous, sometimes violent campaign.
Now the final tally showed the numbers at 50.8 percent to 49.2 percent; I had eked out a 1.6 percent victory, with a margin of 17,146 votes out of 1,044,532 cast. It was not until about 1:00 a.m. that Toomey called me to concede. Our phone call was brief, but my opponent was gracious in congratulating me on the victory. After he spoke to his supporters, I spoke to mine in Bellevue-Stratford's ballroom: "I compliment Congressman Pat Toomey on a hard-fought campaign. Now is the time, having settled our family disagreement within the Republican Party, to unify, to re-elect President Bush, to maintain the Republican majority in the United States Senate." A good portion of the crowd had left, but I was pleased to see about half, numbering 150 or so, remained to the end.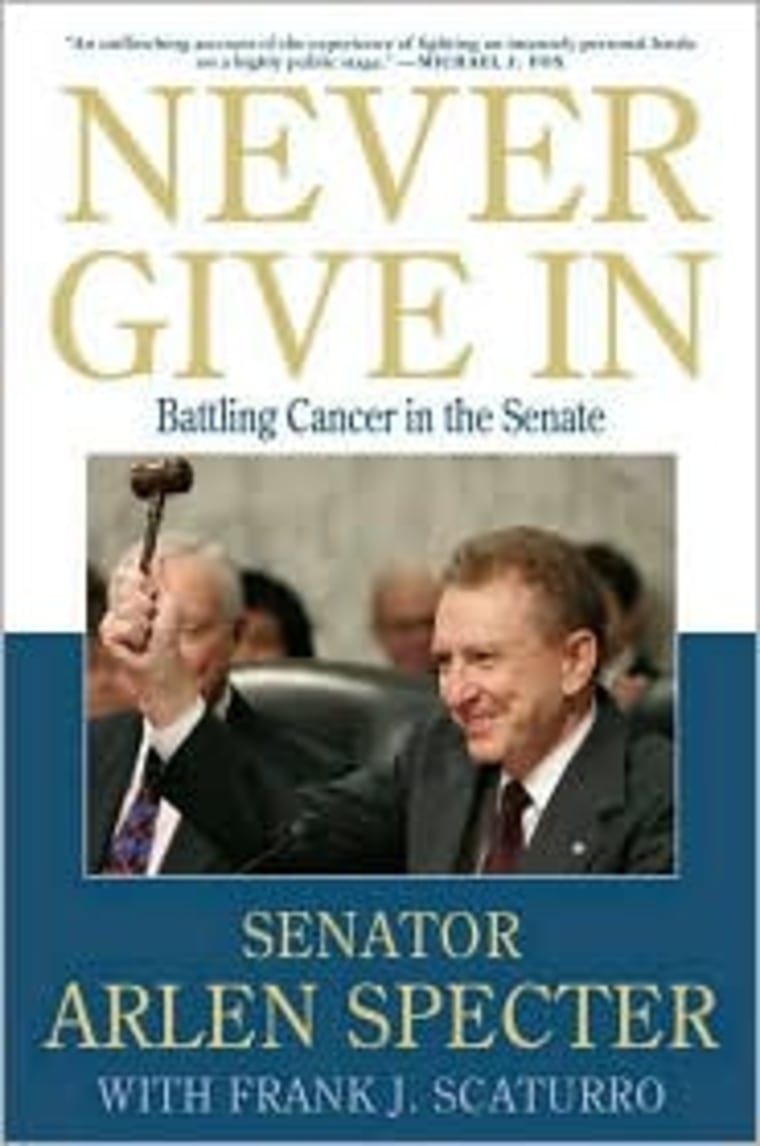 It was a bittersweet moment for my friends and for me, for reasons beyond those visible to the viewing public. Carey, who had taken off the last several weeks after a long streak without missing a day of work, spent the entire primary night with the team, but she was in tremendous pain. She was not up to taking part in all the cheers and hugs that followed the victory announcement, but she stood behind me as I gave my victory speech — despite her difficulty standing at any length that evening. I was not alone in thinking this would be her last campaign. She had fought cancer tenaciously years earlier, but the illness returned, too aggressive to overcome — and, in my view, preventable. She died less than three months after the primary — four days after getting married, wheelchair-bound, in the chapel of the Georgetown University Hospital. She was a statuesque blonde, personable, a brilliant and studious leader who was a mentor to the young staff. I could always trust her to handle the issues that cascaded into the office with aplomb, dignity, and efficiency.
I visited her home the night before she died. Carey was propped up in a hospital bed that had been brought to her home, yet she looked radiant. I thought it was beautiful she had just been married. Our most prominent memory at that moment was our work to expand health care research. Over the years, we had striven to increase funding for the National Institutes of Health (NIH), the nation's principal vehicle for such research. Holding her hand, I told her that she and I had led that fight and that I would continue our work. She spoke softly when she could, and she said she was at peace with herself, fully aware of her imminent fate. Her words said it all about the type of person she was: "I've had a good run." She was forty-eight.
Excerpted from "Never Give in" by Arlen Specter. Copyright © 2008 by Senator Arlen Specter. Reprinted with permission of St. Martins Press. All rights reserved.