Most of the excitement of Super Bowl 52 happened down on the field. But not all of it!
Take Justin Timberlake's red-hot halftime performance. The singer may have started out on the field, but then Timberlake decided to run into the stands ... just in time for one Ryan McKenna to snap his picture and get the selfie of a lifetime.
"I'm a huge Justin Timberlake fan, and that was my favorite song — 'Can't Stop [the] Feeling' — so I was just so excited that he was right there playing that song," McKenna told TODAY Monday.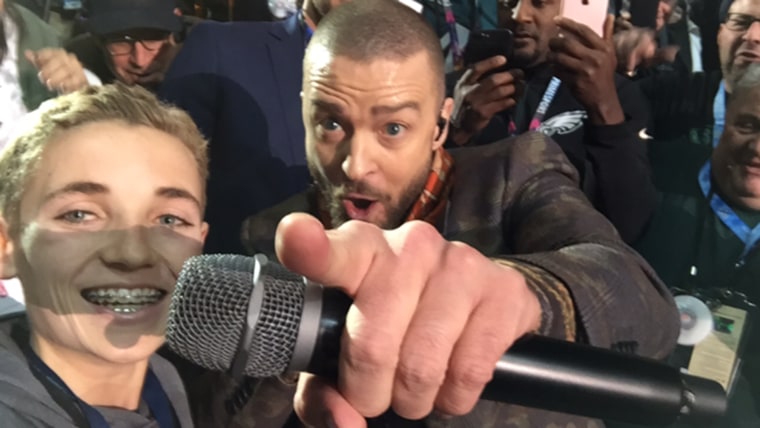 A few folks wondered why he was actually looking at his phone for a few seconds when Timberlake first ran up the stairs into the crowd, but it was a classic phone fail.
"I had a video going, and then my phone got shut off, and I had to pull back up the phone to get the picture going," said McKenna, 13. "And then I finally got the selfie in the end."
We have to congratulate the "Selfie Kid" for being cool under pressure and not actually dropping the phone.
As the Hingham, Massachusetts native told the Twin Cities Pioneer Press, "I just thought to myself, 'I'll never get this opportunity again in my whole life.' I just went for it."
And everyone around him was a good sport!
Follow Randee Dawn on Twitter.