Music fans are in for a treat this October!
We're launching the Citi Concert Series on TODAY with a performance by pop star Selena Gomez on October 12.
The fun continues with a performance by Grammy-winning country star Carrie Underwood on October 23, the same day her new album "Storyteller" is released.
RELATED: Carrie Underwood talks motherhood, says 'we're figuring things out'
Wrapping up the fall concerts are the guys from 5 Seconds of Summer, who will play their hits on October 28.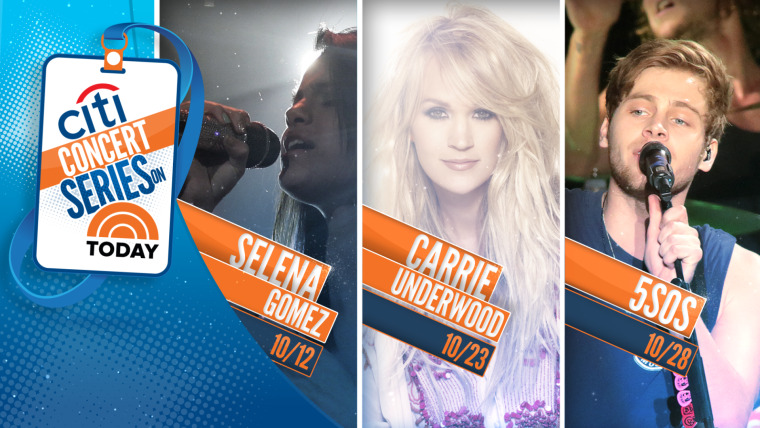 The hashtags for the concerts are:
Oct. 12: Selena Gomez
#SelenaTODAY
Oct. 23: Carrie Underwood
#CarrieTODAY
Oct. 28: 5 Seconds of Summer
#5SOSTODAY
SIGN UP: Learn how you can get VIP tickets through TODAY's Fan Pass newsletter
TODAY and our sponsor Citi are joining together to offer fans new ways to connect with their favorite artists. Stay tuned for how you can play a big part in these upcoming concerts.
Fans and visitors are encouraged to come to the plaza for the live performances. Viewing is on a first-come, first-served basis on the TODAY plaza, located at 48th Street between Fifth and Sixth Avenues in New York City. To get the best spot, fans should try to arrive by 5 a.m. All concerts are Friday performances unless otherwise noted. Additional performances may be announced throughout the season.
Are you coming? Sign up for our newsletter to get the latest information on how to get fan passes for the concerts. And check out our FAQs to stay up to date on all the latest information.