As the old saying goes, fool me once — shame on you. Fool me twice — shame on me. Well, Jake Gyllenhaal is not the type of guy to get fooled twice, as he proved on a recent visit to "The Ellen DeGeneres Show."
"I haven't been back for a little while," he told DeGeneres, after giving the set a cursory glance for hidden surprises. "I was so terrified the last time I was here."
RELATED: Jake Gyllenhaal, Sean Hayes show Tony audience 'A Whole New World' with duet
Ah, yes: Gyllenhaal stopped by the notorious prankster's talk show in 2014 and was utterly terrified when the side table between their chairs broke open to reveal ... well, some kind of oversized zombie Heidi, is the best way we can describe it. He was pretty terrified!
"I don't like watching that back," he said after the clip of the scare ran. "It was genuine."
Well, when he returned this time to promote his new move, "Nocturnal Animals," the actor came mentally prepared and thwarted DeGeneres' efforts to get him shrieking again. She even hid in his dressing room bathroom (a time-honored stunt she's pulled on others), but he never walked in!
RELATED: Jake Gyllenhaal, Jimmy Fallon redefine 'spit take' in outrageous cop show skit
"I knew it! Yes!" he cried once DeGeneres gave up and walked out of the bathroom herself.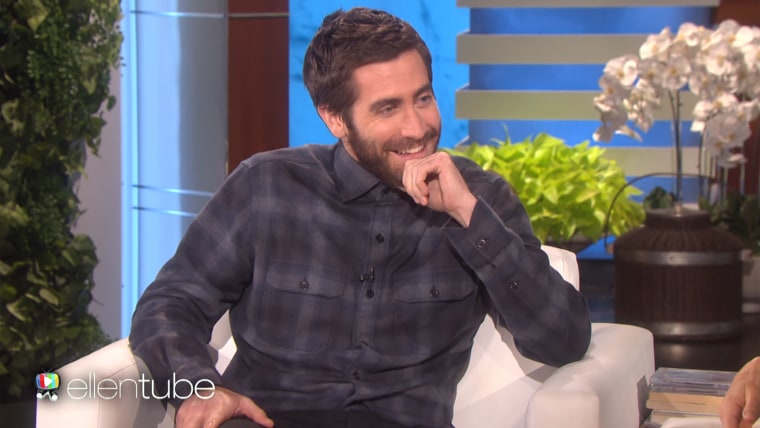 Hmm. Maybe TODAY's Matt Lauer or "Modern Family's" Eric Stonestreet, two of DeGeneres' regular prank victims, should have a chat with Gyllenhaal to pick up a few tips!
Follow Randee Dawn on Twitter.