If it's springtime, it must be ... the perfect time to resurrect the prank war between Ellen DeGeneres and TODAY's Matt Lauer!
Though to be fair, any time of the year seems to work for those two, who have been pranking each other and declaring truces since at least 2015.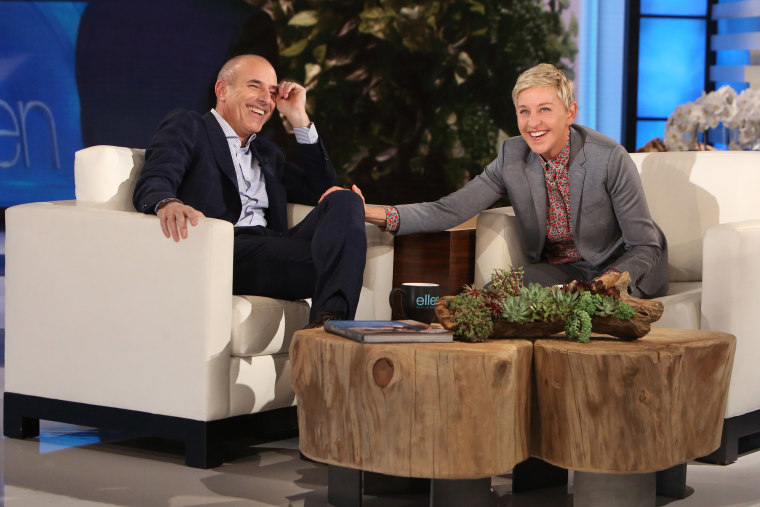 RELATED: How Matt Lauer and Ellen's prank war gave us this week's best moment
Matt sat down with Ellen on Thursday to cover all sorts of topics, from their big recent 20th anniversaries (his with hosting TODAY, hers with coming out as gay on TV) to upcoming milestones like turning 60. (We are in complete denial that either of them could be 60, though.)
But that wasn't all. No, indeed, the prank had to happen during the course of the interview:
Yep, Ellen's back in fine form with that handy-dandy hollow side table, always primed for a sudden reveal!
"It's so petty! It's so childish!" cried Matt, who literally was scared out of his seat when the prankster (dressed as Savannah Guthrie) jumped out at him.
And while it's a nice prank, we're rather fond of these higher-level gags between Ellen and Matt in the past:
Matt "revealed" as "Fifty Shades of Grey" super fan (complete with bondage outfit)
Matt packs Ellen's car with thousands of Ping-Pong balls
Ellen gets the Daytime Emmys involved (for a good cause)
Matt appears to get a little hands-on with Adele in clip altered by Ellen
Ellen "interviews" a cardboard Matt, then breaks him in half
Naturally, we can't wait to see how Matt responds. We sense it will be shocking and hilarious all at the same time! Stay tuned.
Follow Randee Dawn on Twitter.