Four years after Timothee Chalamet graduated from high school, his drama teacher can still get him to cry on cue.
A surprise video shoutout from "Mr. Shifman" had the 22-year-old Oscar nominee tearing up and smiling during an interview on the red carpet with Michael Strahan before Sunday's Academy Awards.
Harry Shifman taught Chalamet at the LaGuardia High School of Music & Art and Performing Arts in New York City, which has produced talents like Jennifer Aniston, Nicki Minaj and Chalamet's schoolmate, Ansel Elgort.
Shifman appeared with a group of current students to give Chalamet some advice ahead of the big night.
"Shifman here. I'm here with a few of LaGuardia High School's future Oscar contenders to leave you with a few familiar words: Just breathe. You always know where home is, pal," he said.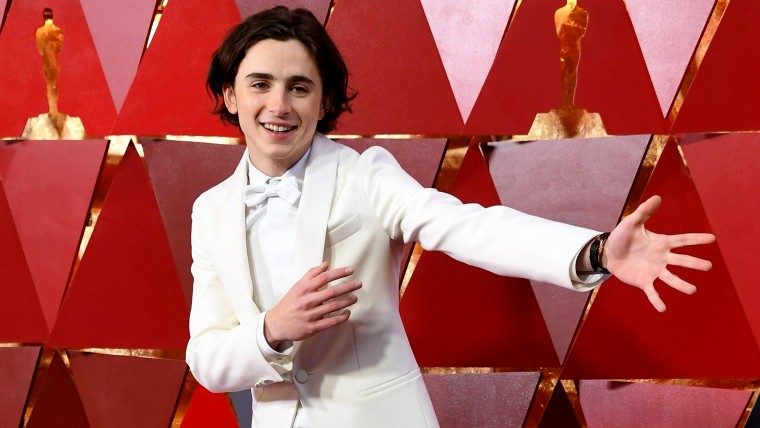 Chalamet, who was nominated for best actor for his role in "Call Me By Your Name,'' took his mother, Nicole Flender, as his date. He was blown away by the surprise from his former teacher.
"I literally would not be an actor without that man, without that school, without public arts funding," Chalamet said. "I would not be at the Oscars, I would not be nominated without him."
Shifman has been a teacher at LaGuardia High School for 26 years and taught Chalamet and Elgort.
"I auditioned Timmy to get into this school,'' Shifman told Vanity Fair. "He just happened to come to my room for the callback audition, and I remember his audition because I gave him the highest score I've ever given a kid auditioning. He was really that good, and he must have been, I don't know, 13 at the time. It was riveting."
People were loving Chalamet's genuine reaction to his former teacher.
Follow TODAY.com writer Scott Stump on Twitter.