Bands take requests all the time during live shows. But when you're a band the size of Coldplay, you can turn that idea up a few notches — which is what singer Chris Martin and his fellow musicians did at Sunday night's show in New Jersey, when they brought on Michael J. Fox to play songs featured in 1985's "Back to the Future"!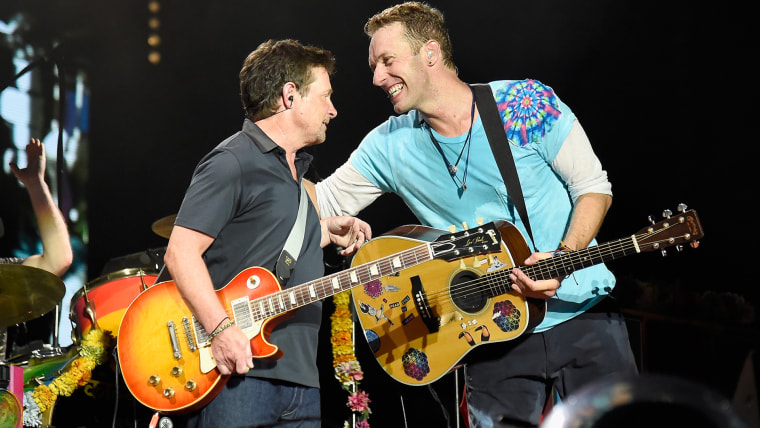 MORE: 'Back to the Future' cast reunites, flashes back to 'monumental' time together
Here's the setup: In the middle of the concert, the stage went dark and a video of Martin's son (with Gwyneth Paltrow) Moses came on the big screens. "I was just wondering if you could play a song from both of our favorite movies, 'Back To The Future.' I love you so much," said Moses.
Awww! Also, great taste in film classics!
Sure, said Dad, who then launched into the 1954 classic by The Penguins, "Earth Angel," which had a prominent place at the 'Enchantment Under the Sea' dance in the film. But midway through the song Martin had a little something extra to add — and brought out Fox himself to play along!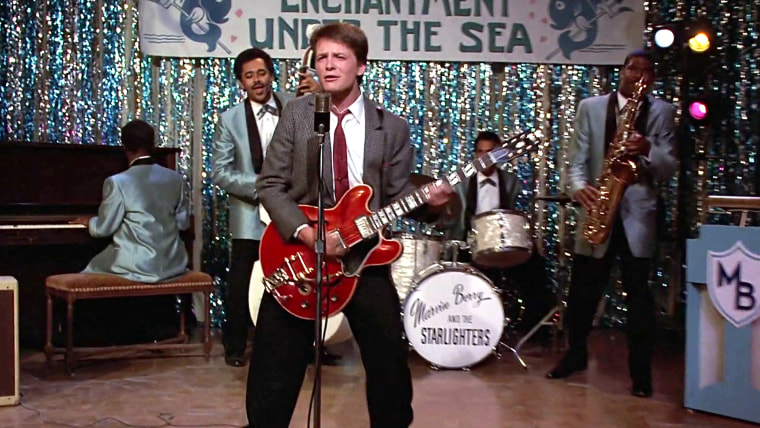 Coldplay has been making headlines for a few weeks now on their tour, not just for the shows but for who they happen to bring out on stage — like Martin's kids Apple and Moses, for example.
MORE: All in the family! See Chris Martin's kids Apple, Moses sing at Coldplay concert
Meanwhile in New Jersey, the pair next launched into Chuck Berry's 1958 classic "Johnny B. Goode," and the whole gang completely rocked out!
Fox later tweeted how he felt about the show:
"That's our dream come true," Rolling Stone reported Martin said after they finished. "Thank you, Michael. What a wonderful, wonderful, wonderful man."
We quite agree!
Follow Randee Dawn on Twitter.