Justin Hartley's fans know he's a planking maniac. Last October, the super-fit "This Is Us" star shared a video of himself holding the difficult core-strengthening pose with 200 pounds' worth of weights on his back.
During his Tuesday appearance on "The Ellen DeGeneres Show," the 41-year-old actor showed off his skills again — this time to help raise $10,000 through Ulta Beauty for the Breast Cancer Research Foundation.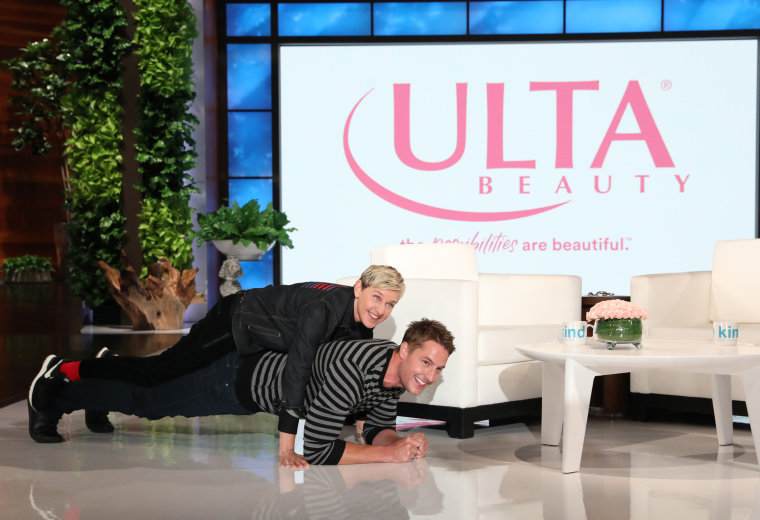 The twist? Prankster DeGeneres not only made Hartley hold the pose for several minutes, she also placed random objects — including herself! — along his back.
Once on the floor, Hartley continued gamely answering DeGeneres' interview questions. But their chit-chat affected his focus. "This is harder when you're talking," he confessed.
When DeGeneres asked him to name his first celebrity crush, Hartley paused before replying, "You."
DeGeneres accused the star of lying and punished him by placing a mug of water and a vase full of fresh-cut flowers on his back.
"Don't laugh! It's going to spill!" she warned the actor.
"I'm not laughing, I'm shaking!" he replied.
Later, DeGeneres removed the objects and laid herself atop Hartley as the audience cheered.
During his visit, Hartley also opened up about his relationship with his "adorable" 14-year-old daughter, Isabella, who's not exactly eager to follow in Dad's acting footsteps.
At the recent "This Is Us" season-three premiere party, Hartley's agent offered to represent the teen — and she flatly turned him down.
"She kind of was like, 'Yeah, uh, well, I mean, there's a few things I'm interested in. I'm not quite sure I want to go down that road,'" Hartley recalled. "And I'm like, 'Babe! It took me years to get anyone to pay attention to me!'"
"But whatever, good for her," he added, "She's too cool for school."