For many people, including Ellen DeGeneres, giving feels much better than receiving. So for the talk show host's 60th birthday extravaganza, she gave her audience members the biggest gift she's "ever given to anybody ever."
DeGeneres surprised the lucky audience with $1 million.
This gift follows a week of celebrity well-wishes for DeGeneres' milestone birthday and her effort to promote acts of kindness and self-love.
"Everyone in the audience is here for a special reason. All season long I've partnered with Cheerios to encourage people to do 'One Million Acts of Good' and if you're here in my audience you helped us reach that goal," DeGeneres told her in-studio fans during Friday's episode.
"This audience is filled with people who are making a difference in the world by sharing good," she added.
DeGeneres then recognized a few remarkably kind deeds from a handful of individuals in the crowd.
Audience member John Hughes, for example, drove 800 miles after Hurricane Harvey to deliver much needed supplies he and his wife purchased with their own money, DeGeneres pointed out. Others she gave tribute to included Lori Gaines, a teacher who donated a kidney to a mother of one of her students, and Dan McKernan, who quit his job to create a sanctuary for farm animals.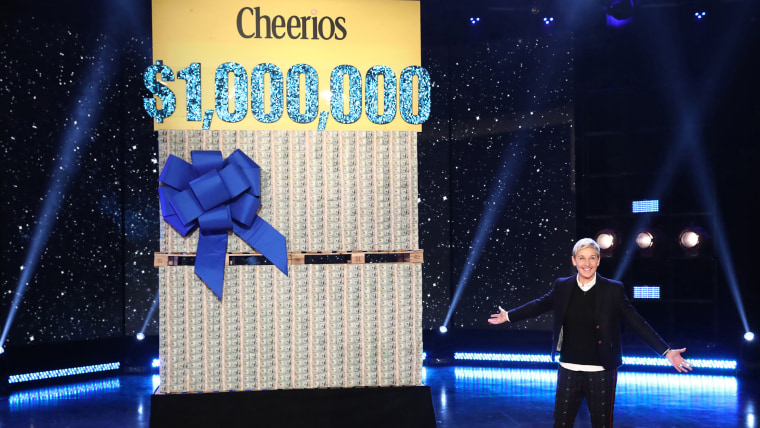 These acknowledgments, however, did not take away from the smaller, kind moments each audience member shares every day, she said.
The comedian invited her fans to check under their seats saying, "If you have a box of Cheerios underneath your seat, I'm going to give you a special surprise gift."
Every audience member happily found a cereal box filled with "heart healthy" goodness.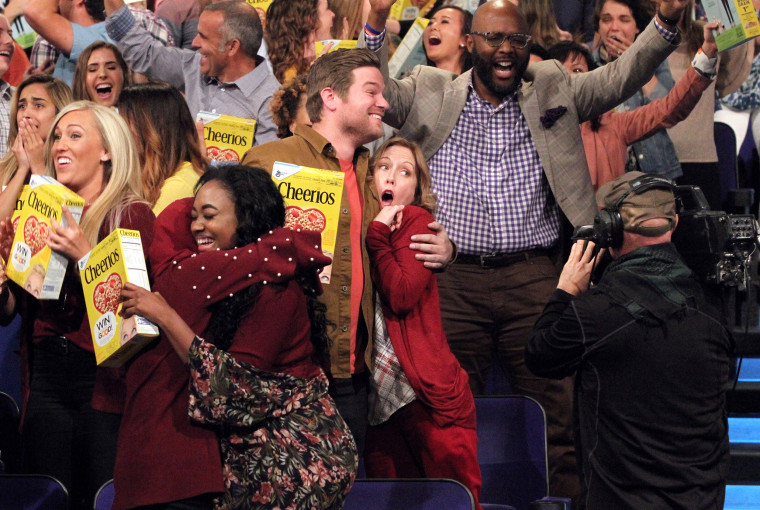 "You're all going to share this gift. It's the biggest gift I've ever given anybody ever. And I hope you continue to pay it forward and share all the good. Hold on to your Cheerios because all of you are splitting $1 million dollars," the star exclaimed.
Her audience burst into celebration complete with hugs, tears and smiles.
DeGeneres effortlessly linked strangers as surprise-sharing friends with a little extra happiness, a spoonful of Cheerios and a whole lot more money.