/ Source: The Associated Press
Artist Louise Bourgeois, whose sculptures exploring women's deepest feelings on birth, sexuality and death were highly influential on younger artists, died Monday, her studio's managing director said. She was 98.
Bourgeois had continued creating artwork — her latest pieces were finished just last week — before suffering a heart attack Saturday night, said the studio director, Wendy Williams. The artist died at Beth Israel Medical Center in Manhattan, where she lived.
Working in a wide variety of materials, she tackled themes relating to male and female bodies and emotions of anger, betrayal, even murder. Her work reflected influences of surrealism, primitivism and the early modernist sculptors such as Alberto Giacometti and Constantin Brancusi.
"I really want to worry people, to bother people," she told The Washington Post in 1984. "They say they are bothered by the double genitalia in my new work. Well, I have been bothered by it my whole life. I once said to my children, 'It's only physiological, you know, the sex drive.' That was a lie. It's much more than that."
Bourgeois' work was almost unknown to the wider art world until she was 70, when New York's Museum of Modern Art presented a solo show of her career in 1982.
"This is not a show that is easy to digest," New York Times critic Grace Glueck wrote. "The reward is an intense encounter with an artist who explores her psyche at considerable risk."
In his book "American Visions," Time art critic Robert Hughes called her "the mother of American feminist identity art. ... Bourgeois's influence on young artists has been enormous."
He noted the key difference in her use of sexual imagery: She explores "femaleness from within, as distinct from the familiar male conventions of looking at it from the outside, from the eyeline of another gender. ... Surrealist fascination with the female body becomes, so to speak, turned inside out."
Among the honors coming to her were a National Medal of Arts, awarded by President Clinton in 1997. In October, she was inducted into the National Women's Hall of Fame in Seneca Falls, N.Y.
In 2001, thousands of tourists saw her work "Spiders" when it was exhibited on the plaza at Rockefeller Center for 2 1/2 months as part of a Public Art Fund program to promote outdoor exhibits in New York.
It featured a 30-foot-high spider, "Maman," carrying a basket of eggs, flanked by two smaller spiders. ("Maman" means "Mama" in French.)
In 2007-08, an elaborate retrospective of her career, from the 1940s onward, was displayed at the Tate Modern in London, the Georges Pompidou Center in Paris and the Solomon R. Guggenheim Museum in New York.
'Work is often about murder'Meanwhile, younger artists cited her as an inspiration.
"I orbited Bourgeois," conceptual artist Jenny Holzer, known for her piquant use of words as art in projections and electronic displays, wrote to Williams after learning of Bourgeois' death.
In many interviews, Bourgeois cited a childhood trauma as the source of much of the emotion in her work: her father's affair with a woman hired as an English tutor for young Louise.
"You see, I always hated that woman," she told The Washington Post. "... My work is often about murder."
In "Dangerous Passage," from 1997, Bourgeois drew upon memories of her childhood, strewing a cage with symbolic objects: an antique child's swing on one side; broken bones on the other.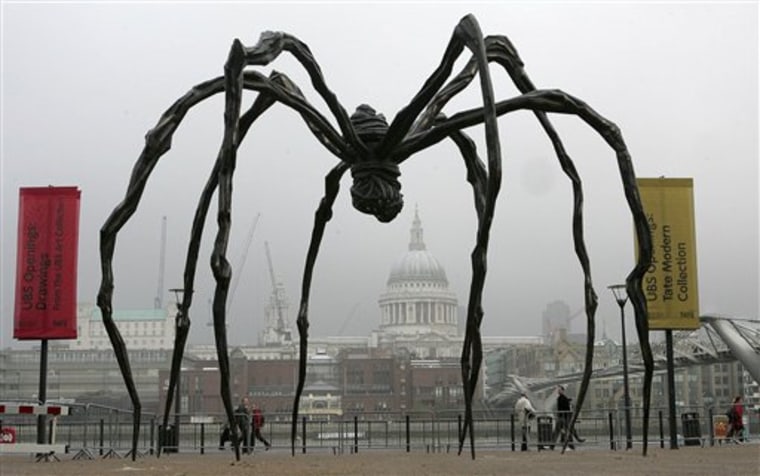 Her room-size 1991 sculpture "Twosome" combined a flashing red light, two steel cylinders and a motor that propels the smaller cylinder in an out of the larger one. The materials suggested a machine, but the movement evokes sexuality, or birth.
In 2007, she depicted the effects of aging on her own body in a series of 11 large panels called "Extreme Tension."
In an e-mail exchange in early 2008, The Associated Press asked Bourgeois what advice she would give young artists just starting out.
"Tell your own story, and you will be interesting," she responded. "Don't get the green disease of envy. Don't be fooled by success and money. Don't let anything come between you and your work."
Born in Paris
Bourgeois was born in Paris in 1911; her parents ran a business restoring antique tapestries. In her early years, she studied at the Academie des Beaux-Arts and other schools and studios.
She moved to New York in 1938 after marrying the American art historian Robert Goldwater and became an American citizen in 1955. A professor of art history at New York University, Goldwater was also director of the Museum of Primitive Art, established in 1957, and wrote a key book on the topic, "Primitivism in Modern Art."
While Bourgeois work shows the influence of primitive artists, she was quick to note that her work was not primitive.
"My husband said 15 years ago that primitive art is no longer being made," she told The Washington Post in 1984. "The primitive condition has vanished. These are recent works. Look at it this way — a totem pole is just a decorated tree. My work is a confessional."
Her husband died in 1973. She is survived by two sons, Alain and Jean-Louis, as well as two grandchildren and a great-grandchild. A third son, Michel, died in 1990, Williams said.
A private funeral is planned for family members.