In the battle of the New York Times vs. "Scandal" and "Grey's Anatomy" creator Shonda Rhimes, the Internet is solidly on Rhimes' side.
On Thursday, the Times published an article about Rhimes by TV critic Alessandra Stanley, and from the very first sentence, the piece seemed aimed at creating controversy.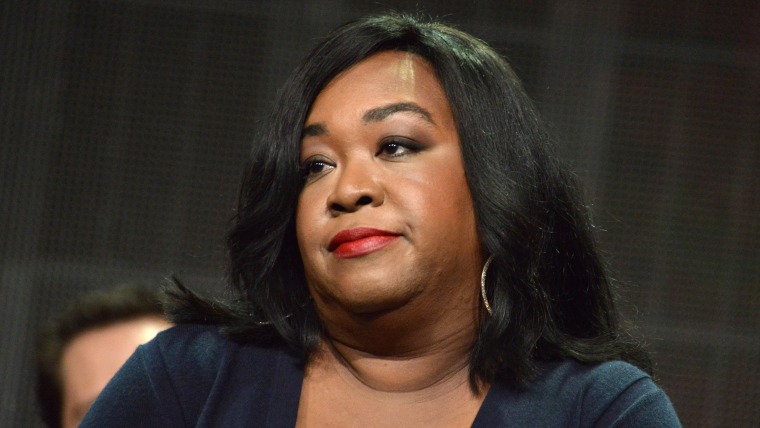 "When Shonda Rhimes writes her autobiography, it should be called How to Get Away With Being an Angry Black Woman," the piece begins. The reference to the racial stereotype not only felt outdated, but didn't make sense to many. 

Confused and angered readers included Rhimes — who also pointed out that the Times erred in listing her, not Pete Nowalk, as the creator of the new show, "How to Get Away With Murder," which premieres Sept. 25. (Rhimes is a producer.)
Rhimes' tweets helped spread the article around, and as of Friday, it was hard to find anyone defending the Times' take on the matter.
"Are there specific instances of Shonda Rhimes seeming particularly angry?" wrote Margaret Lyons on Vulture. "Many of us follow her on Twitter, where she does not seem angry — except maybe about this atrocious article. ... What is it that qualifies Shonda Rhimes as an angry black woman and not just … a black woman? Do we use any kind of coded, dismissive language when talking about, oh, Aaron Sorkin or John Wells or J.J. Abrams? Ha, ha, ha, ha, of course we don't."
Two stars of Rhimes' drama "Scandal" also weighed in.
The "angry black woman" theme and "romance writer" descriptions are just parts of what made the story so controversial. Critics pointed out numerous other problems with the piece, including inaccurate descriptions of various Rhimes characters, bizarre comments about the appearance of "Murder" star Viola Davis, and the suggestion that "Saturday Night Live" is on a "diversity jag" due to the addition of two new African-American performers.
Stanley defended the piece to BuzzFeed, saying "The whole point of the piece — once you read past the first 140 characters — is to praise Shonda Rhimes for pushing back so successfully on a tiresome but insidious stereotype."
But that "praise" seems to have not translated to anyone but Stanley herself. As Michelle Read at Gawker noted, "When the ostensible target of your compliment is driven to a response like [Rhimes' tweets], it is safe to say you should get on your knees and beg forgiveness. When the ostensible target of your compliment is a gigantically powerful and influential television producer and she reacts like this, you're in real trouble."
Rhimes later retweeted two articles that took the Times to task.
And fans began tweeting humorous notes with the hashtag, #IWasAnAngryBlackWoman.
The debate is unlikely to be over anytime soon. Rhimes wrote on Friday that she was preparing for a sold-out onstage discussion at the Smithsonian's National Museum of Natural History with former TODAY.com contributor and now NPR blogger Linda Holmes. It's fairly easy to predict what one of their discussion topics will be.

Gael Fashingbauer Cooper is the author of "Whatever Happened to Pudding Pops?" and "The Totally Sweet '90s." Follow her on Google+.