Don't anger a New York City meter reader — she might decide to go full Incredible Hulk on you!
At least, that's what unsuspecting pedestrians seemed to be witnessing recently when they listened in on an altercation between one such reader, who gave an illegally parked taxi cab a ticket and then got lip from the driver, who wouldn't move.
So she did what she had to do: She lifted the front end of the vehicle right off the ground!
A viral video of the stunt has already racked up over 410,000 views on YouTube, but "stunt" is what it was: This was a marketing prank thought up by the twisted geniuses over at Thinkmodo, who've brought us a telekinetic meltdown in a coffee shop, a mirror that scared the life out of anyone who looked into it, an all-too-real psychic reading, and a "devil baby," among others. The pranks are deceptive and funny, but all of those were promoting movies.
In this case, the cab lift was cleverly advertising a new car selling app. To make it work, the car's engine, drive train and transmission were removed and thousands of pounds of weight were added to the back and bumper, making the car a seesaw.
But that's not the end of things! On Wednesday, Matt Lauer and Savannah Guthrie re-created the cab altercation outside of the studio to prank Natalie Morales, and TODAY caught her amazed reaction on camera.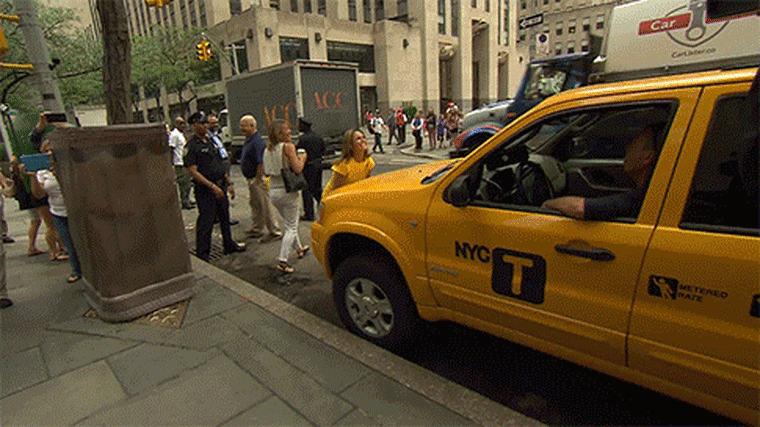 Don't miss this! Or Savannah may set her sights on your car next ...
Bonus: Watch Natalie prove she's got the right stuff, too: