Who's ready for Bernie Sanders/Larry David 2016?
"Saturday Night Live" viewers got a double dose of hilarity last night when David — whose Sanders impression on "SNL" stole the show earlier this season — appeared alongside Sanders himself in a sketch set aboard a sinking ship.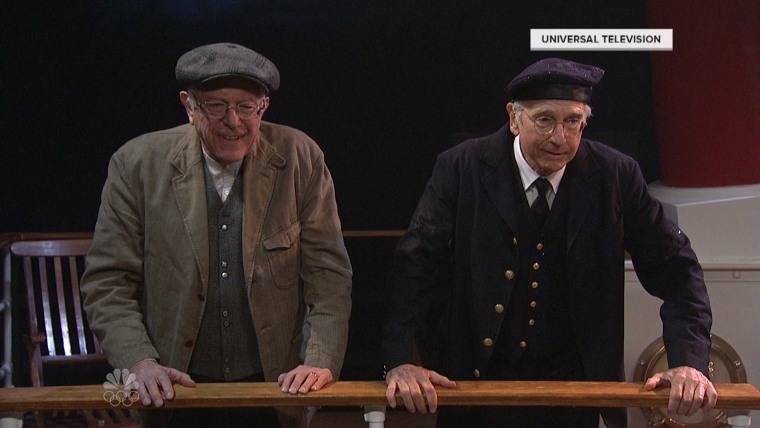 In the Titanic-esque scene, passengers on a steam ship panic after a crash. As women and children are ushered onto the lifeboats, one passenger (David) begins heckling those rescued, insisting that he should be saved because he comes from money.
That is, until "Bernie Sanderzwitski" comes to save the day. "I am so sick of the 1% getting this preferential treatment," the Sanders' character said. "We need to unite and work together if we're all going to get through this!"
"Sounds like socialism to me," David replies.
"Democratic socialism. H-YOOOOJ difference," clarifies Sanders.
The sketch ends with Sanders asking David to share a cab. Because Bernie Sanderzwitski is that kind of guy.
WATCH: Here's how Larry David came to play Bernie Sanders (perfectly)
After David won fans for his own Sanders impression, which he debuted last October, David-as-Sanders returned last night in another segment called "Bern Your Enthusiasm."
Borrowing from the format of David's own HBO show, "Curb Your Enthusiasm," the sketch depicts Sanders alienating key voters in Iowa by refusing to shake a sick woman's hand or pop another's dislocated shoulder.
"I'm from Brooklyn. We don't pop in Brooklyn," he insists.
He also refuses to drink the office's 2 percent milk in his coffee, a pain point in his discordant relationship with the fictional campaign staff.
RELATED: 6 things we learned from Matt Lauer's interview with Larry David, from bras to taxis
Upon hearing there was a "huge turnout" for the election, Sanders mistakenly believes himself to have won — but he actually loses by .2 percent, the five voters he had alienated earlier in the sketch.
In the end, Bernie dejectedly tells a staffer offering coffee that he will "take the 2 percent."
Way to milk this election for all it's worth, SNL.