Willow Palin tied the knot!
The daughter of 2008 Republican vice presidential candidate Sarah Palin got married in her family's home state of Alaska on Saturday. She posted a sweet photo on Instagram of her giving husband Ricky Bailey a kiss at the reception, held at the Talkeetna Alaskan Lodge.
"The most perfect day," she wrote.
Sarah Palin also posted a photo of Willow, 24, hugging her father, Todd Palin, during the celebration.
"Couldn't be more perfect!!! So much love ~ and surrounded by the mutual love & support of cherished friends & family... just PERFECT!'' she wrote. "Congratulations Mr & Mrs Bailey!"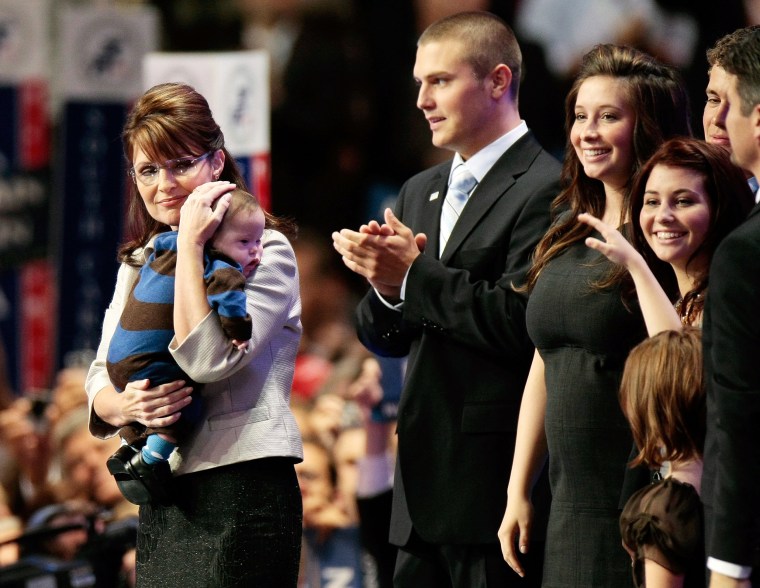 The former Alaska governor also posted a cute picture of her youngest son, Trigg, 10, getting ready for the big day.
Younger sister Piper Palin, 17, shared a photo of the newlyweds on Instagram, writing that it was "the most perfect day."
Willow's wedding came just a day after her older brother, Track, 29, was arrested on suspicion of domestic violence, interfering with a report of domestic violence and resisting arrest, according to a report released by Alaska State Troopers.
It marked the third arrest in less than three years for the eldest of Palin's five children. He was arrested last year on suspicion of domestic violence against his father in a case that is ongoing. He was also charged with domestic violence in 2016 after his girlfriend said he struck her in the head, according to police.
He pleaded guilty in the 2016 case to possessing a weapon while intoxicated and the domestic violence charge was later dismissed.