"Sex and the City" fans had their dreams of a third film in the franchise dashed more than a year ago, but that doesn't mean they'll never see Carrie Bradshaw on any screen again.
In fact, just days ago, actress Sarah Jessica Parker teased her beloved character's return — in classic Carrie form.
A brief video clip the star shared opened to reveal an unmistakable sense of fashion and a familiar song.
The camera panned up from a pair of opened-toed lace booties — with very-Carrie heels — to a tutu-like turquoise voile skirt. The bold look was capped off with a cinched lamé jacket and an equally '80s-worthy single fingerless glove.
Then the camera suddenly cut to the iconic character's face as she glanced around a Manhattan intersection and the final notes of the "Sex and the City" theme rang out.
The throwback vibes were undeniable, but as many of her fans and followers asked in the comments that followed, "WHAT DOES IT MEAN?!"
Now we know!
On Tuesday, Belgium pilsner label Stella Artois released two promos starring Parker — one that spoofed the opening credits from the HBO series and another that further revealed that the character came back to make a difference.
The company has teamed up with charity Water.org for a #PourItForward drive to bring clean water to those in the developing world — a cause also championed by fellow star and the charity's co-founder, Matt Damon.
The "Sex and the City" twist that comes with Parker's promos is that Carrie, who was known for her love of cosmopolitans, is willing to mix things up and trade in her favorite cocktail for a beer that benefits others.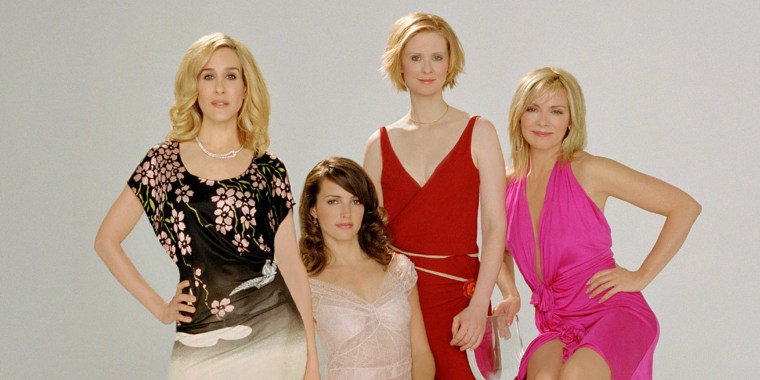 "Enjoying Stella Artois helps provide access to clean water for someone in need," the 53-year-old actress said in a press release from the company. "If Carrie was made aware of this important and fantastic partnership and initiative, I'm sure she wouldn't waste a beat putting down her cosmo and opting for a Stella, and I know that she would encourage all of her friends and audience to do the same."
Just like Damon encouraged Parker to step into Carrie's formidable heels again.
"It's going to have everyone's attention," the 48-year-old actor told Huffington Post. "And that's a huge megaphone she's using to help this cause."