People, what does Jack White have to do to convince you he actually likes baseball? By our estimate, the former White Stripes rocker spends more time watching games than playing guitar. He was the "anonymous" donor behind the $170,000 restoration of the Detroit ballfield where he ran bases as a kid. And the guy even wears a vintage World Series championship ring, for crying out loud.
Yet you may have heard that when cameras caught White scowling in the stands for a split second at a Cubs game last week, a fickle nation questioned his love of America's pastime.
No matter. Ever the good sport, White brought his Third Man Records mobile shop to Detroit's Comerica Park on Tuesday for the Tigers-White Sox matchup, offering a 15 percent discount to anyone wearing Tigers gear. Sweet! He agreed to throw the game's ceremonial opening pitch to a pal dressed as Santa Claus. Cute! Video of the event shows a relaxed White smiling, laughing and clapping into a well-worn mitt as the home team's starting lineup is announced. 
All good, right? WRONG. As White wound up for the toss, a photographer snapped him in a fleeting moment of apparent malaise, and this is the image everyone is talking about: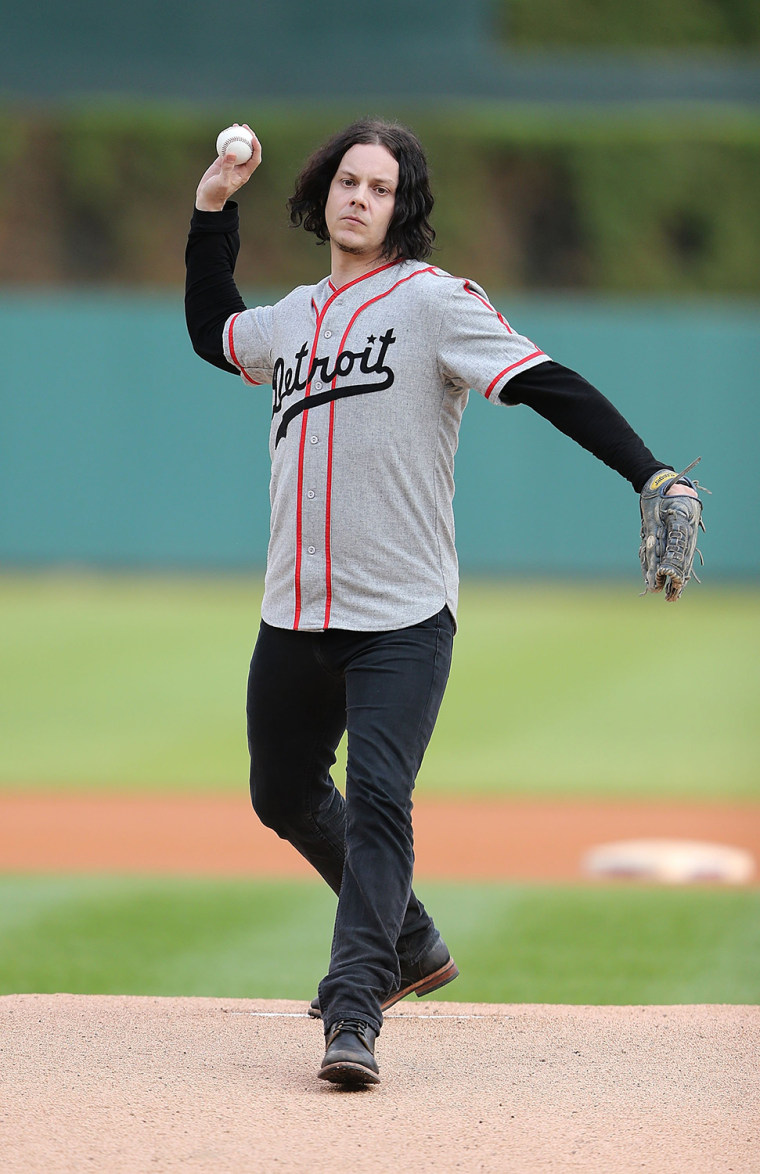 Tough crowd.

Why can't you be more like Eddie Vedder,  persnickety baseball fans seem to be asking of White. After all, when the Pearl Jam frontman threw his opening pitch at Wrigley Field last Thursday, he was downright jolly! Everyone loves Eddie Vedder!
"Don't it make you smile?" MLB dreamily sighed of Vedder in a tweet referencing a Pearl Jam song. 
"Think Eddie Vedder was happy to be here tonight?" the Cubs gushed.
Oh, sure! Eddie Vedder is so cheery, he breaks out in song!
White won't be belting the national anthem any time soon ("I'm not a singer; I'm a vocalist," he patiently explained to a sports reporter at a 2012 World Series game), but there's plenty of evidence that the "Icky Thump" hitmaker actually enjoys his games.
See? Here he is at Dodger Stadium laughing it up with Conan O'Brien.
And smiling at Chicago's U.S. Cellular Field. That's two smiles, guys.

So simmer down, Eddie Vedder.

There's room in this league for two merry musicians.