Hey girl, indeed! Eva Mendes and Ryan Gosling welcomed a baby girl on Friday, Sept. 12, multiple sources confirm exclusively to Us Weekly.
PHOTOS: Ryan and Eva's romance
Us confirmed in July that Mendes, 40, and Gosling, 33, were expecting a baby together. At the time, rumors swirled that the "Urban Legends" actress was already seven months along.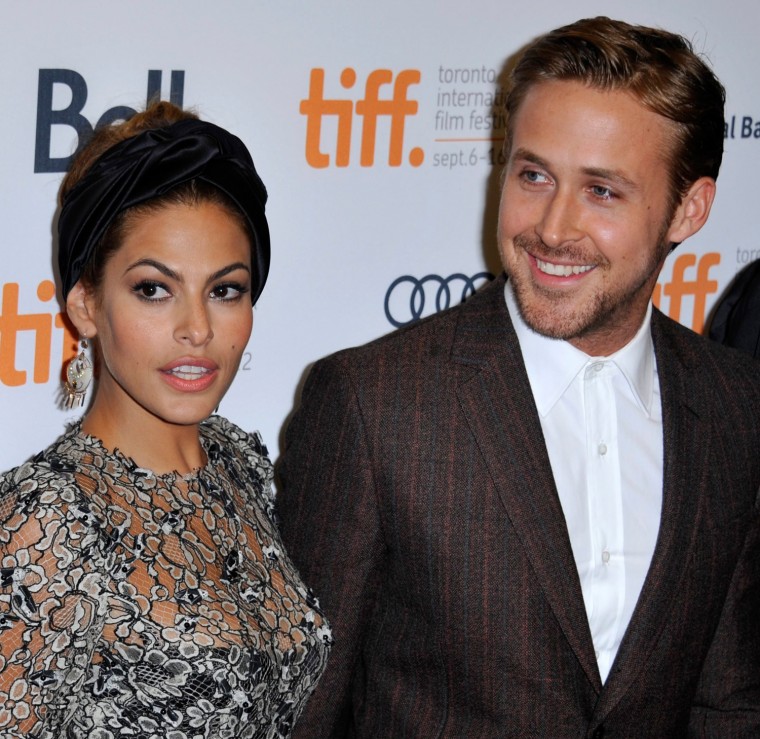 Earlier this year, Mendes laughed off pregnancy rumors during an appearance on "The Ellen DeGeneres Show." "It's so ridiculous," she said back in February. "It all started because I didn't want to go through the scanners at the airport. You know those X-ray scanners, which are really creepy? They basically see you naked, right? And not only that, but there's a radiation aspect to it, so I always opt out."

PHOTOS: Ryan's hotness evolution
Mendes kept a low profile during her pregnancy, making her last red carpet appearance at a Violet Grey dinner honoring the late Elizabeth Taylor in L.A. on Feb. 26. After news broke, she went to considerable lengths to cover up her baby bump with several pieces of clothing and a large bag while leaving a parking structure in L.A. on June 10. Gosling, meanwhile, quietly stepped out to pump his own gas in L.A. on Aug. 5.
Gosling doted on Mendes as the couple prepared for their newborn's arrival. "Ryan goes out and gets the groceries. [Eva's] been wanting pasta, and he's cooking her meals," a source previously told Us. "Ryan has already stepped into the role of caring father-to-be."
PHOTOS: Stars who've concealed their baby bumps
Mendes and Gosling first began dating in fall 2011 after costarring in "The Place Beyond the Pines." That same year, Gosling told UK newspaper The Times that he would "make movies until I make babies."