Many of us didn't realize there was a National Toy Hall of Fame. We keep our toy hall of fame inductees in our memory banks (that fabulous Play-Doh smell!) and sometimes in our closets (never know when you'll need an Etch-A-Sketch!).
The hall is located in the National Museum of Play in Rochester, New York, and so far 54 toys have been enshrined, including 2008 inductee, "the stick." (Comrade "the ball" was added in 2009, "cardboard box" entered in 2005.) Some of the members are generic toys, others brand-name products, including Barbie and Star Wars action figures.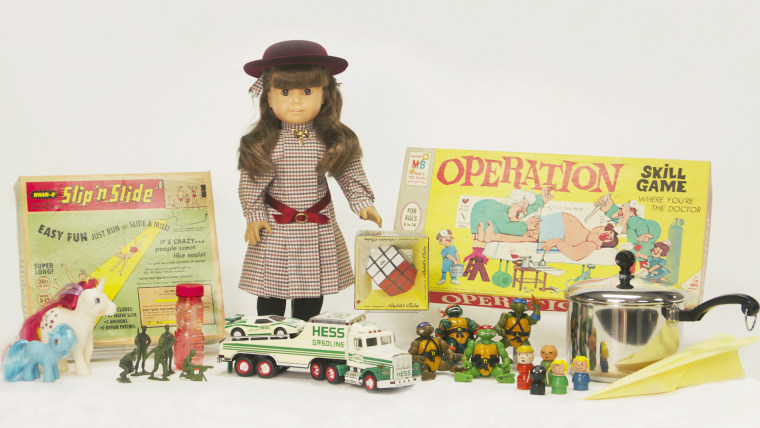 Twelve toys are nominated this year, but only two will make it in, to be announced at a ceremony Nov. 6. While we wait, here's our take on which nominees are deserving the national honor.
American Girl dolls
More than $100 for a doll? Since these dolls have a historical theme, one of them needs to go back and read Laura Ingalls Wilder's paeans to her beloved corncob doll, Susan, and Ma-made rag doll, Charlotte. Dolls should not be this expensive.
Hall of Fame? NO.
Bubbles
Who doesn't love bubbles? Like Hall of Fame members the stick and the ball, they're a generic toy that don't need a brand name attached to create hours of fun. Extra points because bubbles are the rare toy that don't make adults look dumb when they play with them.
Hall of Fame? YES.

Fisher-Price Little People
From the freckled bully kid with the sideways hat to the black-eared dog who could drive a car with the best of them, the Little People (and animals) have been a favorite of baby boomers, Gen Xers and yes, even millennials and whatever we're calling the new kids on the block. (Gen Z? Homeland Generation?). And we still miss the taste of the original wood figures.
Hall of Fame? YES.
Hess toy trucks
Hess toy trucks are a line offered at Hess gas stations, an East Coast chain. They've been around since 1964, but if you grew up in a western state you may have lived your entire life without seeing one. Also, Hot Wheels are already in the hall. Drive by, truckers.
Hall of Fame? NO.

Little green army men
I don't know but I've been told, army men are good as gold. Sound off! 1-2! Army men should march right into the hall, with a special nod to Sarge from "Toy Story" and his disciplined troops, who manage to fulfill their duties even though their feet are permanently stuck in place.
Hall of Fame? YES.

My Little Pony
It's hard to reject My Little Pony since the 1980s toy is in the middle of a brony/"Friendship is Magic" renaissance, and kids born in the 2000s love them like their moms or aunts once did. But whoa there, pony. It feels too early for you to gallop into the hall.
Hall of Fame? NO.

Operation game
Water on knee? BUZZ! Bread basket? BUZZ! Wannabe doctors have performed surgery via this tweezer-iffic nerve-wrencher since it was invented in 1965, and that buzzing noise when you accidentally touch the side of a cavity is infamous. It'll make it in eventually (Monopoly is already there), but there are plenty more iconic games that deserve consideration first.
Hall of Fame? NO.

Paper airplane
The financial opposite of the American Girl doll, good ol' paper airplanes just require one sheet of paper and a little bit of folding skill. If the stick and the ball and the blanket are all inductees, and they are, we'd invite the paper airplane to come fly with them.
Hall of Fame? YES.

A book co-written by a TODAY.com producer looks at the lost toys, tastes and trends of the 1970s and 1980s. Where are you, Quisp cereal, Malibu Barbie, and Dynamite Magazine?
Pots and pans
We just ... pots and pans, really? These feel like more of a doll or play kitchen accessory than a toy that can stand on their copper-bottomed own. Yes, you can wear them as hats, and bang on them; yes, we've stood up for other generic playthings, but really, these shouldn't even be considered as their own toy.
Hall of Fame? NO.

Rubik's Cube
It was invented in 1974, but there's no neater or more obvious way to symbolize the pop-culture and toys of the 1980s than to show a photo of the colorful Rubik's Cube. The cube was the perfect toy for the decade: More technologically complicated than a doll or truck, but it didn't even hint at the computer-powered future to come. No decade has a more delightful icon.
Hall of Fame? YES.
Slip'N Slide
Thank you, Wham-O, for letting us scrape layers of skin off our legs and bellies all while cooling off on hot summer days in the backyard. You are a piece of plastic and some owner-provided water, but you are summer magic. Our scars salute you.
Hall of Fame? YES.

Teenage Mutant Ninja Turtles
Put the Turtles in the same corral (or sewer?) as My Little Pony. A beloved brand with many fans and a toy line that's undergoing a revival. (A Michael Bay big-screen reboot hit movie screens in August.) But the Turtles need a few more years before these heroes-in-the-halfshell should become venerated elders.
Hall of Fame? NO.

Vote for the toy you'd most like to see added to the Toy Hall of Fame.
Gael Fashingbauer Cooper is the co-author of "Whatever Happened to Pudding Pops?" and "The Totally Sweet '90s." Follow her on Google+.