Prince Harry and the former Meghan Markle are teaming up with TODAY's Carson Daly this week in the name of mental health.
The TODAY co-host will moderate a panel that includes Harry and Meghan, Duchess of Sussex, as well as surgeon general Vivek Murthy for the Archewell Foundation Parents' Summit.
The panel is part of a festival hosted by Project Healthy Minds for World Mental Health Day on Oct. 10 in New York.
The Parents' Summit will focus on "building community and creating positive change for a safer online world for young people," according to an Instagram post about the event.
For Mental Health Awareness Month in May, Harry and Meghan visited youth group AHA! Santa Barbara in California "to learn firsthand about this generation's experiences with social media and societal pressures, and how it affects their mental well-being," the website for the Archewell Foundation, Harry and Meghan's nonprofit, stated.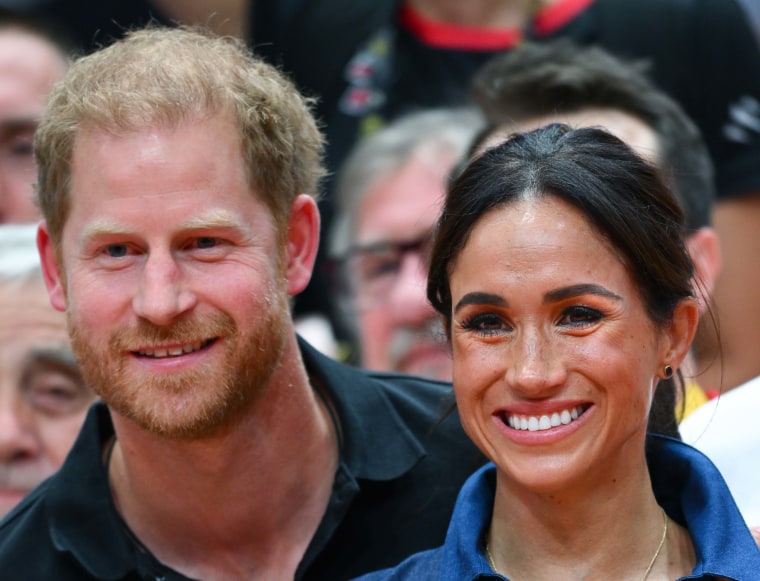 Carson has been notably public about his efforts to bring awareness to mental health, revealing in 2018 that he has generalized anxiety disorder himself.
"At times I feel like there's a saber-tooth tiger right here and it's going to kill me attack me and bite my head off. I'm scared as if that's really happening," he said at the time. "You feel like you're dying."
Over the years, he's worked to change the stigma surrounding mental illness, particularly among men who are pressured by society to tamper down emotions.
For World Mental Health Day last year, Carson penned an Instagram post about his own experience and gave a shoutout to his "family" at Project Healthy Minds while amplifying the organization's resources.
"On this #WorldMentalHealthDay I'm so grateful for those who make everyday a priority to help so many who suffer in silence. I was one of them," he shared in a caption Oct. 10, 2022. "We need to treat our mental health like we do our physical health & break the stigmas. Everybody's dealing with something & it's ok to not be ok. You're not alone. You're worth more than you could ever know. Take a min today to simply reach out to someone who your gut tells you could use it."
Though he's opened up about his experience with panic attacks while on MTV, Carson has also talked about moments of extreme anxiety he experienced while hosting NBC's "The Voice."
"You think my right hand's in my pocket just being casual. 'I'm on TV and my life is so great,'" he said. "The truth is, in that moment, I was gripping the flash of my upper right thigh because a wave of panic was coming through me, and I was so scared. I wanted to run off the stage because it's one of the symptoms of panic. I can't control my nervous system. Fight or flight kicks in. The threat is real, but there's nothing there. I have to just ride that wave on live TV."
"I got through it and I'm OK. It's part of how I manage my life," he added. "You think you know, but you don't know what someone's going through."