/ Source: msnbc.com news services
The ongoing sand-kicking contest between Rosie O'Donnell and Donald Trump is heating up again. And this time high profile enemies are taking things to their respective publishers. With backbiting tomes from both due next month, the New York Post's Page Six managed to score a sneak peak.
Rosie, who normally limits her writing to the barely readable ramblings of the r blog, takes aim at the Donald in "Celebrity Detox," according to excerpts quoted in Page Six. Once again the former daytime talk host tries to get the last word in about the original war of words between the titans, which sparked after she criticized his reaction to Tara Connor's Miss USA scandal.
"I honestly did not anticipate the malice of his response ... I assumed Donald believed he had money. I did not assume Donald believed he was money. But apparently he does ... The stuffing of his self spilled out — think of a torn scarecrow, only instead of hay, it's crisp $100 bills blowing through the cornfields."
But why stop at one meandering metaphor? Page Six also reports that she compared the Donald to "garden slugs," stating, "I could write one small comment on my blog, and Donald would predictably distend, flowing forth with a torrent of insults ... Then he'd appear on some talk show looking wrinkled, old and empty, with a Jell-O orange combover."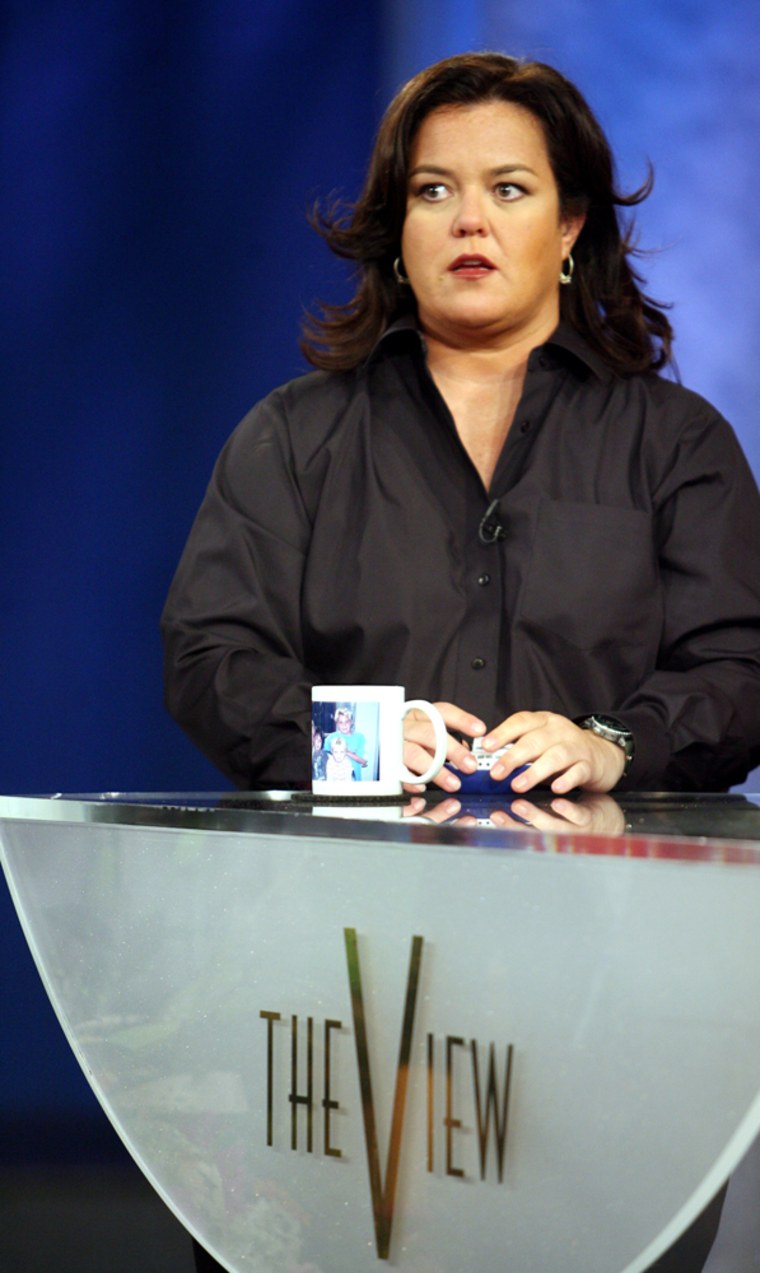 Never fear, the purveyor of Trump Steaks will get a jab or two of his own in with his book "Think Big and Kick Ass." He told the paper, "I devote some time to Rosie in my book. As you know, she said I went bankrupt and ABC apologized. Rosie lies. I got angry because I never went bankrupt. I'm worth $8 billion today. She never said that. She writes false stuff ... Rosie is a loser, a very sad case — unattractive both inside and out. I'll make a little wager my book sells a lot more than hers."
50 Cent and Kanye better look out! There's a new sales battle on the horizon.
Oh no he Diddy'n
Diddy (a.k.a. Sean Combs) catches a lot of disrespect for his alleged lack of musical originality. Now some close-to-home criticism calls him on his derivative man moves as well. Discussing the reasons she chose to dust Diddy in July, his recent ex Kim Porter tells Essence magazine, "It's not an original script. He's not the first man who's cheated. He's not the first man who's had a baby outside of his relationship. He's not the originator of this. But at this point in my life — I have girls now — it's a different program."
Porter and Diddy spent the last 10 years in an off-and-on relationship before Porter ended it for good this summer. They have a 9-year-old son and twin daughters born in December. Porter has a teenage son with singer Al B Sure and Diddy has a 13-year-old son from a previous relationship. But much to Porter's surprise, five months before the birth of their twins, Diddy secretly fathered another child to an Atlanta fashion worker.
Jake Johnson and Damon Wayans Jr. on the "Let's Be Cops," red carpet, Selena Gomez is immortalized in wax and more.
In a portion of the Essence interview excerpted on People.com (both are published by Time, Inc.), Porter says she knew about that other baby before Diddy decided to mention it. "I laid low and did what women do: I did my background work, collected information (about the other woman). But I wasn't even on it like that because I was pregnant, and what was bubbling inside me was a blessing from God. I couldn't let my energy be on that. I didn't have time for any drama, trauma and bull----."
Apparently, however, Diddy's scheduled opened up and he found time to tell Porter the truth. "He told me that he may have gotten himself into a situation and he may have fathered another child outside the relationship and I said, 'Really? Well, I already knew. I'm glad you decided to be a man,' " recalls Porter. "I was like, 'Dude, this is so wack I can't even respect you right now.' And for me, once the respect is gone, I'm not even listening to you." Amen!
Dish on the fly:
While he may or may not be dating Cameron Diaz and several other ladies, John Mayer hasn't closed his door Jessica Simpson. Gawker reports residents spied Simpson leaving Mayer's building in the early hours over the weekend, though the details of what happened before the exit are still hush-hush. … Mischa Barton joined the nip-slip club at last week's Save the Children event. Though her rep denied it, Page Six's source says Mischa's yellow frock didn't stay in place, and "(one of her nipples) was blatantly showing."
Tabloid Tidbits is compiled by Helen A.S. Popkin and Ree Hines.