Grab a seat! The "Roseanne" reboot credit sequence got released over the weekend, and we're all a-whirl with delight.
Why? Because the show knew exactly what longtime "Roseanne" fans would want: another trip around the kitchen table that captured the chaos at the heart of the house, a single-take that ended with Roseanne cackling her head off, all set to a harmonica-led opening theme.
That's exactly what we got, including some fresh glimpses of the cast — familiar faces Roseanne Barr, John Goodman (Dan, no longer dead) Laurie Metcalf (Jackie), Lecy Goranson (Becky), Sara Gilbert (Darlene) and Michael Fishman (D.J.).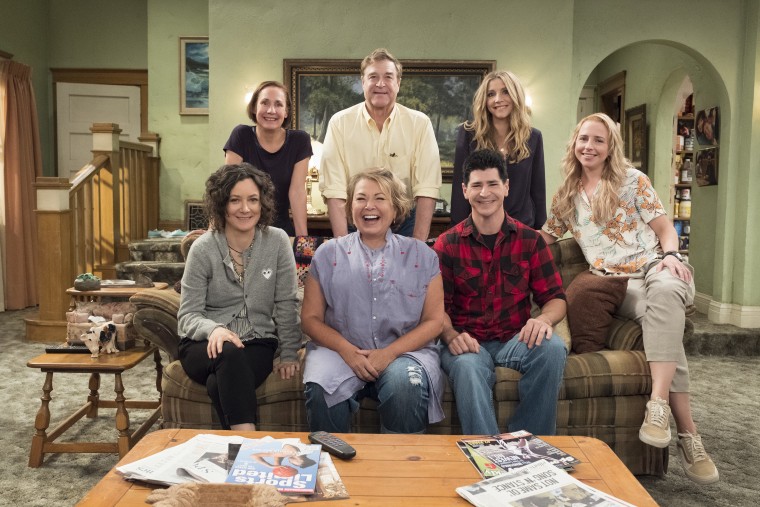 But there's more, in the form of show newcomers including D.J.'s daughter Mary (Jayden Rey) and Darlene and David's offspring Mark (Ames McNamara) and Harris (Emma Kenney). Harris did appear in Season 9 briefly as a baby, but now she's all grown up.
The credits hearken back to the original run of "Roseanne," which regularly switched up the roundtable experience of the family, but always gave us that same single-shot journey, ending up with our heroine laughing her head off.
So who aren't we seeing? Sarah Chalke, who played Becky after Goranson left and will return as a new character in the reboot; and Johnny Galecki (David).
And wherefore Dan and Roseanne's youngest son, baby Jerry? Barr told the TCA press earlier this year that Jerry is "on a fishing boat in Alaska."
Talk about a full house! Oh, wait, that's a different reboot. Well, in any case we're just tickled to see the gang gathered around the table again, talking and arguing and laughing and grossing one another out. It just wouldn't be the Conner household — or "Roseanne" — without it.
Follow Randee Dawn on Twitter.