Roseanne Barr has had another change of heart on Twitter.
The controversial actress and comedian, who's been tweeting up a storm since a racist comment of hers got the hit "Roseanne" revival canceled earlier this week, is reaching out to former co-stars Sara Gilbert and Michael Fishman after previously lashing out against them.
"To michael fishman and sara gilbert: I forgive u both, love u both, just wish u could have called me personally 2 talk rather than do it in a public arena. I understand, tho. It's ok," Barr, 65, tweeted Thursday.
The tweet comes a day after Barr accused Fishman of throwing her "under the bus" after the actor, who played Barr's TV son, D.J. Conner, condemned her vile tweet calling a black former Obama adviser the offspring of the "Muslim Brotherhood & 'Planet of the Apes."
In a heartfelt statement to fans on Tuesday, Fishman, 36, expressed his disappointment in Barr and said his character in the hit revival — who was in an interracial marriage and had a black daughter — "was designed to represent the inclusive nature of my views. To represent portions of society often marginalized."
The following morning, Barr retweeted his note, adding angrily, "I created the platform for that inclusivity and you know it. ME. You throw me under the bus. Nice!"
Fishman responded, agreeing Barr had created the inclusive series, which was why her racist remark shocked him.
"You fought, built, and designed 'Roseanne' for inclusiveness. That is why yesterday was so out of character with the last 30 years. It was in your hands from the beginning to the end. No one can deny that," he wrote.
"Please leave me alone," Barr replied.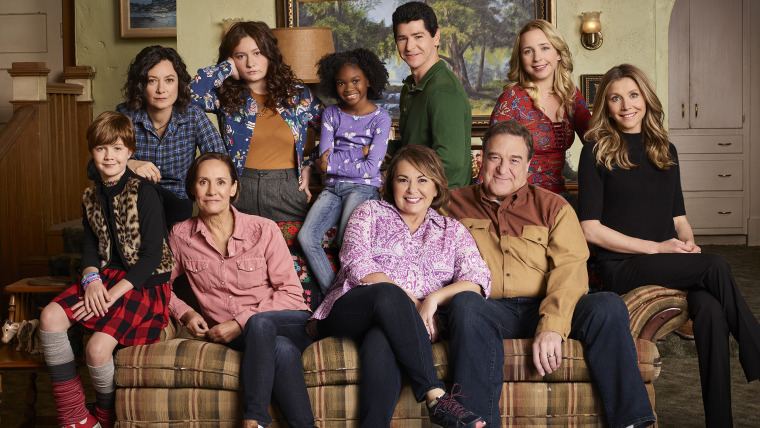 Barr also retweeted part of Gilbert's statement, which called the star's racist comment "abhorrent," adding, "Wow! Unreal."
The disgraced TV star has spent hours on Twitter alternately apologizing for her comment and defending herself since ABC announced they were axing the top-rated comedy because of her "repugnant" remark.
Syndicated reruns of the original "Roseanne" series were also dropped from multiple channels as a result of Barr's tweet, and her talent agency, ICM Partners, announced they'd dropped the star as a client.