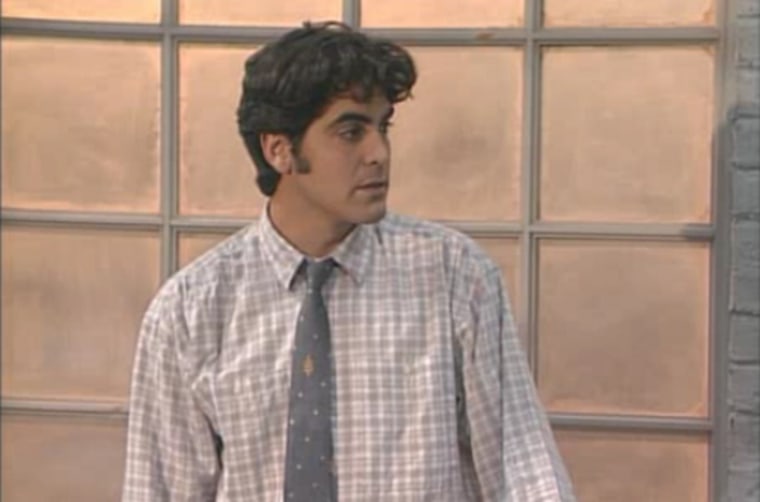 Who's bigger than Roseanne Barr and John Goodman on "Roseanne"? Twenty-five years after the sitcom premiered on Oct. 18, 1988, it turns out some of the classic show's guest stars would one day be among the cream of the crop in Hollywood.
Some of the actors have skyrocketed to the A-list (George Clooney and Joseph Gordon-Levitt) since their brief stints on the show, while others have moved on to enviable success (Bob Odenkirk and Tobey Maguire). 
Star Michael Fishman, the actor behind little D.J. Conner, was only 6 when the show premiered, but shared scenes with some of the then soon-to-be stars. The 31-year-old actor/writer/producer, who has a role in the upcoming baseball film "Undrafted" starring Chace Crawford and James Belushi, recently took some time to chat with TODAY about his famous set-mates and what it was like to work with them.
George Clooney
The actor was already hunky when he had a recurring role as Booker Brooks from 1988 to 1991, years before "ER" premiered in 1994 and really launched his career. His character was the foreman at the factory where Roseanne worked, and he also dated Jackie (Laurie Metcalf).
"George was in many ways the definition of 'cool' to me," Fishman said of the now A-lister. "He's the kind of creative talent I'd like to emulate on and off screen. He always hung out, played with and joked with the crew. He could turn on his talent and yet walk around humble, confident and driven the rest of the time. He started out building his career piece by piece. I got to watch him rise from small parts, to visiting him on 'ER,' now directing and creating amazing works of his own."
Joseph Gordon-Levitt
The star of "Inception" and "The Dark Knight Rises" played D.J.'s awkward friend George on a handful of episodes between 1993 and 1995.
"Joseph was always supremely confident," said Fishman. "He's a really talented actor who I'd love to get to work with again. We had a great scene where he tells a story and I get annoyed as he struggles to remember the details. He's a fun guy to play opposite of."
Bob Odenkirk
The "Breaking Bad" star had a brief cameo in season five, playing Dan's (John Goodman) pal Jim, a shoe salesman mistakenly believed to be a restaurant health inspector by Jackie and Nancy (Sandra Bernhard).
"I've become a huge fan of his. His performance on 'Breaking Bad' speaks for itself," said Fishman. "Again I find his career inspiring. He has found a way to dig deep, write, direct, and just continue to work his way to the top. He's had so many jobs in the business it reminds me to keep working because that right part is out there for those who keep going."
Tobey Maguire
The future Spider-Man played Jeff, a friend of a boy interested in Becky (Alicia Goranson), in season three.
"I remember him most as one of Sara Gilbert's (Darlene) friends," recalled Fishman. "He was among this group of talented friends who used to come by the set. He does smart but strong while still being disarming and charming."
James Pickens Jr.
Long before he was "Grey's Anatomy's" beloved Dr. Webber, the actor played Dan's good friend and poker pal Chuck from 1990 to 1996.
"James was on 'Roseanne' so much over the years. He's one of the nicest guys I've ever worked with," Fishman said. "When 'Grey's Anatomy' first started I was so proud for him. Finally the rest of the world was getting see this amazing actor I'd respected for so many years. He was on my list of underrated and under appreciated talents. 
"James had some of the most impactful, racially motivated scenes in 'Roseanne.' His character always seemed to be asked by Dan for his perspective at the most awkward but truthful and impactful times. I don't think we could've done many of those episodes without his strength, timing and talent."
Alyson Hannigan
Before she starred on "Buffy the Vampire Slayer" "American Pie" and "How I Met Your Mother," the actress had a tiny little role as Jan, a friend of Becky's, on season three episode.
"She was on the show briefly. She clearly has great timing and delivery," Fishman recalled of her performance.
Stephen Dorff
The "Blade" actor played Becky's love interest for three episodes in 1989.
"Stephen I don't think gets as much credit as he deserves. He's done an astonishing amount of work," Fishman pointed out. "He played Lecy's crush, then later boyfriend Jimmy Meltrigger. He has this amazing combination of charm and subtle softness that makes him shine on screen."
"Roseanne" has been off the air since it ended its nine-year run in 1997, but on Friday, catch some of these stars on the sitcom when WEtv celebrates the show's 25th anniversary. The network will be airing a best-of marathon from 10 a.m. to 5 p.m.