Beyond a recent promo showing Dan Conner alive and well again, "Roseanne" fans don't really know what to expect from the beloved series' upcoming revival.
But now, Roseanne Barr, John Goodman and other cast members are opening up to Entertainment Weekly about why they jumped at the chance to revive the Conner clan — and dropping a few hints about the new season.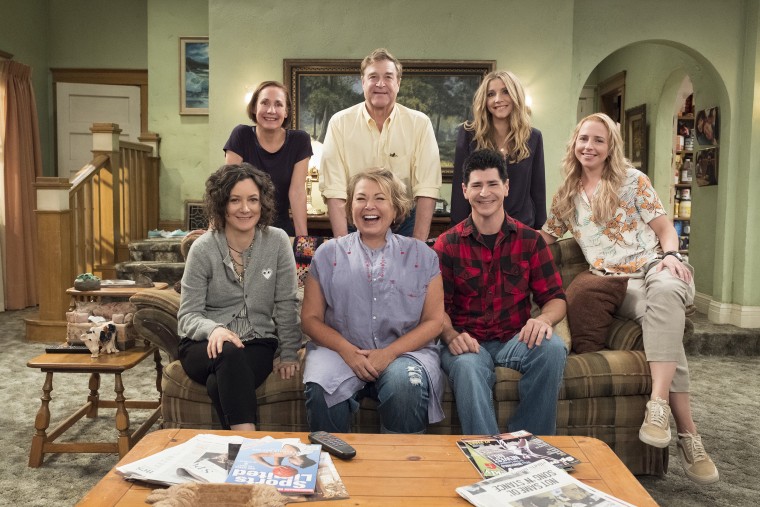 "It was like we wrapped last week instead of 20 years ago," said Goodman, who reprises the role of patriarch Dan Conner, who was killed off in the sitcom's 1997 finale. "The hair on my arms stands up. It's like if I was going to put my Boy Scouts uniform on again and it still fit."
Goodman admits he was so eager to resurrect Dan, he never even asked the show's writers how they planned to bring him back. "I don't care. I didn't care. It was irrelevant. It was just silly," he told EW.
As for Barr, she told EW she had a million reasons for wanting to revive the series, which nabbed 17 Emmys over its original 1988-to-1997 run. "That would be a three-hour discussion, I think," Barr said, explaining she still has a lot of input into the show's hilarious scripts.
Tony winner Laurie Metcalf, who played Roseanne's wacky sister Jackie, was also eager to jump back into her role, explaining, "We were a family for nine seasons. And I had a feeling as soon as we stepped back onto the stage again, it would just reappear. And it did."
While fans will see many familiar faces on the revival — pretty much every member of the show's original cast is back — they can also count on the same hard-hitting — and topical — stories. The blue-collar Conner family's personal and financial struggles will be front and center again, executive producer Bruce Helford promises.
"Everybody is concerned about taxes. Everybody is concerned about jobs. This couple has no health care. They barely can make a living. They are going through what is being discussed in every home," said Helford. "What better family to be dealing with this than people who are living it?"
"Roseanne" returns to ABC on March 27 — and we can't wait!