It's almost time! The highly anticipated "Roseanne" revival comes to TV next week.
But fans of the show got fun sneak peek Thursday night. That's when Jimmy Kimmel invited Roseanne Barr and John Goodman to his show — along with another unforgettable star from the classic sitcom ...
The couch!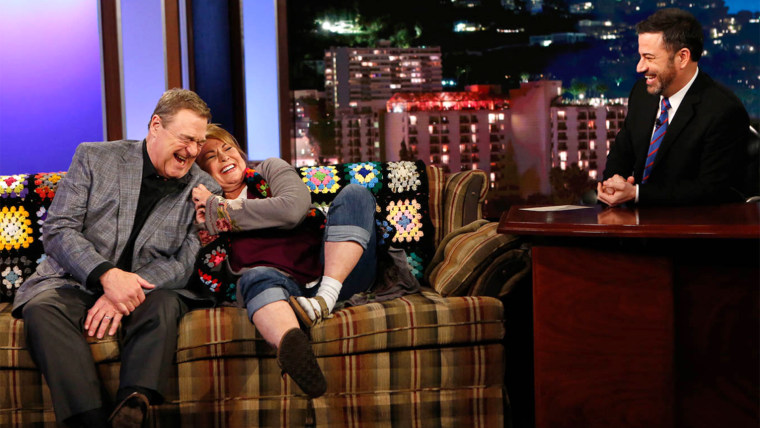 Yes, the "Roseanne" leads made their way to the stage in style by riding in on the well-worn plaid sofa — complete with afghan — that viewers know and love.
Or at least a reasonable facsimile of it.
"This is a replica," Barr confessed to Kimmel. "This ain't the real one."
And, as it turns out, there's a good reason for that.
"The Smithsonian Institute has the real one, and they wanted too much scratch for it," Goodman revealed.
But the new couch looks like the old, and as far as they're concerned, it feels like the old one, too. In fact, everything about the return to the beloved series feels the same.
"It's weirder than déjà vu," Goodman said of the flashback-inducing experience. "It's like we took a two-week break and came back after 20 years."
Fans will find out if it feels the same for them, too, when "Roseanne" returns for a whole new season Tuesday, March 27, on ABC.