"Roots" was more than a TV miniseries: It was a sea change in how Americans understood history. When it aired over eight consecutive nights in 1977, more than 100 million viewers tuned into its finale.
Based on the best-selling novel "Roots: The Saga of an American Family" by Alex Haley, the miniseries followed the story of a young African kidnapped into slavery in the U.S. as well as his offspring over ensuing generations.
MORE: Lou Gossett Jr.: After 36 years, 'Roots' success still a 'miracle'
"It was a magical moment in television," said star John Amos Wednesday on TODAY. Amos, who played the adult version of Kunta Kinte (who was portrayed as a young man by LeVar Burton) sat down with co-stars Ben Vereen, Sandy Duncan and Louis Gossett Jr., who won an Emmy for his role as Fiddler. "The material had never been covered that extensively before," Amos pointed out.
Interviewer Tamron Hall recalled that when her family watched "Roots" in 1977, her mother cried. "I was 7 years old," Tamron said. "It was the first conversation that my mother and my father had with me about slavery."
But the tens of millions who tuned in to "Roots" did not include one of its stars: Duncan, who played a slave-owning mistress. "I was definitely the bad girl in this," she said.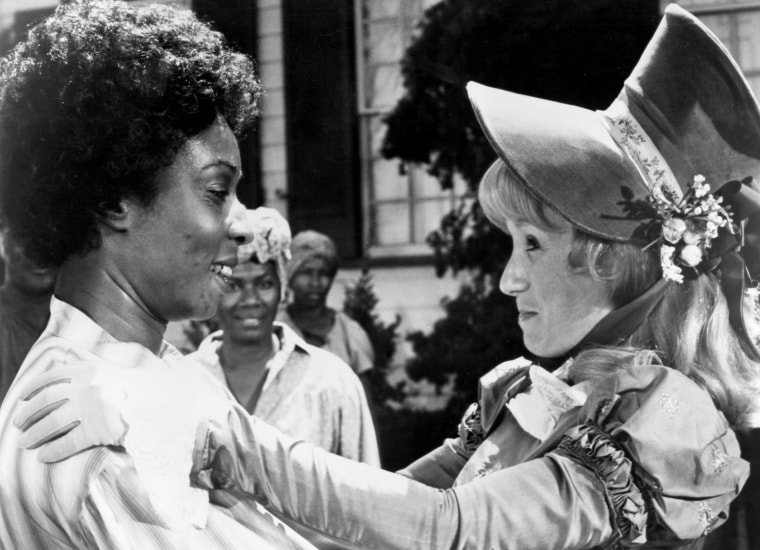 MORE: David Wolper, producer of 'Roots,' dies at 82
"I haven't yet [watched it]," she admitted, and said she's not even sure she'll watch the new version, which will begin airing on History starting May 30.
"I know that the conversation ... has to go on and be kept alive," Duncan said. "For someone 7 years old to not be aware [of the history of slavery] is criminal in this world."
Follow Randee Dawn on Twitter.