"Late Late Show" host James Corden got back behind the wheel for another rendition of Carpool Karaoke Tuesday night, and this time he took Rod Stewart along for the ride.
The two bonded over Stewart's biggest hits, as the rocker delivered a hair-raising reveal.
"Can we talk about the hair?" Corden asked of Stewart's signature rooster 'do. "'Cause it's a work of art. How long does it take to get that — to get 'the full Stewart'?"
MORE: Iggy Azalea locks down wedding plans, belts out Carpool Karaoke with James Corden
"It's 10 minutes," the singer insisted.
Corden couldn't believe it. He also couldn't resist a chance to run his fingers through that hair, calling it "a beautiful moment between two open-minded, broad-minded guys."
MORE: Justin Bieber sings Car Karaoke, makes revealing underwear confession to James Corden
But for a moment there were three guys in that car. In between swapping verses from "Da Ya Think I'm Sexy" and "Maggie May," Stewart and Corden were joined by rapper A$AP Rocky for his hit "Everything" (which also features Stewart).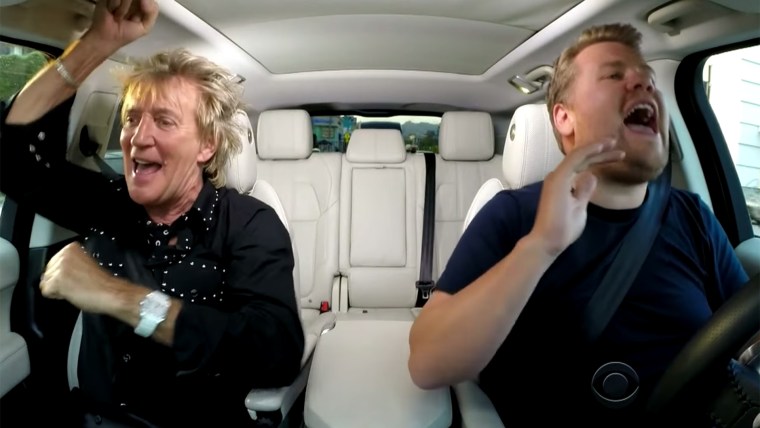 Check out the full clip to see Stewart talk about the old "a-drinkin' and a shaggin'" days and to see Corden's look of pure joy as he sings along with the legend.
Follow Ree Hines on Twitter and Google+.