This fall, the sixth and final season of "House of Cards" will premiere on Netflix, but it'll be the first season without the show's leading man — and past commander-in-chief — Kevin Spacey.
Instead, his former co-star, Robin Wright, will be back to take the helm and the highest office without him following a growing number of sexual misconduct and assault allegations against the actor.
Wright recently sat down with TODAY for an exclusive interview to talk about the return to the political tale — and about the embattled star she shared a screen with for nearly five years.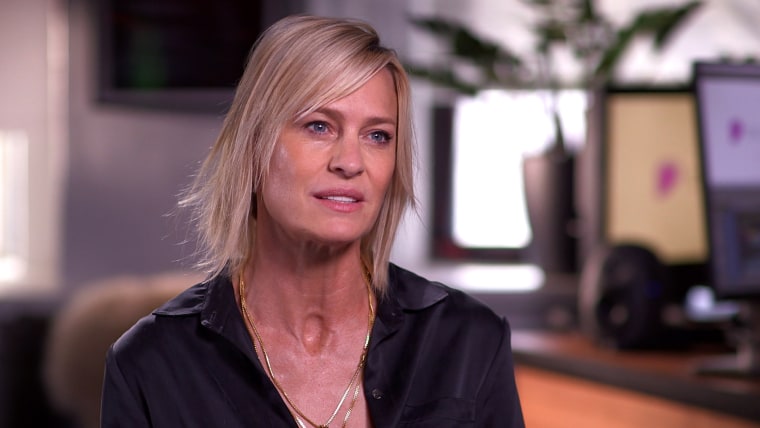 "I think we were all surprised, of course, and ultimately saddened," the actress told TODAY's Savannah Guthrie about the news that led to Spacey's ouster.
Eight months ago, actor Anthony Rapp was the first to publically accuse the two-time Academy Award winner of inappropriate behavior, stating that Spacey made sexual advances toward him in the 1980s, when Rapp was just 14.
Since then, more accounts have mounted, including three new assault allegations that came to light in recent days.
But Wright says she didn't have clues about any of that prior to the reports. In fact, despite having worked alongside Spacey for so long, she didn't know him well.
"We were co-workers, really," she explained. "We never socialized outside of work."
She characterized their relationship as "respectful, professional," and said Spacey was "great" with her.
"That's the only thing I feel that I have the right to talk about."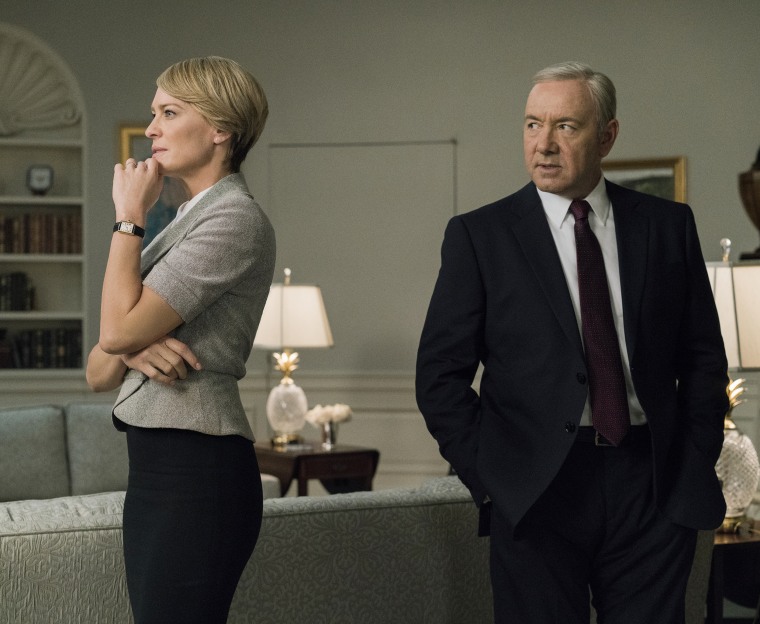 And there's been no contact between them since the scandals broke.
"I don't even know how to reach him," she continued. "Kevin and I knew each other between 'action' and 'cut,' and in between setups where we would giggle. I didn't know the man. I knew the incredible craftsman that he is."
When "House of Cards" returns, Wright's character, Claire Underwood, will continue her role as president in Season 6, only now as the lone lead, just as Wright herself takes on a new role — as director of the highly anticipated season finale.
But despite all of that, when asked if Netflix made the right decision by parting ways with Spacey, Wright couldn't really say.
"I don't know how to comment on that," she replied. "But I think at that time the shock was so intense all over the nation, for many reasons, many stories, many people, I think that everybody felt that it was respectful to back off."
Those many stories and many people were all part of the #MeToo movement that grew in the wake of harassment allegations against Spacey, Harvey Weinstein and more. And Wright is no stranger to harassment.
"Of course," she answered when asked if she's ever experienced it during her career. "Who hasn't? ... This is a bigger, broader issue, I think — which is seduction. I don't care who you are. It's about power, and once you overpower someone, that's person then becomes vulnerable. And this last year, I think, has shined a light in a new way to allow us to start a new conversation."
TODAY reached out to Kevin Spacey's team for comment, but did not hear back.