Robert Downey Jr. and Susan Downey are still madly in love after nearly two decades of marriage.
In honor of their 18th wedding anniversary, the happy couple just re-created a photo from their big day and shared the adorable results on Instagram.
In the first photo, the groom whispers something in his wife's ear as she grins and leans in while she holds her bridal bouquet. 
Flash forward to 2023, and the couple is still lovey-dovey in their updated version of the photo, just dressed a little bit more casually and holding sunflowers instead of a wedding bouquet.
"18 years, love still in bloom!!" the actor captioned the post.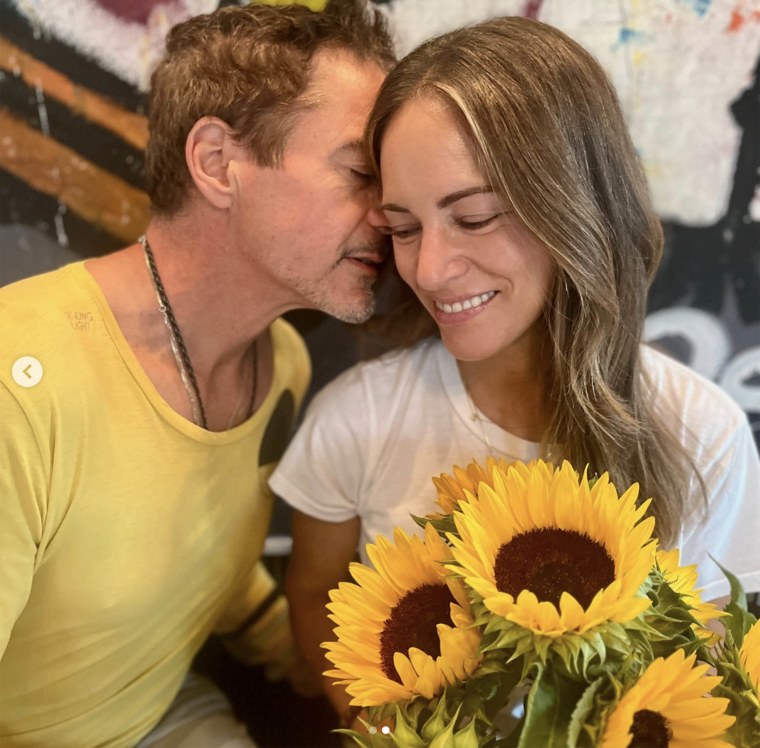 Marriage has been an exciting road for the couple and Robert Downey Jr. isn't shy about showering his wife with social media shout-outs.
The lovebirds, who share two children, even work together at their own production company. Curious to learn more about their love journey and the secrets to their success? Here's a timeline of their relationship.
2003: Robert and Susan meet
The couple first met while Robert Downey Jr. was filming the movie "Gothika" in 2003 (Susan Downey, whose maiden name is Levin, was a producer).
In a 2014 interview with The Hollywood Reporter, Susan Downey shared her first impression of her future husband while describing a lunch meeting she had with him, Halle Berry and the film's director.
"Everybody else ordered Japanese, but Robert told us how oatmeal was the 'superfood.' He brought his own packets of oatmeal to have at lunch. And he had this box of various herbs and stuff. And then he started doing these yoga moves. I mean, he was interesting but weird," she said.
In 2004, the couple sat down for an interview with Oprah Winfrey and shared a few more details about their unique "meet cute" story.
"He wasn't someone I was considering getting together with. I was more worried, 'Is he going to show up for the day?'" Susan Downey recalled.
After all, they met shortly after Robert Downey Jr. had some very public incidents related to his drug addiction.
2003: Robert and Susan Downey get engaged
Just three months after they started dating, Robert Downey Jr. proposed. At the time, he was still legally married to Deborah Falconer, his first wife and the mother of his eldest child, Indio.
Per The Hollywood Reporter, Susan Downey made her new fiancé promise that they would stay engaged for two years before getting married. She also made him kick his drug habit once and for all.
"Addiction was so foreign to me," she told the publication. "I was incredibly ignorant of the hold it had on people."
"Thank God for that," he replied. "If she knew the depths of my depravity, we would not be sitting here."
2005: Robert and Susan Downey get married
In August 2005, the lovebirds tied the knot in a Jewish ceremony in the Hamptons. Over the years, Robert Downey Jr. has celebrated his wedding anniversary many times on Instagram, sharing sweet messages for his longtime love.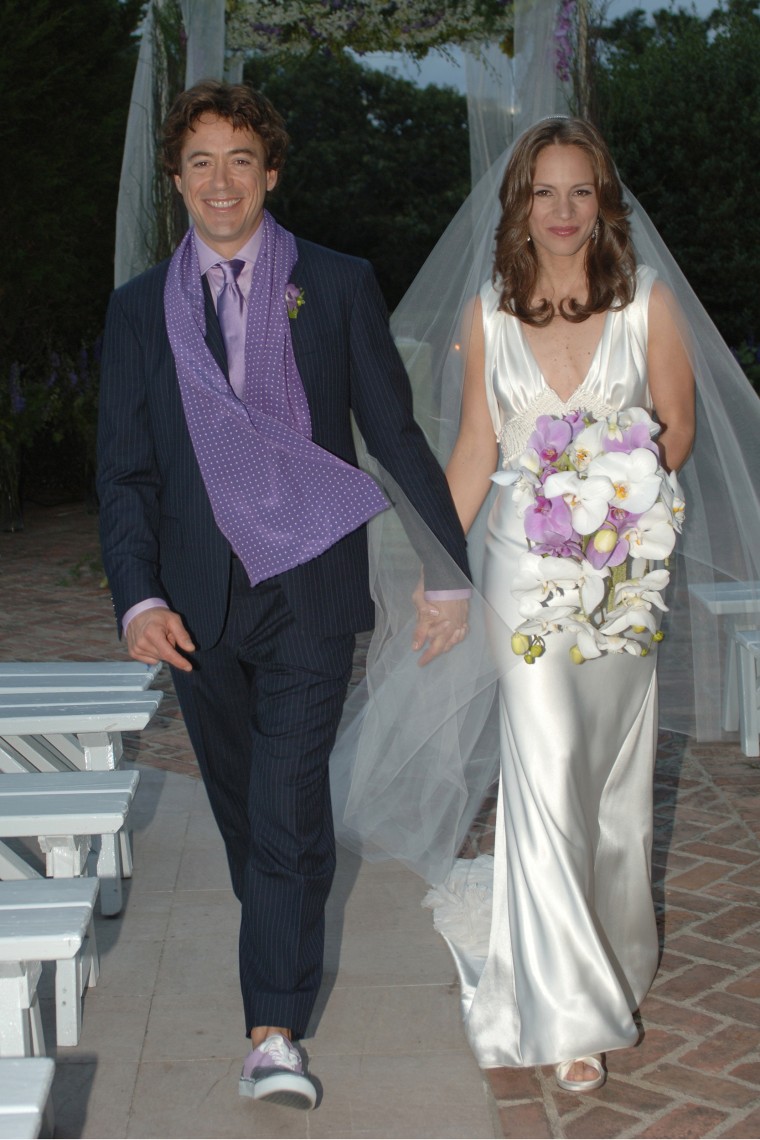 2010: Robert and Susan Downey create their own production company
Throughout their relationship, the Downeys have worked together on multiple projects and they even formed their own production company, Team Downey, in 2010.
In a 2014 interview with The Hollywood Reporter, Susan Downey spoke about the company's name.
"We played with other names, like RoSuDo. But everyone was like, 'What the heck's that?' If you have to explain that it means Robert Susan Downey, then it's not going to work," she said.
"Then I had the idea of Team Clown," her husband replied. "I had this image of these people with red noses and weird hair in a big truck making honking noises and rolling down the street …"
In the same interview, Susan Downey explained what inspired them to start the company.
"Our feeling was, if we wanted to spend time together, have a life together, then we should just go ahead and make movies together," she said.
2012: Robert and Susan Downey welcome their first child
Robert Downey Jr. already had a son from his first marriage, but he welcomed his first child with Susan Downey in 2012: a son named Exton.
In a 2014 interview with The Hollywood Reporter, Susan Downey described how meeting her husband made her realize she wanted a family.
"I was very focused, driven, rigid, work-oriented (beforehand)," she said. "I didn't care about having a family or making a home. I didn't think about kids. It's not that I didn't want those things, I just didn't think about them. And then I had someone who came in as a tornado, this creative, beautiful ball of insane energy and passion. And it completely opened me up."
2014: Robert and Susan Downey have their second child
In November 2014, Susan Downey gave birth to a baby girl named Avril Roel Downey.
In 2022, Robert Downey Jr. shared a video of his son and daughter helping shave his head for a role.
2015: Robert and Susan Downey celebrate 10 years of marriage
In honor of their 10th wedding anniversary in 2015, Robert Downey Jr. shared a sweet selfie with his wife and the following caption: "A perfect 10. Happy Anniversary, Mrs. Downey."
April 2023: Robert Downey Jr. gives rare look at his family life
To celebrate his 58th birthday, Robert Downey Jr. shared a video montage of some of the most memorable family moments from his past year in April 2023. His wife and children made several appearances throughout the sweet clip.
August 2023: Robert and Susan Downey celebrate their 18th anniversary
In August 2023, the couple celebrated 18 years of wedded bliss and re-created one of their wedding photos.
Robert Downey Jr.'s Marvel co-star Jeremy Renner gave the post his seal of approval and left the following comment: "These are the best photos Robert! Love you both !!!! ❤️❤️❤️❤️❤️."
Another one of his Marvel colleagues, Paul Bettany, also left the following reaction: "Lots of love dearhearts."