The inauguration of Donald Trump as the 45th president of the United States this week has a lot of people sharing concerns and worries. And on Tuesday, actor Robert De Niro publicly joined the chorus.
The Oscar-winning actor, who along with Jerry Zaks has directed the new Broadway musical "A Bronx Tale," visited TODAY Tuesday and supported the calls to boycott the inauguration.
RELATED: Happy birthday, Robert De Niro! The film icon turns 70
"Yeah, I think they are," he said when anchor Matt Lauer asked if those boycotts were warranted. "I think that whatever people do they should do it fully. Because there's a lot of crazy stuff happening now; it's just crazy. And maybe it's an act and we'll see once [Trump's] in, but you know, everybody has to be on guard."
This isn't De Niro's first time speaking out post-election; after Meryl Streep used a portion of her Golden Globes lifetime achievement award speech to speak about the incoming president earlier this month, De Niro wrote her a letter of praise.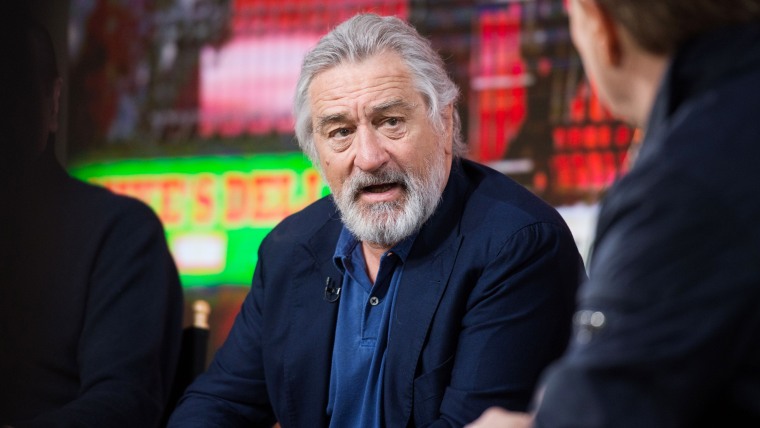 "I have so much respect for you that you did it while the world was celebrating your achievements," he told his co-star of four films; the letter was quoted in People magazine. "I share your sentiments about punks and bullies. Enough is enough."
Zaks, who was also visiting the show with "Bronx Tale" producer Tommy Mottola and writer/actor Chazz Palminteri, chimed in.
"It's human nature to protect the possibility of a happy ending, and so we're going to do everything we can for as long as we can to hope that this story has a happy ending for the country," he said.
"It's a big opportunity for everyone to come together," added Mottola.
RELATED: Robert De Niro: I still have 'mixed feelings' about anti-vaccine film
But Palminteri, who wrote the original play based on his life that was turned into the 1993 film "A Bronx Tale," starring De Niro and himself, deftly found a way to turn things back toward the stage.
"What 'A Bronx Tale' talks about is how people can come together," he said. "One of the main aspects of the play is, 'Is it better to choose love or fear?' ... At the end, [main character] Sonny ends up choosing love. So I think that's why it's so relevant today."
Follow Randee Dawn on Twitter.