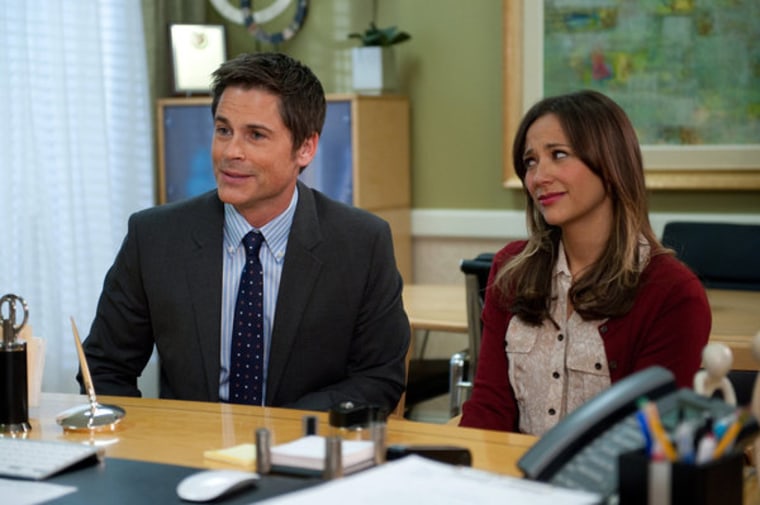 No celebratory lunges here: the end is near for Chris Traeger (Rob Lowe) and Ann Perkins (Rashida Jones) on "Parks and Recreation."
The writers of the NBC comedy are now composing the 13th episode of the season, which will undoubtedly go down as the saddest chapter in Pawnee history. Hyper-happy city manager Traeger and loyal nurse Perkins are moving elsewhere to raise their baby, leaving behind their jobs and best friends. By the time the episode airs early next year, the news won't be a shock. Chris and Ann began to set the wheels in motion in last week's episode, breaking the heart of poor Leslie Knope (Amy Poehler).
"It's a very weird feeling," said "Parks" executive producer Mike Schur at a party on the show's Los Angeles set Wednesday to commemorate its 100th episode. "I've known Rashida now for more than 20 years. We went to college together. And if Rob wanted to become a cult leader, it would be very easy for him to start a cult. He just needs to flash his eyes at people and they would do his bidding. From the second he showed up, he's been a huge force of comedy on the show and it feels very sad to say goodbye. But the episode is also designed to be a gigantic celebration. It's not that it's not sad that they're leaving — it's obviously sad — but the design of the episode is the greatest goodbye party ever."
The realization that he's leaving a show he loves hit Lowe this week when the production crew told him they were clearing out Traeger's office.
"They asked if there was anything I wanted to keep," Lowe said. "That was sad. I kept my nameplate, 'Chris Traeger City Manager.' I thought about keeping my Jack LaLanne photo, but where am I really going to put that? But I kept my Most Improved Patient Award from Dr. Richard Nygard."
Jones hasn't had to pick mementos yet, but isn't looking forward to it, "I'm sure that's going to be super devastating," she said. "It's definitely sad and sometimes it's really great. It all just feels very real when we're processing it. There's momentary denial going on for sure."
Chris and Ann will not move far away, and will probably return in future episodes, Jones said. Lowe predicts the couple will visit Pawnee if only so Leslie can babysit. After the writers decided last year that the couple would reconcile and have a baby, they began discussions on what their happy ending could be, Schur said.
"We felt that for many creative reasons that it would be interesting if they got together and decided to raise their baby somewhere else," he said. "This is something most people go through — you think about where you live and what your future is going to be. Ann is not from the area, neither is Chris. And then Rashida runs Hollywood now. She's producing and writing and doing a lot of things, so it was just a lot of things coming together."
Chris Traeger, with his bottomless optimism, devotion to fitness and unique pronunciation of the word "literally," has become a fan favorite. Lowe said he will miss working on a show "where every single (expletive) person is hilarious and great to be around. There's no drama. It's just easy and fun and supportive. Everybody is out to have the other person win. It's so rare."
Asked to pick his favorite Chris Traeger moment, Lowe didn't hesitate. It was a moment in the third season's "Flu Season" episode.
"It had my most quoted line on the show, 'Stop pooping.' Any time I can say 'Stop pooping' on camera, we're ahead of the game."