/ Source: The Associated Press
Like the highway that inspired it, the first draft of author Jack Kerouac's "On the Road" rolls over nearly 120 feet of paper, a wandering narrative told in a continuous block of text.
Yellowed with age, smudged with editing marks and the author's own ink-covered fingerprints, the scroll is a relic of a literary phenomenon.
Indianapolis Colts owner Jim Irsay bought the scroll two years ago for $2.43 million. Having already been on display in Indianapolis, Irsay plans to send what may be the Beat Generation's quintessential text back to the road from where it came.
Beginning this week at the Orange County History Center in Orlando, Fla., and ending with a three-month stay at the New York Public Library in 2007, Kerouac's "On the Road" scroll will make a 13-stop, four-year national tour of museums and libraries.
"My goal all along was to have it and share it with all those who want to see it, whether it's in this country or other countries," Irsay said.
In a conversation after he brought the scroll with director Cameron Crowe and journalist Hunter S. Thompson, Irsay said they discussed the manuscript's continued relevance as a chronicle of American discovery.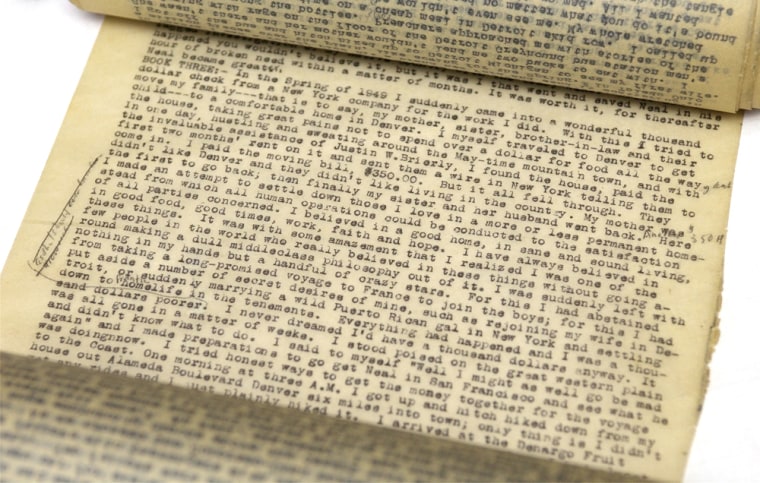 Kerouac wrote the novel in a coffee-saturated, 21-day typewriter marathon at a friend's apartment in New York City in 1951. When finally published six years later, it won critical acclaim as an unconventional masterpiece, defining a post-World War II generation of intellectual outlaws on an aimless, odyssey across the American landscape.
But while some — including The New York Times — praised its publication, others dismissed it.
"That's not writing. That's typing," author Truman Capote said in a review of Kerouac's book.
"It's the way that it was written that, in many ways, is more important than what it really is," said Howard Collinson, director of the University of Iowa Museum of Art, which will show the entire scroll in 2005. "That it kind of just spewed out of him is what it's all about."
Once stored in dormWhen Kerouac died, his estate was reportedly valued at less than $100. The scroll passed hands and wound up in the New York Public Library. It's a storied life for a rough draft of a classic, said Steven Taylor, chair of writing and poetics at Naropa University in Boulder, Colo.
"There's a long, long tradition of displaying literary artifacts that are treasured," said Taylor, who collaborated with beat poet Allen Ginsberg on numerous projects. "But the stream of consciousness, jump-cut, rapid motion of the book will not be as strange as it was to readers a generation ago."
Irsay and Kerouac share connections — Kerouac was a star football player in Lowell, Mass., during high school and played briefly at Columbia University in New York. But Irsay is a businessman.
Still, buying the scroll and sending it on tour has little to do with profit, he said. Some museums are paying only a minor fee to display the scroll, mostly to cover the cost of shipping.
"It certainly wasn't something where I'm going to buy this because someday it will go up in value or I'm going to buy this because I want to sit and look at it," Irsay said. "I was drawn towards it."
Irsay, a guitarist with a liking for electric Bob Dylan, helped produce "Colors," a tribute to Ryan White, a boy with AIDS whose legal struggle to attend a school in Indiana became a national cause in 1985; White died in 1990 at the age of 18.
Irsay inherited the Colts in 1997 when his father passed away. At 44, he is the NFL's youngest team owner.
The scroll, which was once thought to have been stored in a dorm room closet, exchanged hands often after Kerouac's death in 1969.
But as frequently as the scroll passed hands during its 53 years, Irsay, who thinks of himself more as the steward for the scroll than its owner, said perhaps it is fitting for it to leave him.
"Possessions I hold very lightly in the sense that they're kind of like very temporary borrowings," he said. "This will be someone else's and someone else's."