(Spoiler alert: If you haven't watched the latest episode of "This Is Us" ... what are you waiting for?! Check it out, and then come back here!)
It was the ending "This Is Us" fans have been waiting for almost since the series began. No more teases, hints or guesswork — on Sunday night's episode, Jack Pearson died.
And it was absolutely brutal.
Mandy Moore, who plays wife Rebecca to Milo Ventimiglia's Jack, stopped by TODAY Monday morning to commiserate about the loss and to make a confession about how the cast feels now that the major plot point is behind them.
"I think all of us are tremendously relieved," she explained. "Because Milo and I, for one, have known since the beginning. ... But it's just nice to sort of pop that bubble a little."
Of course, you'd be hard-pressed to find a fan who would describe their own morning-after mood the same way.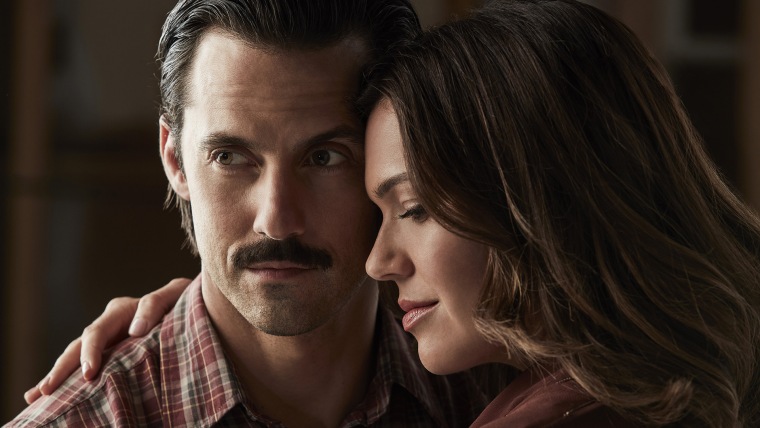 No amount of anticipation could have prepared viewers for the gut-punch of the Pearson family patriarch's final moments, which somehow managed to be completely expected and totally shocking at the same time.
Leading into the special post-Super Bowl installment of the tearjerker drama, Jack's final fate seemed known — surely he died in the house fire a faulty appliance sparked in the previous episode.
Except, that's not quite how it happened.
Instead, Jack heroically cleared his family out of the home and even went back into the blaze to save Kate's dog. Sure, he was covered in soot, suffered a burn and had a cough, but he actually survived the fire.
All he needed to do was go to the hospital to treat his singed arm. But while Rebecca casually popped off for a snack in the waiting area, a doctor came out and revealed that Jack was dead. Just like that. It wasn't the fire that took him — not directly. The smoke he inhaled taxed his system and prompted a catastrophic heart attack.
Yet that shocking twist wasn't even the most difficult part of the tragedy. That distinction goes to Rebecca for her heartbreaking reaction.
She didn't see it coming. She didn't believe the doctor. She had to go see him for herself.
"Jack? Babe?"
That's when the nation's supply of tissues took a tumble.
And despite Moore's talk of feeling relief now that it's over, on TODAY, the actress admitted that moment left all the show's stars in tears.
"Pretty much all of the episodes affect all of us, like, we all cry," she said. But this one not only brought tears, it took away their words. "We saw the episode together as a cast at Dan Fogelman's house last week, and none of us could speak afterwards. We were sort of speechless."
It's not surprising that Jack's death would prompt a moment of silence. After all, viewers are definitely grieving today.
At least they don't have to be sad about waiting for the next episode. The drama returns Tuesday night.
"Now we can move forward with the show and answer more pressing questions, as well," Moore told us.
More pressing than how Jack died? Time to buy more tissues!