Back in 1999 singer Ricky Martin alerted us all in song that he loves "Livin' la Vida Loca." Sixteen years later, his world is a little more domesticated than it was back then — he has 6-year-old twin boys Matteo and Valentino to consider now — but he's found a way to blend parenthood with all that lovely loca.
"I took a sabbatical," he told TODAY anchors during a visit on Thursday. "I made that decision, which is the most important decision I've ever made in my life. I said, 'But if I do this I want to go home and spend a year with them' and then ... they are with me always [now] on the road."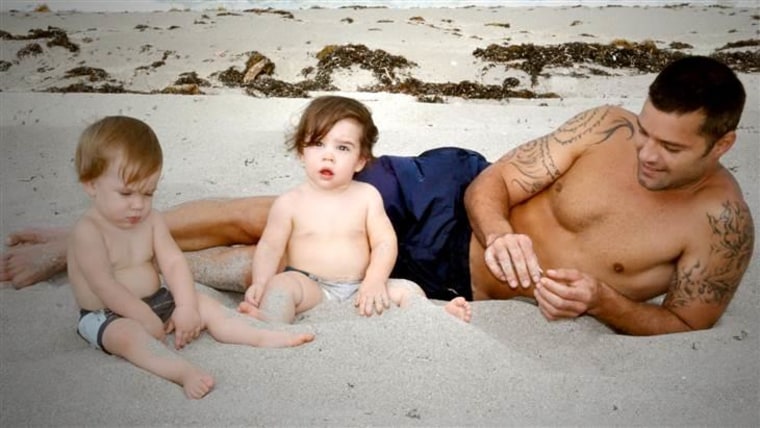 And the youngsters are very much taken with their ever-changing lifestyle. "If we spend more than two or three days in the same city, they go, 'Dad, what's next?' ... A lot of people say, 'But kids need stability,' and I am their stability. If I'm with them, they'll be fine."
Martin has also been keeping things busy with a new album, "A Quien Quiera Escuchar" (translated: "To Those Who Want to Listen") which he called "baby-making music." Woo-hoo!
But while he did stick around to perform two times on TODAY Thursday (be sure to check out those songs!), he has fond memories of the day back in 1999 when he performed on the plaza. As anchor Matt Lauer told him, that concert by Martin is still used as the "gold standard" for all other TODAY performances.
"That specific moment, everything was so intense in my life," he recalled. "It was just so fast and intense. I was on the road with that tour for two-and-a-half years nonstop, and it was beautiful. I don't regret a single minute; it was very special."
We think so, too!
"A Quien Quiera Escuchar" is now available in stores. Martin will hit the road in the U.S. for a tour this fall.