Need some laughs to get over the mid-week hump? Look no further. The always-hilarious Ricky Gervais visited TODAY Wednesday, and we're still giggling.
First, the "Office" creator razzed Kathie Lee Gifford and Hoda Kotb about their usual on-air antics as they kicked off the fourth hour of the show.
"Is this actually going out on television?" he asked them after some teasing small talk. "How do you get away with it? How have you lasted this long?"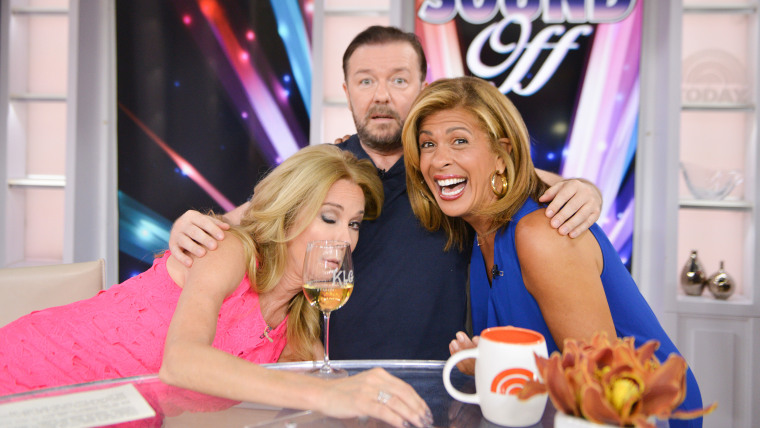 Those questions had the ladies in stitches, and he was soon asking similar questions after they pulled him (and his partner Jane Fallon) into an unexpected debate about just how often one should really wash a bra.
Related: Ricky Gervais on KLG & Hoda: This is the best show in the world
Hoda thinks it's ideal to wash a bra after wearing it three or four times. KLG firmly believes it should be a once-per-wear situation. What does Gervais say?
"I say, I don't believe this is going out on the air!" he insisted. Then he pulled his shirt down to show off his own assets.
Related: Ricky Gervais: Sequel to UK 'Office' will be 'tragic and sad'
But that wasn't all! Later, the actor-producer-director sat down to discuss his Netflix movie "Special Correspondents" and his upcoming "Office" spinoff (also headed to Netflix) — and the Emmy buzz about both!
Follow Ree Hines on Twitter.