Frustration, thy name is "Revolution." In the November fall finale, fans of the slow-burning chemistry between snarky, reluctant hero Miles Matheson (Billy Burke) and his former lover, Rachel Matheson (Elizabeth Mitchell), were finally rewarded with his confession of love. The problem? Miles said it while dying from a rapidly spreading nanotech infection, and the episode ended with him still in jeopardy.
Hopefully, your heart withstood the break as the post-apocalyptic series returns Wednesday night with a resolution — just not what you might be expecting.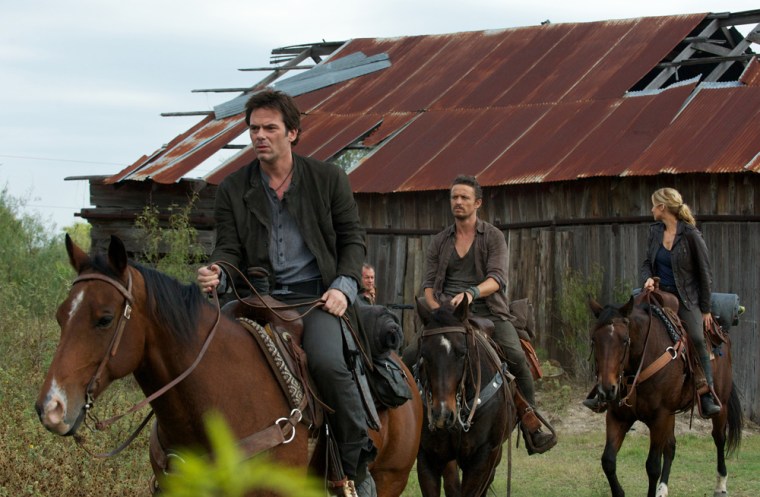 Burke told TODAY that the romance takes a bit of a back seat for some bigger issues. 
The episode picks right up where we left off with Miles in dire need of a cure, Rachel by his side and frenemy Monroe (David Lyons) reeling from the revelation that he has a son somewhere out in the world. It's that bit of news that becomes the hour's major focus.

"We freely admit we're a sci-fi show now so you can get away with a lot more," Burke laughed. "That being said, in this episode Miles, Monroe and Rachel go to Mexico and have a very unlikely trip. It's a very weird show now."
Tipped by the episode title, "The Three Amigos," Burke teased that the dysfunctional trio head south of the border to the town where Miles hid Monroe's son, Connor (Mat Vairo), in order to protect the child from his father some 25 years ago. It adds a new wrinkle for Burke and Lyons to play in their characters' already odd dynamic.
"What's nice about it is that Miles and Monroe are both this season getting to forcibly explore their more touchy feely sides, aside from their Jones for each other," he joked in reference to the oft-cited homoerotic subtext between the men. "When (Monroe) finds out he has a son in the world, all those monsters kept buried come out of him."
Monroe registering that he has blood kin wakes something inside the former power hungry militia leader that Burke said could be dangerous. "I think Monroe is always looking up to Miles as the brother he never had. He looks at the relationship that Miles and Rachel has — no matter how troubled it is — with some envy. I think if he can have a little bit of that in this bleak world, I think he will chase it, even if he has to rebuild his empire to force people to love him."
While the actor remained mum about the outcome of the quest for Connor, he did share that the characters don't stay in Mexico for long as Charlie (Tracy Spiridakos) and Aaron (Zack Orth) have need of Miles sooner than later. And yes, trouble will be brewing.
Burke explained that saving the day is getting less annoying to the former loner the more he connects to his new family.
"To go back to the beginning, Miles didn't want to come on this adventure to begin with and now every time he turns around he has to go and save somebody's ass," he said. "He never wanted to be involved in the first place, yet now he's even more compelled to help for different reasons that have arisen. Now it's become bigger than himself, or the core group. He's found himself now in a world where his skills are useful and they mean something. He's finding a sense of purpose he never really had."
Asked what he's looking forward to fans seeing in the near future, Burke shared, "There's an episode coming up that when we all read it, it blew us all away. It's an absolute departure from what we are used to seeing on this show. It's really cool and really well done. There's some fun stuff in it not only for Miles but for the rest of the characters in the show."
As for that profession of love from Miles to Rachel, when asked if there would be a worthy payoff in the near future, Burke only laughed and offered, "Well if it continues on like this, it's going to become sickening." 
"Revolution" returns Jan. 8 at 8 p.m. on NBC.