Tuesday marks one year since Robin Williams died, and time has done little to dull the loss of one of the entertainment industry's most beloved stars.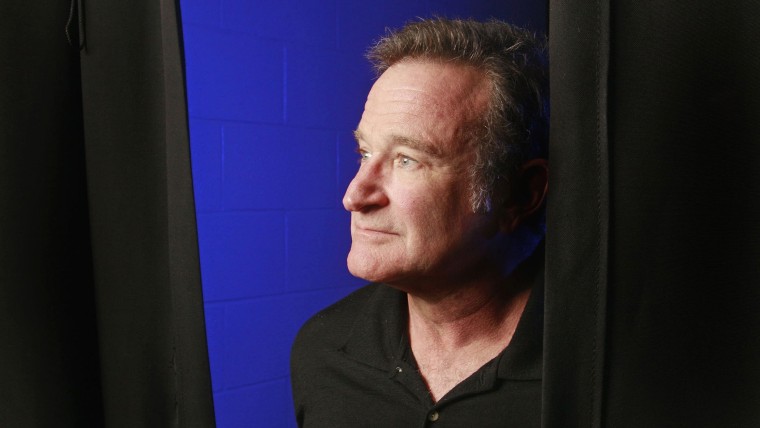 In fact, it's still hard to believe the man who brought so many vivid characters to life on the big and small screens is really gone.
Maybe that's because new works — including his final feature film, "Boulevard" — have come out since his death. Or maybe it's because he left behind such an amazing body of work.
The one thing we know for sure is that when it comes to his place in Hollywood and in our hearts, Williams is absolutely irreplaceable.
1. His energy
One of the reasons friend and fellow star Meryl Streep found William's death so difficult to accept was due to frenetic manner he was so well known for in life.
"It's hard to imagine unstoppable energy stopped," she told TODAY last year.
Williams brought his whirlwind of energy to TODAY many times of over the years, and it's still a sight to behold.
2. The laughs
Few actors could make us laugh as reliably or for as long as Williams.
In the late 1970s, it was his alien act in "Mork & Mindy" that introduced us to his humor. By the '80s, his late-night appearances, stand-up specials and films like "Popeye" kept the laughs alive.
And as "Hook," "Aladdin," "Mrs. Doubtfire," "Jumanji," "Night at the Museum" and other comedies proved, he never lost that gift.
3. The tears
Of course, one of the things that made Williams such a standout actor is that he wasn't simply a funnyman. He was just as deft when it came to dramas and could inspire as many tears as laughs.
"Mork & Mindy" had only been off the air for a few months before Williams wowed moviegoers with his dramatic side in 1982's "The World According to Garp." And his moving roles in "Good Morning, Vietnam," "Dead Poets Society," and "Good Will Hunting" are still regularly quoted for their impact today.
4. Even better off screen
But for all his work in the public eye, it's the work he did outside of the spotlight that might be his best.
When a tragic horse-riding accident left actor Christopher Reeve paralyzed, it was longtime friend Williams who rushed to his side to give him a laugh before facing a life-or-death surgery.
As the "Superman" star lay in his hospital bed, Williams came in, put on a latex glove and in a Russian accent said, "Your proctologist is here for the exam!"
Williams also went on to support the Christopher & Diana Reeve Foundation long after Reeve's death, but it was far from his only charitable work.
His giving nature led him to support dozens of other charities, and his work with Comic Relief in particular helped the organization raise more than $80 million to help those in need.
5. Still lives on
While Williams is no longer alive, he definitely lives on in others.
That includes his children, who've offered up beautiful, heartfelt tributes over the last year.
It also includes those he touched in entertainment, like his pal Billy Crystal, who told Emmy viewers that Williams was the "brightest star in the comedy galaxy," and that it was "very hard to talk about him in the past, because he is so present in our lives."
He certainly remains so in the lives of his fans.