Prince has died. Long live his purple reign.
Legendary doesn't begin to cover the influence and talent of the versatile and prolific Prince Rogers Nelson, who died Thursday, his publicist confirmed to TODAY in a statement.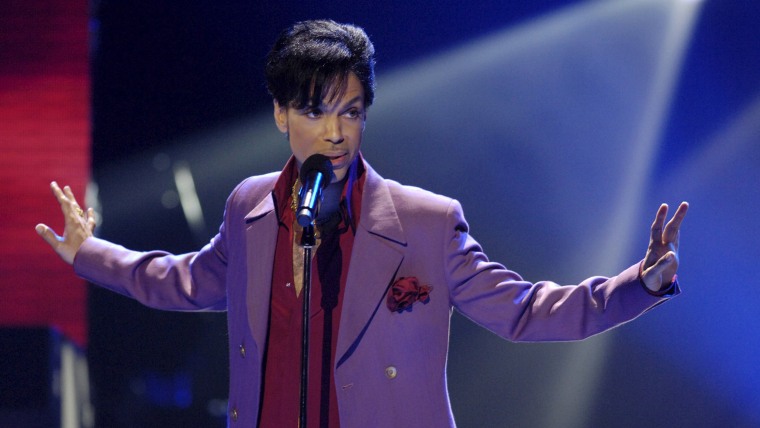 Here are just five among countless reasons why the music icon was one of a kind.
1. His incomparable Super Bowl performance
No wardrobe malfunction or boy-/girl-band reunion will ever hold a candle to what Prince pulled off on the world's biggest stage in 2007. With a medley that included "Let's Go Crazy" and "1999," Prince also inhabited captivating covers of "Proud Mary," "All Along the Watchtower" and "Best of You." In the middle of a naturally occurring downpour, he closed with a "Purple Rain" so jaw-dropping, it convinced rough-and-tumble football fans in the stands to sing along with the coda's soaring falsetto.
MORE: Prince's quirky, down-to-earth food loves make us love him even more
2. His impish sense of humor
Whether it was laughing along with "Chappelle's Show" for its true(!) story about Charlie Murphy's basketball- and pancake-filled adventures at Paisley Park, or using Chappelle's impersonation of him as the cover art for the single "Breakfast Can Wait," there was that an impish grin that let fans know he wasn't just in on the joke, he was having the last laugh. "I'm blown away [by the loss]," Murphy said in a statement emailed to TODAY by his publicist, Domenick Nati. "May he rest in peace. Music has lost one of its greatest icons."
RELATED: Carson Daly remembers Prince, explains why 'everybody wanted to be like' him
3. His ubiquitous influence
From Beyoncé to Beck, you'd be hard-pressed to find a reputable musician who didn't marvel at Prince's powerful contributions to pop, rock, soul, dance and R&B over a four-decade span. Not many people could change their name to a literal symbol and get away with it, let alone change it back to Prince and emerge arguably even more respected on the other side.
4. His fearless fashion
Whether it was sporting pants with provocatively placed holes, rocking any and all shades of purple or wearing his hair in any fashion and carrying it with an effortless confidence, Prince could pull off any look flawlessly.
5. Above all, his unparalleled music and performance
As someone who witnessed Prince's greatness in person (and paid a pretty penny to make that happen), I knew watching his performance of "Purple Rain" was a bucket-list moment — before, during and after it was happening. It was the most professionally impressive concert I've ever attended, complete with impeccable choreography, astounding arrangements, endless energy and complete respect for his audience.
RELATED: L.A. Reid reflects on Prince's 'genius': 'He was the greatest at everything'
It's no wonder he won seven Grammy Awards (and likely deserved dozens more), as well as an Academy Award and Golden Globe.
Even his fellow Rock and Roll Hall of Fame inductees were blown away by his talents, as evidenced by their reaction to his mind-blowing guiltar solo on the Beatles' "While My Guitar Gently Weeps." It's clear they're witnessing greatness, the likes of which will never be seen quite like Prince's ever again.
Follow TODAY.com writer Chris Serico on Twitter.