/ Source: The Associated Press
After helping her famous husband turn his paralysis into a gracefully productive last nine years, Dana Reeve is fighting for her own life with the resolve and optimism that have already attracted worldwide admiration.
Christopher Reeve's widow announced Tuesday that she has lung cancer, then quickly added: "I hope before too long to be sharing news of my good health and recovery."
"Now, more than ever, I feel Chris with me as I face this challenge," said the 44-year-old actress. "As always, I look to him as the ultimate example of defying the odds with strength, courage, and hope."
Christopher Reeve, the star of the "Superman" movies who was paralyzed in a horse-riding accident in 1996, died last year. The Reeves have a 13-year-old son, Will.
Dana Reeve, chairwoman of the Christopher Reeve Paralysis Foundation, said Tuesday that her lung cancer was recently diagnosed and is being treated, but she did not reveal the extent of the cancer or her prognosis, except to say that she and her doctors were optimistic. She did not say where she is being treated.
Dr. Scott Swanson, chief of thoracic surgery at Mount Sinai Medical Center in Manhattan, said that depending on the extent of the cancer, Reeve would be treated with surgery, chemotherapy, radiation or a combination.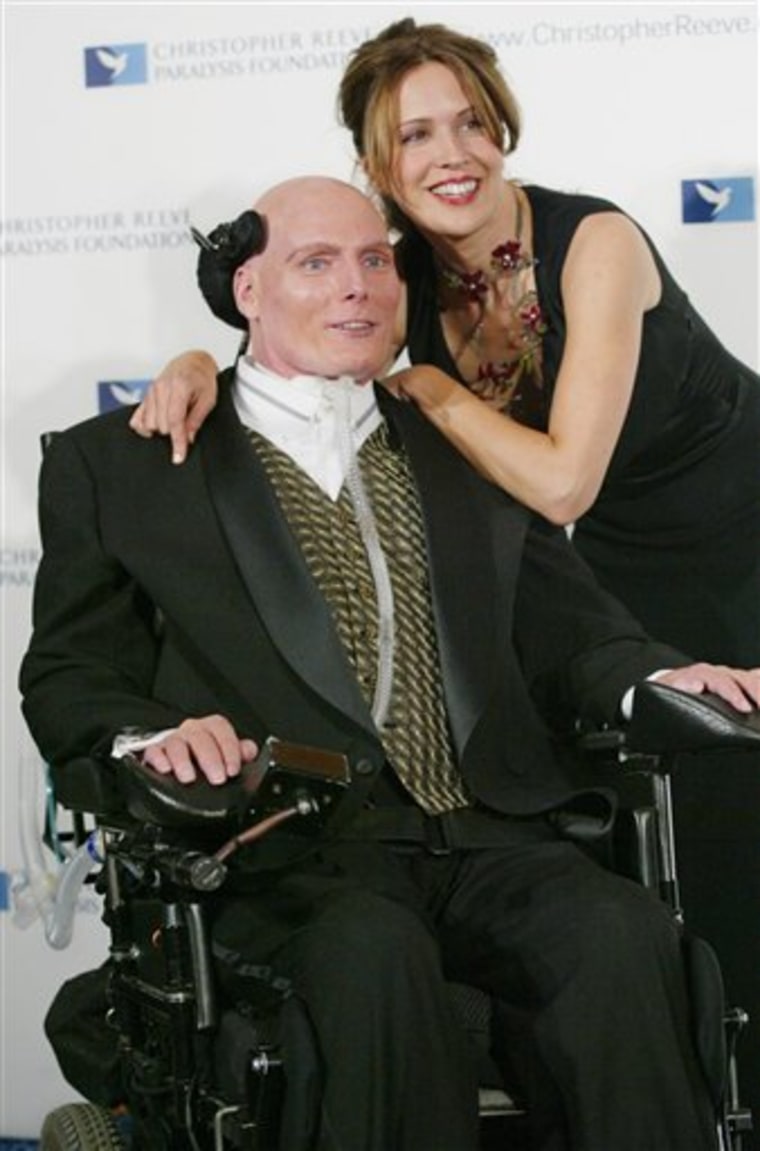 When cancer is confined to the lung, the survival rate after five years is 49 percent; but only 2 percent live five years if it has spread to other organs.
Though most victims of lung cancer are smokers, Reeve is not, said foundation spokeswoman Maggie Goldberg.
Reeve's announcement came two days after the lung cancer death of ABC News anchorman Peter Jennings, a smoker, at age 67.
The foundation would not comment on whether Reeve's cancer is restricting her activities.
"Dana will tackle this challenge with the grace, courage, and determination that have become her hallmark," said Kathy Lewis, the foundation's president and chief executive officer.
A month ago, Reeve cited "family reasons" when she canceled an appearance in Washington with actor Michael J. Fox in support of embryonic stem cell research, which advocates say might someday cure spinal cord injuries like Christopher Reeve's.
Comedian Robin Williams, a close friend of the Reeves, issued a statement with his wife, Marsha, sending "all of our love and support to Dana and her family during this challenging time."
Reeve, who lives in Westchester County, near New York City, with her son, has appeared on Broadway, off-Broadway and regional stages and on the TV shows "Law & Order," "Oz," and "All My Children."
In February, she won a Mother of the Year award from the American Cancer Society.
A society vice president, Dr. Michael Thun, said Tuesday that Reeve "has shown strength and courage in the face of tremendous adversity in the past, and that strength will serve her well during this time."