Cookbooks can be wonderful, but unless your mind is a steel trap, it's easy to forget which book held that fabulous cookie recipe, or the chicken dish that garnered raves from the PTA. Individual cooks all have their own ways of breaking down cookbooks into more manageable bites.
My mother keeps her recipes in a battered box, written in many different hands on fading and stained index cards. My system is more modern, but admittedly lacks that charm. I enter my favorite recipes into a wonderful computer program, and keep the few that I use most often in a three-ring recipe binder stored near my spices.
As I review the new cookbooks below, I'll let you know which recipes among those tested rated a place in my personal must-make-this-again collection. Obviously I can't test every recipe in each book, much as I'd like to, but I strive to test a variety. Bon appétit!
Eight is enoughEven those of us who love cooking appreciate recipes that are simple, that don't take endless time and unlimited ingredients. (I once reviewed a Martha Stewart cookbook that had a cake recipe that was eight pages long.) So it's hard to resist Gale Gand's "Short + Sweet: Quick Desserts with Eight Ingredients or Less" (Clarkson Potter, $27.50).  The English major in me wonders if that shouldn't be "or fewer," but I digress.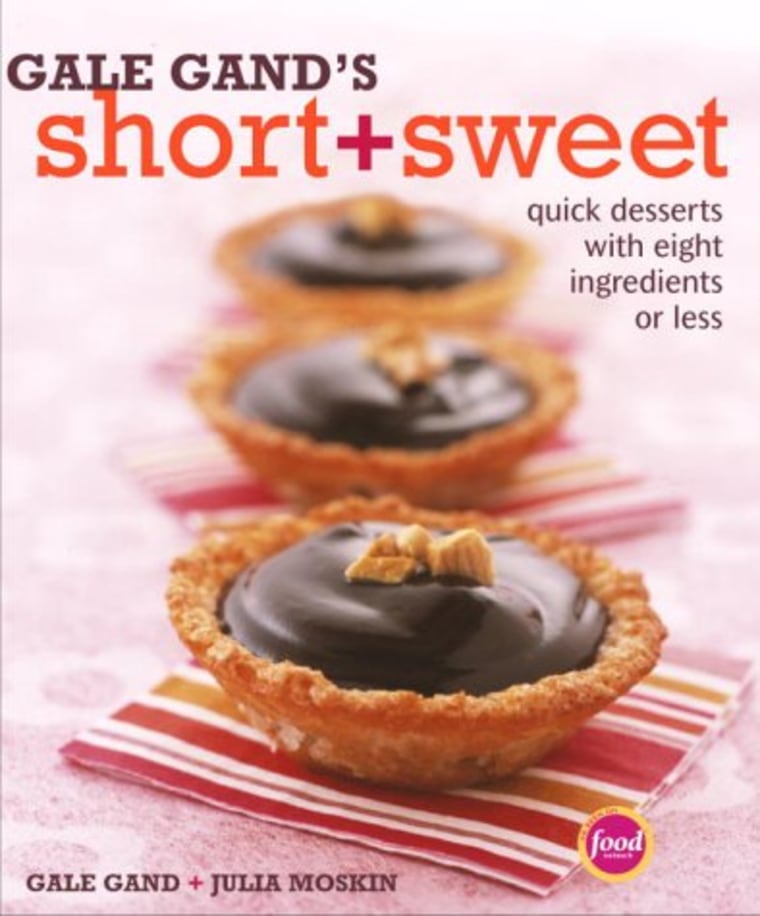 Gand's slim cookbook delivers on its promise. The recipes are fairly simple and the ingredients usually basic ones, so specialty shopping isn't required.
In fact, the recipe for Aunt Greta's Walnut Meringue cookies was so simple that I wasn't sure they would come together even as I was making them. No flour in these cookies — just an egg white, sugar, cinnamon, salt and walnuts. The addition of walnuts and cinnamon made the cookie a crunchy, nutty winner, although mine didn't look quite as shapely as those in Gand's photo.
I was a little less pleased with Saffron Butter Cake with Orange Glaze. This pound cake-like quick bread was colorful, yes, but I just didn't find it that flavorful, and wouldn't make it again.
I baked the book's Velvety Cocoa Cake by default — I had hoped to make its Chocolate Angel Food cake, but that recipe required a tube pan, which I didn't have. Turns out it was a good thing that I didn't have one — the Cocoa Cake earned a place in my must-make-again collection by being the first from-scratch cake I've baked that beat the box mixes hands-down. This cake was richer and lighter and more chocolately than Betty Crocker on her best day.
The book is divided into 15-, 30- and 45-minute recipes, but those divisions aren't always accurate. I made the Fudgy Chocolate Sorbet, which is in the 30-minute section. It may take less than 30 minutes to prepare, but the recipe recommends that the mixture be refrigerated overnight before it's put into an ice-cream maker, so it's hardly a recipe one can whip out in a half-hour.
Still, overall the book's recipes were simple and quick, a useful book to have on hand for parties or book-club meetings.
City cookingJoanne Weir isn't a familiar cooking name in the way that Martha Stewart and Julia Child are, but her fame is building. Her new TV series, "Weir Cooking in the City," is set to start airing this month.
Her new book, also called "Weir Cooking in the City" (Simon & Schuster, $35), isn't quite ready for prime time. I like the concept: Weir loves her home of San Francisco, and believes that cities are thriving places where it's never been easier to be a cook. The book is divided into appetizer, salad, soup, main courses and desserts. The photos it does have are beautiful, but it could really benefit from more.
As a lover of bread-baking, I looked forward to trying Weir's potato-rosemary flatbread. The resulting bread looked like a beautiful bubbly pizza crust dotted with potato slices and rosemary leaves. But unfortunately, the tastiest thing about it was the toppings — the bread itself was bland, lacking the heavenly taste of the best breads.
I had better luck with a main course, pan-seared pork medallions with Riesling and apples. The Riesling-and-raisin sauce and thinly sliced apples were the perfect complement for the pork. But one caution: I found Weir's given times awfully short. When she said a sauce would reduce in 10 minutes, it took me at least twice as long. That said, this dish could go in my must-make-again list, as long as I remember to adjust the times accordingly.
A simple autumn cheddar, apple and walnut salad was a nice combination of flavors, although the dressing was a bit vinegary. (Yes, it's a vinaigrette, but still.)
Two cookie recipes sounded good, but neither knocked me out. Maple leaf cookies, a rolled and cut-out sugar cookie, offered a pleasant maple bite. But ginger crisps, a slice-and-bake cookie with ginger and pulverized almonds, were pretty boring. And 2/3 cup crystallized ginger is a lot of a spendy ingredient to waste on a cookie that only garnered "ehs" from my tasters.
Our daily bread
"Cook's Illustrated" Magazine has a hard-to-beat concept. The editors delve into the science behind the food to learn the reasons why one ingredient or technique works while another doesn't. They take the recipes apart, testing each step and tweaking it until it produces the best possible results. It's hard to come away from one of their recipes without learning a little something about food science.
"Baking Illustrated: The Practical Kitchen Companion for the Home Baker," by the editors of Cook's Illustrated Magazine (Cook's Illustrated, $35), is their latest cookbook. Much in the style of Rose Levy Beranbaum's fabulous "Bread Bible," which came out late last year, this book attempts to be your one-stop shop for baking information. It offers 350 recipes covering everything from baguettes and brioche to  hot fudge pudding cake and triple-chocolate brownies.
The sheer size of the book (500+ pages) can be daunting, and those who like big colorful photos showing what each recipe looks like will be disappointed. The book instead features elegant illustrations with each recipe, and color photos of some recipes in a separate section.
You'll want to be sure and read the sometimes lengthy introduction to each recipe, which explains what the recipe creators were aiming for and how adjusting different ingredients or techniques affected their results. I baked the book's banana bread recipe twice, and the first time, it was a little tough. The intro to the recipe flat-out told me not to stir it that much, and the second loaf was better. This recipe won't replace my long-time banana bread recipe — it's not as sweet as my family prefers — but it was easier to cut and didn't crumble as mine does. It earned a spot in my make-again box for those times when I want a slightly different banana bread.
Since I'd found I had a number of almost-empty bags of baking chips in my pantry, I decided to bake the book's Seven Layer Bars, which require a cup of chocolate chips and a half-cup each of white chocolate and butterscotch chips. The book offered a brilliant tip for crushing the graham crackers for the bars' crust, suggesting putting crackers in a Ziploc and pounding them with a rolling pin. Worked like a charm, and I've since used this technique for crushing ingredients in other recipes as well.
The bars, the book says, "come together like magic," and so they did. This incredibly simple recipe took me just minutes to make, and the gooey-sweet bars disappeared in just minutes from my office treat table.
I also took on the book's croissant recipe, which editor Christopher Kimball declared was the most challenging recipe to develop. It was a bit challenging to make, too, especially on a worknight — the dough needs to be chilled again and again for hours at a time. Yet even when I forgot about the dough overnight, it miraculously recovered.
The resulting croissants took a lot of time, a lot of butter, but were light, buttery and flaky, as croissants should be. I had hoped to use them in a recipe for croissant bread pudding, but they were so good that my husband kept sneaking them until only two remained.
This recipe is definitely going in my make-again box — but next time, I think I'll tackle it on the weekend.
Gael Fashingbauer Cooper is MSNBC.com's Books Editor