"Pitch Perfect" won over fans with its hilarious characters and spirited musical numbers, but star Rebel Wilson praised the hit film for another reason.
"The Bella girls are all different shapes and sizes and nationalities," the actress said in the press room at the MTV Movie Awards Sunday, according to People.
"I think one of the good messages in the movie is that you're all beautiful."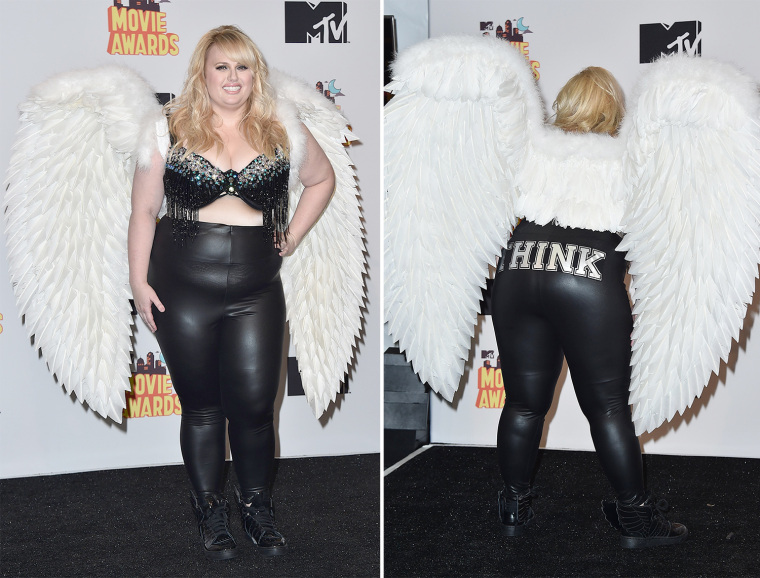 Wilson, who sported Victoria's Secret-style angel wings onstage as a gag, added that lingerie models often set unrealistic beauty standards for young women.
"I think sometimes girls look at Victoria's Secret models and think that they have to model themselves after that, but I really don't think that's the best. Even though they are called 'models,' they're not the best people to model yourself after," said Wilson, who also wore leather leggings with the word "Think" printed on the backside.
"I like to encourage girls to think, which is why I put that on my butt. It's really about what's up here [points to head], and not whats here [points to backside]."
Wilson's co-star Anna Kendrick has also set a positive example for the movie's young fans. Kendrick recently sparked a meme by striking a tough — rather than stereotypically "sexy" — pose on the poster for the much-anticipated sequel, "Pitch Perfect 2."
For more of the Barden Bellas, check out the latest trailer for "Pitch Perfect 2," which features a '90s hip-hop battle.
The movie hits theaters May 15.