The late George H.W. Bush may have been an admired U.S. president and a jovial, good-hearted family man, but he was also something else — a huge country music fan.
On Thursday, some of the genre's biggest stars, including Reba McEntire, paid tribute to the late president at his funeral service inside St. Martin's Episcopal Church in Houston, where the Bush family has worshipped for decades.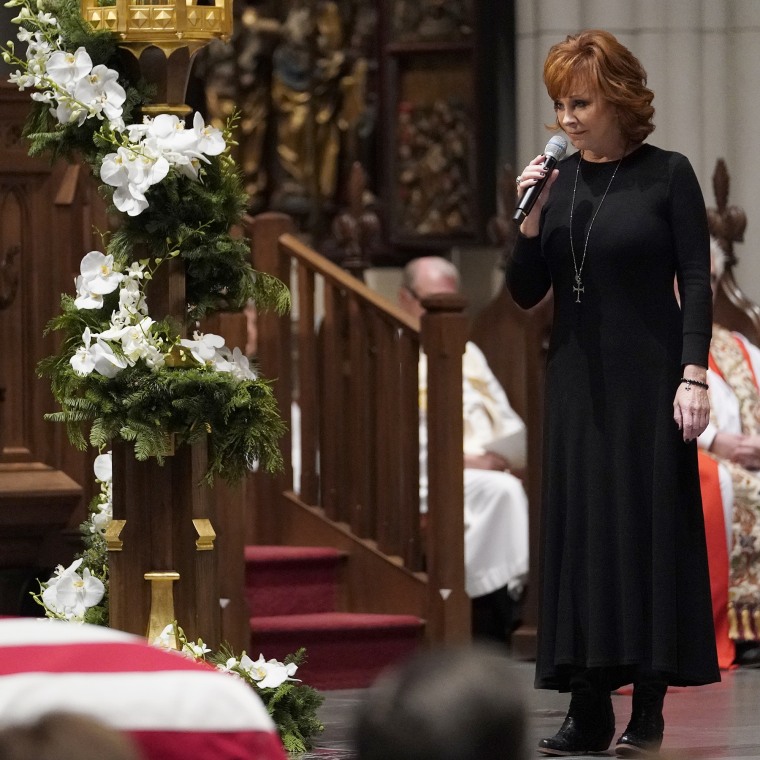 McEntire sang a beautiful rendition of "The Lord's Prayer" that brought Bush's oldest son, former U.S. President George W. Bush, to tears.
As the country queen, 63, sang, the younger Bush could be seen wiping a tear from his eye as he sat in the front row next to Bush family members, including his wife, former first lady Laura Bush, and his brother, former Florida Governor Jeb Bush.
McEntire's performance was a touching way to pay a final public tribute to an American leader — and a longtime friend.
The Grammy winner began honoring George H.W. Bush when she heard he passed away last Friday. The singer took to Instagram to share memories of the late president and what his love of country music meant to her and her Nashville colleagues.
"Everyone in the country music business was so honored when President and Mrs. Bush joined us at the CMA awards," she captioned a throwback photo of herself gazing at Bush as he spoke from the CMA stage in 1991.
She shared a more recent photo of the pair, too, that found her clasping the former president's hand. "My favorite," she captioned the snap, adding the hashtags #greatpresident and #greatfriend.
A group photo McEntire shared showed herself and other country music stars posing with both Bush presidents as well as former U.S. Presidents Bill Clinton and Jimmy Carter.
In her caption, she mused that the 41st president's late wife, former first lady Barbara Bush, who died in April, was eagerly awaiting her husband's arrival in heaven.
"Mrs. Bush is smiling up a storm this morning," McEntire wrote lovingly.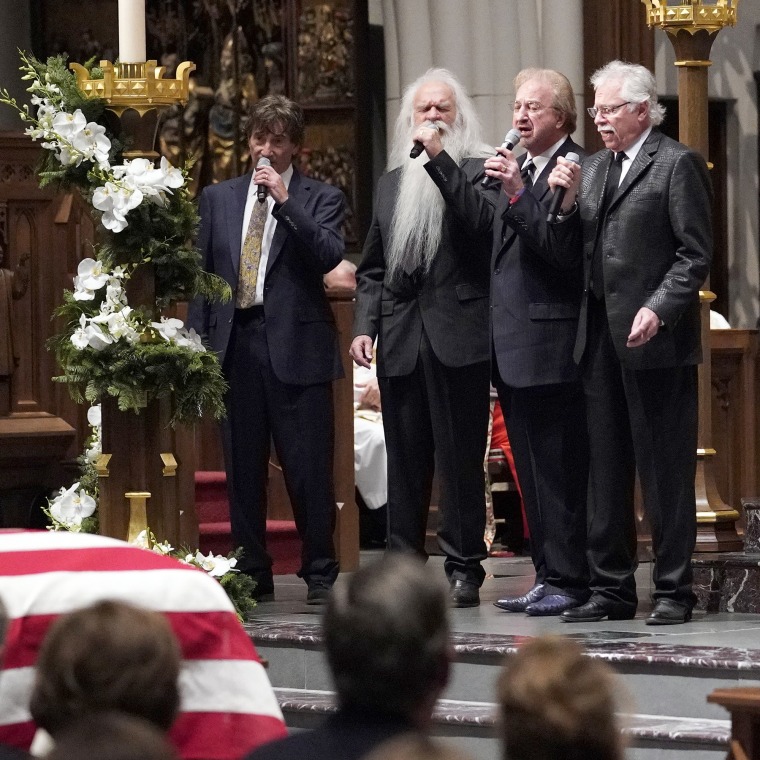 Just before McEntire performed, the Oak Ridge Boys, another of the late president's favorite country acts, sang a stirring a cappella version of "Amazing Grace."
The legendary singing group shared their own fond memories of meeting Bush at the White House in the 1980s when he was the vice president —and how it sparked a decadeslong friendship.
"Would you sing me a few songs? I'm a big fan," they recalled Bush telling them.
The quartet also remembered that the late president "fancied himself to be a good bass singer."
"He was not," they joked, as Bush family members erupted into joyful laughter.