Ratings show us that Americans hunger for reality TV about as much as Honey Boo Boo's family craves their infamous ketchup-and-butter-topped "sketti." But while we think we've come to know the people on the small screen in shows as varied as "Teen Mom" and "Deadliest Catch," what do we know about the viewers who regularly tune in? 
TODAY.com surveyed nearly 19,000 people and found those who watch reality TV consider themselves more extroverted, more neurotic, and say that they have lower self-esteem than folks who aren't fans of the genre.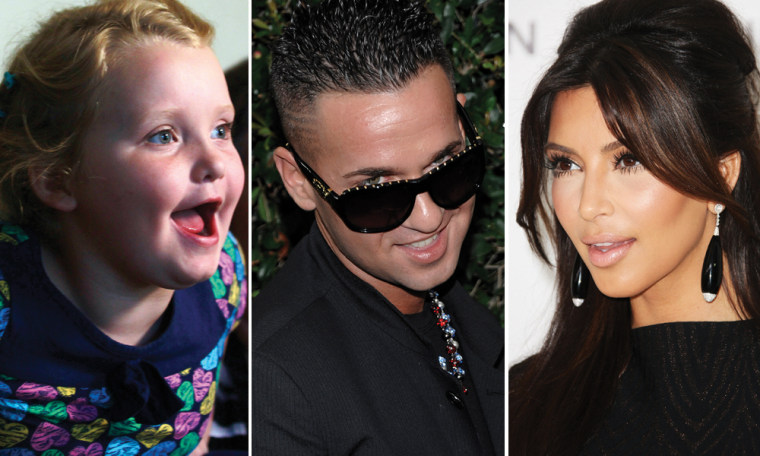 Although both watchers and non-watchers of the genre report relatively high levels of self-esteem, the survey revealed that some viewers actively turn to reality shows to make them feel better about their own lives.
Feeling untidy because of those couple of dishes left in the sink? That's nothing compared to what you'll see on A&E's "Hoarders."
"That's clearly about schadenfreude -- taking pleasure in the misfortune of others," psychiatrist and frequent TODAY contributor Dr. Gail Saltz says. "On the one hand, what's wrong with feeling a little better about your house when you see someone on TV with a mess and 50 cats? On the other, it's not a helpful defense mechanism when you have your own things going on that you should be attending to."
Seventy percent of reality TV fans reported being extroverts compared to 59 percent of non-watchers. And 24 percent of those viewers considered themselves neurotic, compared to only 14 percent of non-watchers, the survey revealed.
"Extroverts are people who gain a lot of what they want from the outside world. Obviously watching someone else's world is exactly that," Saltz said. "Neurotic people tend to be worried about how others will judge them. Then you have "Here Comes Honey Boo Boo" -- here's the family who's the epitome of 'we don't care.' That would be an enjoyable thing to watch for a person who's walking around thinking 'I have to think about what people say.'"
As one fan of the show wrote: "It's totally hysterical. I laugh the whole time. They have absolutely no embarrassment about anything they do and show you can be happy with very little. Sweet people.  Gross ... but sweet."
Watching people pick through piles of garbage on "Hoarders" may seem like a considerable decline in the evolution of the reality genre – especially for those who grew up on the simple joy of "Survivor." But while competition shows certainly paved the way for unscripted programming, the TODAY survey was focused on shows like "Real Housewives" and "Teen Mom" -- a subset of programming where there's no elimination along the way and no prize at the end. 
So what else did the survey tell us about the genre so many publicly snicker at, but privately watch?
"Deadliest Catch" -- chronicling the high-seas adventures of crab fishermen -- is the most popular show among men, which might not come as a surprise. But the second-most popular among men? The "Real Housewives" franchise.
"Keeping Up With the Kardashians" and the "Real Housewives" franchise were the two most popular shows among women.
Women are more likely than men to watch reality programming (49 percent of women versus 24 percent of men.)
Younger people were much more likely to watch: 19- 29-year-olds made up 70 percent of respondents. 
And sorry, Snooki, but shows like "Jersey Shore" support the concept that some reality TV leaves viewers are appalled but unable to look away. "I like watching the train wreck," was the common refrain.
But the allure of the train wreck only goes so far. For as pervasive as the programming seems to be, there are plenty of people not watching, and they're not afraid to say exactly why.
"I think reality show(s) are the stupidest thing ever created for TV and a blight on society," a non-viewer said in the survey. "I believe [reality TV] is contributing to the dumbing down of our country and promotes bad and immoral behavior," said another.
While there's ample opportunity on some shows to watch pretty awful behavior, that doesn't mean that it's taking down civilization as a whole, one uncouth incident at a time.
Julie Klausner, who recaps "Real Housewives of New Jersey" and "Real Housewives of Beverly Hills" for New York magazine, said, "I know a lot of smart people who watch 'Housewives' and 'Honey Boo Boo,' and we all have a very specific sense of status, which is, we know when it's not OK to laugh at somebody, and when it makes sense to root for them."
Regardless of whether you think reality television can be painted with a single brush, either good or bad, the truth is millions of people continue to tune in. In 2011, "Jersey Shore" was the most-watched cable series on television, averaging 9.3 million viewers per episode. Each new episode of "Here Comes Honey Boo Boo" draws about a million viewers, and that number doesn't count the number of people who watch (or re-watch) the reruns.
The laws of television programming -- if it rates, run it -- reign supreme. Until that kind of viewing trend changes, the genre probably isn't going away.
But that doesn't mean the makers of such programming are in a hurry to talk it up. Numerous reality TV producers and executives for the networks that run the shows were asked to comment about TODAY's survey findings. Everyone declined.
We who watch might be as much to blame as the people who participate in the shows. David Frederick, professor of psychology at Chapman University and consultant on the TODAY survey, points out that "we are likely hardwired to seek out information on how other people deal with conflicts, family, friends and mating."
"Reality TV provides one source of information regarding what makes some people more susceptible to being manipulated, what makes them more prestigious, and how to survive in dangerous situations," Frederick said. "These shows appeal to a very basic human need for information about social relationships."
Decades ago, the social relationships before us -- on television at least -- might have come from the family sitcom, but the days of "Leave it to Beaver" and even "Friends" are long behind us. For now, for better or worse, that torch has been passed.
So for the Kardashians, the various real housewives, and you, too, "Giuliana and Bill" -- you have our attention. Behave wisely.
Want to defend your reality-TV-watching habit, or take issue with the genre? Join the discussion on Facebook.
Related content: