It doesn't matter that there's a vending machine and a toy room for the kids on site: When Joe Giudice visits his wife and fellow "Real Housewives of New Jersey" star Teresa these days, it's still prison.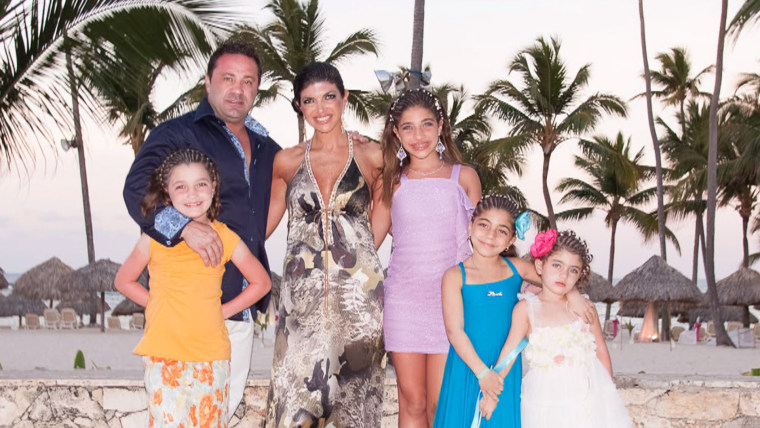 During the approximately three-hour visits, he told E! News, "We sit down and we talk. There's a snack menu and venues or whatever that you buy from and the kids go crazy because it's like one big room there, so they got a little toy room but they get a little antsy, you know, the young ones," he said.
Joe opened up to E! for a special that will air on the network on Friday night, explaining what it was like to bring their kids (Gia, 14; Gabriella, 10; Milania, 9; and Audriana, 5) to see their mom these days, who has been serving out her 15-month sentence since January after being indicted on fraud charges.
Joe himself will go in for 41 months once she's released; in addition to fraud he was also convicted of failure to file tax returns.
"It's kinda hard to like, talk to her, so the last 15 minutes, I just kinda send them on their way so we could talk for a little bit and just hang out, me and her," he added.
They do get some family photos while there, he noted. "She loves taking pictures, even in there."
But leaving is hard, particularly, he says, on him. "I have a harder time saying goodbye than they do," he said. "Well, now it's, you know, better, but I mean ... when you go to her in the beginning, it's rough, you know, watching her stay there. It sucks. But what are you gonna do? It's almost over, thank God."
Teresa is slated to be released early on Dec. 23.
E! News will air their interview with Joe Giudice on Friday, Oct. 9 at 7 p.m. and 11 p.m. ET.