Joe Giudice broke his silence to TODAY's Tamron Hall about the jail time he and his wife, Teresa, have faced since the "Real Housewives of New Jersey" couple pleaded guilty to fraud charges last year.
"I was to blame," Giudice said during his one-on-one interview with Hall, who'd asked if Teresa "took a fall" for his actions. "I took full responsibility for everything, but they still put her away. I mean, I was supposed to go away, not her. And that was part of the plea. What I thought, anyway. I don't know what happened in the courtroom that day."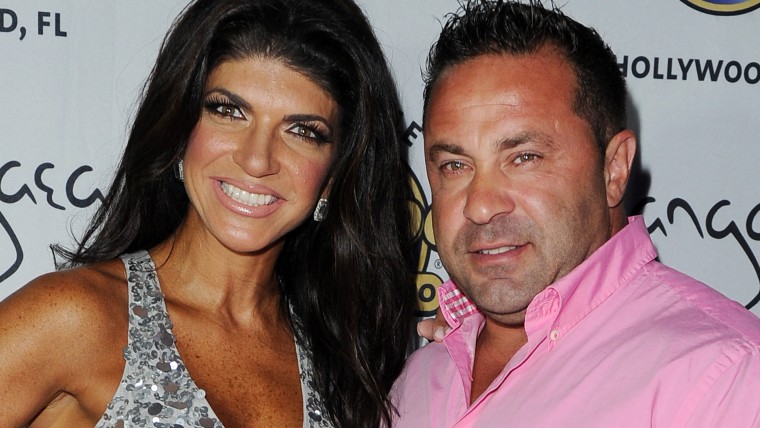 In 2009, five New Jersey families, including the Giudices, took the nation by storm when their table-flipping passion and personal drama hit the airwaves on Bravo's "Real Housewives of New Jersey."
Six seasons later, the Giudice family continues to make headlines for legal reasons. Last October, a federal judge issued prison sentences to Joe and wife Teresa, who are parents to four daughters,
From their famous home, Joe spoke publicly for the first time since the incarceration of his wife, who's slated to be released Dec. 23. Joe is scheduled to begin serving 41 months of jail time at the end of March.
"Do you even think about it at this point?" Hall asked.
"No," he said, "because if you do that, you're just gonna drive yourself crazy, and there's no point."
When Hall asked if the activity that led to their jail time was worth it, he replied, "No, of course it's not worth it. I'm not saying I didn't do anything wrong or illegal, but there was definitely people behind [the scenes] talkin' to [law enforcement officials] and telling 'em we did this and telling 'em we did that to bring it to their attention. And, you know, being in the public eye didn't help."
Giudice said that the illegal activity to which he and his wife pleaded guilty occurred before the reality-TV series premiered.
"I didn't anticipate, you know, going on this show. I didn't wanna go on the show, number one. They were botherin' us for over a year to get on this show. You know, we just thought that we were just gonna do it and it was gonna be, like, no big deal."
Recalling the moment he realized Teresa, too, would be serving time, he said, "I felt like somebody just snapped my neck. I felt the pain. The chill going down my spine: I couldn't believe it."
He also denied tabloid rumors that he'd allegedly gone on a date with a strip-club employee while Teresa has been behind bars.
"I don't date anybody," he added. "That person just happened to be out one night with a friend of mine that knew her and they came and sat at the table. And somehow pictures got taken, and that's how that 'date' came about. Listen, anybody does anything for money, so, if they feel they can make a couple bucks [selling a story], they're gonna make it. They're gonna say whatever they wanna say."
As tough as prison could be for Joe, who is originally from Italy, another legal repercussion may loom larger.
"Are you afraid of being deported?" inquired Hall, who received no immediate response. "You don't want to answer?"
Replied Joe, "No."
The three-part special, "The Real Housewives of New Jersey: Teresa Checks in," premieres Sunday.
Follow TODAY.com writer Chris Serico on Twitter.