Summer is a chance for your child to solidify a reading habit — one that may morph into a lifelong love of reading.
For the second year in a row, we're introducing Read With Jenna Jr., an initiative with the mission of making reading fun for kids, one book at a time. Each of the 24 books on the list was hand-selected by Jenna Bush Hager.
Speaking to TODAY, Jenna explained how she came to choose the books on 2023's Read With Jenna Jr. List.
"The picks range from classics that you might've grown up reading to brand-new books published earlier this year. Our list that reflects diverse topics — and hopefully has enough characters for every kid to feel represented," she says.
The list is also divided into three categories based on readers' age: Picture books, middle grade books and YA picks. "While choosing the books, we kept all different kinds of young readers in mind, too, from reluctant readers to new readers to more advanced users," Jenna says.
"Above all, I tried to find books that would be impossible to put down," she says.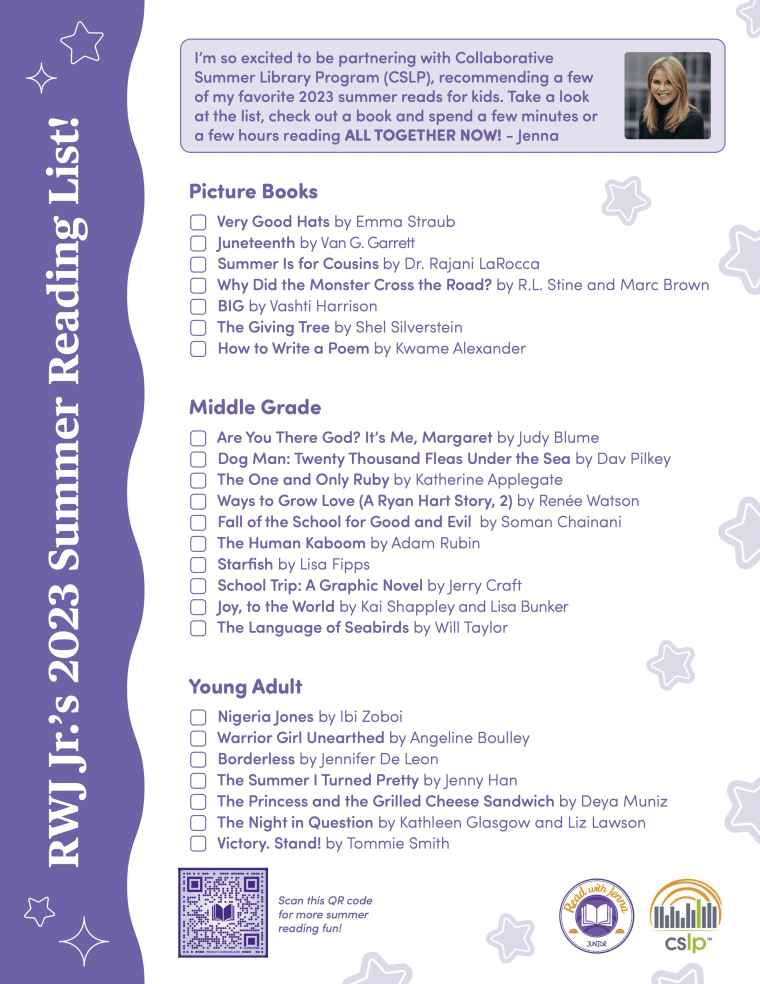 Download and print the entire list here.
As for getting your kids to read? When we asked the Read With Jenna community for tips for encouraging kids to read, we received a host of ideas.
Lisa Laura of New York started a nightly book club with her kids. "We would snuggle into bed to independently read. I would be there to answer any questions on words they didn't know. I think being together reading really helped them," Laura says.
Katie Bowen LeCluyse, a child psychologist, says it's normal for children to be reluctant readers. Instead She recommends "thinking outside the visual reading box" and trying auditory storytelling instead.She suggests "having them act out the story while listening" or "playing audio books in the car."
Reading aloud can also lead to bonding time. Kim Sizemore of Texas reads stories over the phone to her grandkids, who live far away. "Could they just listen to an audiobook? Sure, but this is way more fun," she says.
It's likely worth the effort. Looking back, Janis Daly of Massachusetts treasures memories of her two boys reading when they were kids. "I really enjoyed that time with them. It was something I could share — an activity that we could do together that we would all enjoy," she says. Today, she and her now grown younger son still bond about novels.
Below, find the complete list of 2023 Read with Jenna Jr. Picks.
Read with Jenna Jr. Picture Book Picks
Anything can be a hat! At least that's the message from bestselling novelist Emma Straub, author of "The Vacationers" and May 2020 Read with Jenna pick, "All Adults Here," in her picture book debut. "Very Good Hats" will inspire youngsters to let their imagination take flight when it comes to headwear, and beyond.
Imparting children with civic knowledge from a young age can be transformative, and "Juneteenth" does just that. Juneteenth is an annual holiday marking the end of the practice of slavery in the U.S. The story follows a young Black boy who is experiencing the joy and excitement of his first Juneteenth parade in the birthplace of the celebration, Galveston, Texas. Through beautiful illustrations and enlightening storytelling, kids will learn the importance of this holiday.
The cousins in this book have met up every summer at their family's lake house for years. But this summer is different for Ravi, who is worried that Dhruv, now a teenager, has outgrown him. By the end of their vacation, Ravi discovers the lasting bond of family.
Set to release on July 4, children's book legends R.L. Stine (author of the "Goosebumps" series) and Marc Brown (author of the "Arthur Adventure" series) mix spooky and scary with this laugh-out-loud story about two monster best friends.
This visuals-heavy story written and illustrated by New York Times bestselling creator Vashti Harrison tackles body shaming through one little girl's self-love journey. The book encourages readers to learn love and accept themselves.
Shel Silverstein's "The Giving Tree" is a classic for a reason. The poetic tale tells the story of a boy and a tree who share a special lifelong bond — one that's threatened by the boy's behavior. As he gets older the boy takes and takes; the tree gives and gives, until there's nothing left. Many lessons can be gleaned from the story, including generosity, focusing on needs rather than wants and how to love.
Revered children's book author Kwame Alexander is back with a companion book to his story "How to Read a Book." This interactive installment is focused on writing poetry. In collaboration with poet Deanna Nikaido and illustrations by Melissa Sweet, kids will learn the power of their words and the value of poetry as a form of self-expression.
Read with Jenna Jr. Middle Grade Picks
As a lifelong Judy Blume fan, Jenna is excited to share this classic read as one of her summer picks. And there's good reason this book is so beloved: It chronicles what it's like to be a preteen girl through the eyes of 11-year-old Margaret Simon as she navigates adolescence – from boys to bras – all while attending a new school in the suburbs.
Author and illustrator of the mega-popular "Captain Underpants" series has created another bestselling graphic novel series: "Dog Man." In this most recent installment, the Supa Buddies are back to fight Piggy and other new villains on the horizon, leaving readers with the overarching message that it's important to do good.
This book is the third in Applegate's trilogy, following "The One and Only Ivan," which was adapted by Disney+, and "The One and Only Bob." This book follows the lives of animals in captivity and how they make sense of the world around them. Ruby's story picks up where "The One and Only Bob" leaves off and chronicles the elephant's reunion with her former caretaker.
It's the summer before 5th Grade and Ryan is facing a new set of challenges that come with getting older, like sharing her parents' attention with a baby sister. Watson's first book in the series, "Ways to Grow Sunshine," earned a spot on the New York Times' list of best children's books in 2020.
First came the "The School of Good and Evil" hexalogy. Then came this two-part prequel to the hit series, which was adapted by Netflix in 2022. This fantasy collection takes place in the village of Galvadon, where every four years, two children are kidnapped and trained to become heroes or villains..
Adam Rubin is known for his humorous illustrated story collections like "Dragons Love Tacos" and "The Ice Cream Machine." Each story in both collections has the same name, but goes in wildly different direction than the last. The settings of the stories in "The Human Kaboom" include a New York hotel, a school field trip in space, a deserted island and more. Artby different illustrators round them all out, making this exciting read filled with variety.
This book tackles the important issue of body shaming, which unfortunately many kids confront at a young age. Ellie, who has been bullied for her weight since her fifth birthday party, both by peers and at home, finds solace in her swimming pool where she feels weightless. A novel-in-verse, this story is told through poetry and won the Printz Honor for excellence in young adult literature.
Jerry Craft won a Newbery Medal, Coretta Scott King Author Award and a Kirkus Prize for his first book in this series, "New Kid," in which seventh grader Jordan Banks struggles with being the new kid, and a student of color, at a prestigious Manhattan private school. In "School Trip," Jordan and his friends travel to Paris where he once again confronts a new environment.
This topical tale follows a 12-year-old trans girl named Joy, whose family recently moved to Texas, as she fights for her right to be a cheerleader. The story is inspired by the author, trans youth activist Kai Shappley's, own life.
In this endearing coming-of-age story, two boys find love on a summer vacation in Oregon. Jeremy is struggling with his parents' divorce and is unsure about spending time with his dad alone all summer. On a walk on the beach, he meets a new friend, Evan, and their relationship grows into something more.
Read with Jenna Jr. Young Adults Picks
Tommie Smith and John Carlos used their winning platforms to protest racial injustice during the 1968 Mexico City Olympics. They were forced to leave the ceremony, faced with death threats and more. This book is Smith's first-ever memoir, where he recounts everything from his childhood through that moment on the podium decades ago.
Nigeria Jones is raised in a Black separatist group in Philadelphia, adhering to a vegan diet and strict traditions like homeschooling and spiritual practice. After her mom, a leader in the movement, disappears, Nigeria begins searching for her independently. Nigeria discovers her mom had secrets that threaten her understanding of reality.
A young Indigenous woman becomes entrenched in grown-up issues when she notices a growing number of women from her tribe going missing and encounters grave robbers who seek to steal sacred artifacts from her Anishinaabe tribe. With the help of her Type-A twin and a new crush, Perry Firekeeper-Birch wants to discover the root of her community's issues before it's too late.
"Borderless" follows a talented fashion student, 17-year-old Maya, as she makes it to the final round of her prestigious art school's fashion show in Guatemala City. But when local gang violence threatens her family, she and her mother must make a harrowing trip to cross the U.S. border.
Jenny Han — who is practically a YA literature legend by now, thanks to her hit series "To All the Boys I Loved Before" — published the first of "The Summer I Turned Pretty" books in 2009. There's a reason it remains a teenage favorite to this day. The book captures the essence of coming-of-age romance as the main character, Belly, finds herself in a love triangle with two brothers that she's known since her youth on summer vacation.
Royalty stories are everywhere right now — but you've never read one like this cheese-themed graphic novel. Lady Camembert must disguise herself as Count Camembert and start a new life after her father dies, because women couldn't inherit during her time. After taking an interest in the lovely Princess Brie, though, her plans may be spoiled.
Available on May 30, this sequel to "The Agathas" will delight mystery lovers. High school student and Agatha Christie fanatic Alice Ogilvie finds herself at the scene of a crime during her high school's Sadie Hawkins dance, shortly after her ex best friend was killed, and decides to take matters into her own hands.